This software has been discontinued. You can check the list of
currently available CodeTwo products here.
How to share files between multiple computers?
CodeTwo Public Folders version 5.x enables to share files between computers connected to the Syncing Master without using MS Outlook. Due to this solution you can, for example, have access to your shared folders stored on another computer during your business trip. To share files between every desirable computer, the Client Apps of CodeTwo Public Folders must be installed on each of them.
To either share files from your computer or have access to shared files on another machine, the File Sharing App installed along CodeTwo Public Folders Add-in must be running. To start the App, go the Start menu, choose All programs, CodeTwo, Public Folders Client Apps and click File Sharing App. You can also launch the App from your Outlook client by clicking Share Files in the CodeTwo Public Folders toolbar. The App window will show.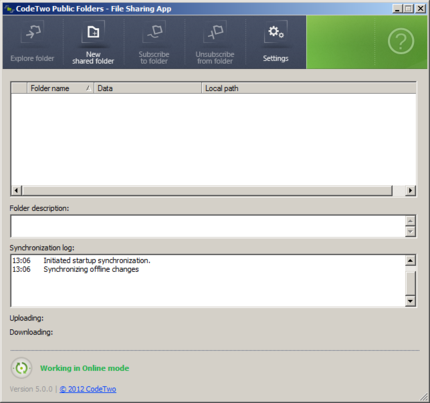 To share your folder with other users click New shared folder in the App's main window. Then pick a folder you want to share, name it and click Share. Additionally you can also describe your folder here in the Shared folder description field.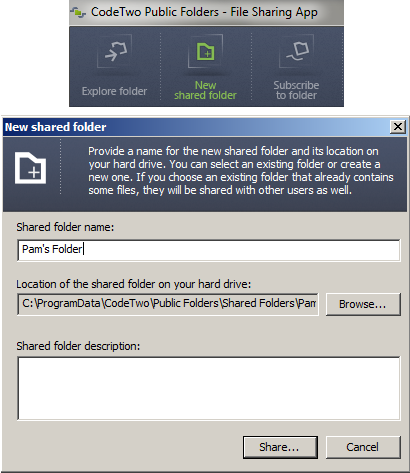 In the resulting window, you can define users' access rights to the shared folder.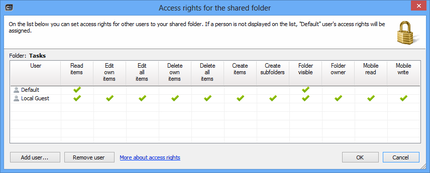 The shared folder will appear on the list of folders.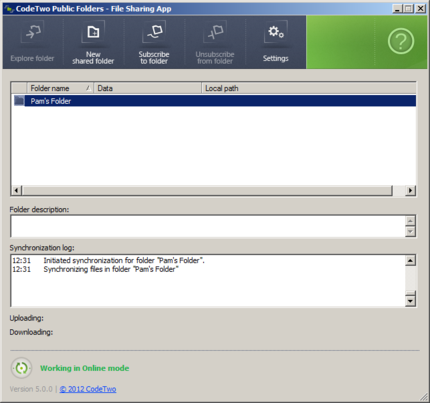 The get access to the shared files on the other computer, click on the particular folder and choose Subscribe to folder.

In the next window choose a location for your subscribed folder and click Subscribe.

The folder will appear in the chosen location. From now on you can work on the shared items as well as adding new and deleting existing items (if you are granted sufficient rights).