This software has been discontinued. You can check the list of
currently available CodeTwo products here.
CodeTwo Public Folders toolbar
After installing the Outlook Add-in, a new CodeTwo Public Folders toolbar will be added to Outlook toolbar ( Fig. 1.):

Fig. 1. CodeTwo Public Folders toolbar in MS Outlook.
The particular toolbar sections consist of the following options:
Status
This section includes:
Online / Offline button that informs users about the connection status with the Syncing Master.
Show / hide Status Window button enabling display of the synchronization status window. The synchronization status window always appears when the Client App goes offline, when it regains the connection with the Syncing Master and when the synchronization is in progress.
By clicking the Options button, you will be navigated to the program's settings.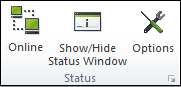 Data Sharing
This section includes:
My Shared Folders button lets you manage the private folders shared with other users. After clicking this button, a dialog box will open informing about the recently shared personal folders.
Other user's shared folders option enables adding and deleting other users' shared folders from the C2PublicFolders tree. Once this button is clicked, a dialog box including the list of opened shared folders will display.
Show all public folders button lets users instantly go to the C2PublicFolders tree no matter which public folder they were currently working on.

File sharing
Share files button launches the File Sharing App, which enables sharing files with other users.

Help
The Help button enables instant access to the User's Manual, Program website, Quick Tour and info About the program.