CodeTwo Exchange Rules Pro is a powerful and user-friendly tool for Exchange organizations. It was designed to help admins with their everyday tasks related to email flow control and signature management. The role-based access to certain rules and features of the program makes it also possible to delegate specific tasks to different departments or employees, such as marketing, information security officer, data protection officer, etc. That way, the program can also be used to run marketing campaigns or ensure compliance with the company's procedures and legal regulations.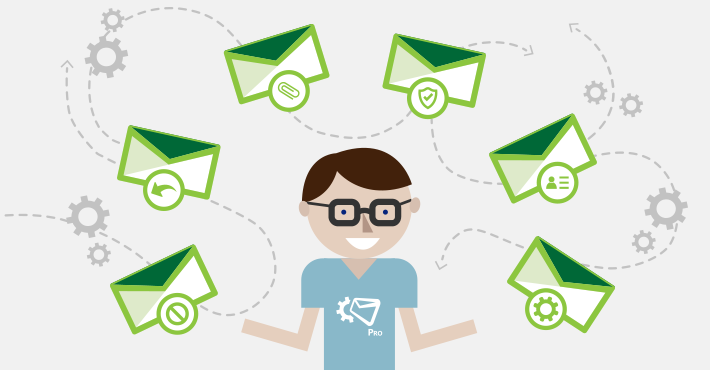 Let's have a look at how a typical day might look like at a company where CodeTwo Exchange Rules Pro is deployed.
8:00 Work starts, but…
The coffee machine doesn't work. Again. Keep in mind, however, that this has no connection with CodeTwo Exchange Rules Pro!
8:10 Forwarding emails
While browsing through her Inbox folder, the data protection officer finds three emails automatically forwarded to her mailbox by CodeTwo Exchange Rules Pro. According to the company's Standard Operating Procedures, emails that may not meet certain standards or may pose significant data breach threat need to be verified by designated persons. As it occurs, two of these emails were sent with attachments that need to be checked before these messages can leave the company. The third message was addressed to a client added to the Unsubscribe blacklist. It means that this client has decided to opt-out of receiving any emails from that company. Although the message was blocked by CodeTwo Exchange Rules Pro, the user that tried to send the email needs now to be reprimanded.
8:50 Coffee's back!
The coffee machine has been repaired. Finally!
9:05 Auto-replies
As this wasn't the first incident where somebody tried to send an email to users on the blacklist, it has been decided that each employee attempting to do so in the future should receive a reprimand via email. System admin receives a request from an information security officer to automate this procedure. With CodeTwo Exchange Rules Pro in place, this is an easy task to do. The admin simply adds another action, Auto respond, to the email forwarding rule. From now on, every time any user tries to send a message to an email address from the blacklist, they will receive a reprimand by email, sent on behalf of the information security officer.
9:40 Marketing banners in signatures
The marketing manager launches two new email marketing campaigns, promoting different products. By using a built-in editor in CodeTwo Exchange Rules Pro, the existing signature can be modified by adding additional banners that, once clicked, link to a specific landing page. The signature editor allows for inserting dynamic content, making it possible to insert different banners into subsequent emails, in turns. That means the recipients will see one out of two banners in each email, interchangeably. These new signatures will be added to all outgoing emails.
11:00 Personalized email marketing
Some clients start to complain that they receive emails with banners advertising products they are not interested in. The marketing manager decides to make some adjustments and apply a more personalized approach to email marketing. In CodeTwo Exchange Rules Pro, a new rule can be created that adds signatures with a specific banner only to emails sent to a group of recipients that may not be interested in receiving the other banner.
12:00 Lunch
Lunch break!
12:45 Attachment control
While performing routine monitoring tasks on the Exchange server, the system administrator notices that the size of mailbox database keeps eating up the disk space very fast. To counteract this, the admin creates a new rule in CodeTwo Exchange Rules Pro that applies to all incoming emails and makes use of the built-in Strip/dump attachments action. From now on, attachments larger than 5 MB, as specified by the admin, will be removed from emails and saved in a designated folder. The program will also insert notifications as HTML file attachments to incoming messages, informing the recipient of the email where he or she can find the "missing" attachment.
13:15 Central management of disclaimers
Oh no, an employee has just found a typo in the disclaimer! The good news is that the new GDPR-compliant disclaimer was inserted only yesterday, so a relatively small number of emails were sent with the typo. Another good news is that with CodeTwo Exchange Rules Pro, the system admin, or any other person with proper permissions, can manage disclaimers for all employees from one place. He or she simply corrects one template, and each subsequent email, send by any employee in the company, will be free of typos. It's a great thing that the program is equipped with the Sent Items Update feature, allowing the users to see the disclaimers in their Sent Items folder. Otherwise, there is a good chance the typo wouldn't be found so quickly. And there is a huge difference between "GDPR compliant" and "GDPR complaint."
14:50 Analyzing email campaign results
The marketing manager analyses the results of the previous email marketing campaign. One of the features of CodeTwo Exchange Rules Pro allows for automatically tagging URLs with campaign tags supported by the most popular web analytics tools. That is why it can now be easily checked how much traffic came from marketing banners added to email signatures.
15:30 Unsubscribe mechanism
The data protection officer receives an email informing that another prospect decided to opt-out of receiving emails regarding one of the products offered by the company. Fortunately, the DPO can rest assured the unsubscribe mechanism in CodeTwo Exchange Rules Pro will block all those emails send to this prospect, keeping the company GDPR-compliant. And the best thing is – the prospect didn't click the Unsubscribe from all correspondence link!
16:00 Work ends, but…
Friday, time to start the weekend. However, one of the built-in features of CodeTwo Exchange Rules Pro allows for sending automatic replies to clients through the whole weekend, informing them that someone will get in touch with them as soon as possible on Monday. And the best part of it is that these are not just simple out of office messages, but fully-composed emails, with company logo, disclaimer, marketing banners, etc. Who knows, maybe the program will once again contribute towards getting new clients while everyone else in the company is relaxing.
Of course, these are just a handful of tasks that can be done by using CodeTwo Exchange Rules Pro. Each company is different and has other needs, so why not try it for yourself and see how CodeTwo Exchange Rules Pro can make your work easier, too? Try it out for free for the entire month.
Useful links:
Learn how to measure customer satisfaction with CodeTwo Exchange Rules Pro