CodeTwo Exchange Rules Pro
Centrally managed email signatures, disclaimers, marketing banners and email flow control
Support for all email clients (including Outlook and mobiles)
Used by thousands of companies around the world
Windows Server certified
Download
30-day free trial with support;
no credit card required
Seize your marketing opportunities and analyze campaigns' results
Automatically added email signatures let you seize all the marketing opportunities your professional email correspondence provides. By adding marketing information to your email signatures, you get a lot of chances to promote your brand and boost your marketing campaigns.
Calculate your marketing opportunities
Each week a single user sends over 200 emails. This number grows up to 10,000 emails per year. On average, each email message will be opened 2 times. These numbers prove emails to be a great promotion channel.
Use this calculator to find out how many marketing opportunities you lose without standardized and branded email signatures in place.

Number of employees in your company:

Missed marketing opportunities (yearly): 8,760
Each year your 100-employee organization sends 1,095,000 emails, which are opened 2,190,000 times. This gives you a great chance to increase your brand awareness and boost your marketing campaigns. Assuming that an average click rate is 0.4%, it gives 8,760 conversion chances to press into service.

CodeTwo Exchange Rules Pro allows you to automatically add marketing banners and other elements to each sent email. Thanks to that, instead of losing all those precious marketing opportunities, each of those messages gives you an additional chance of promoting your best offers.
Your email marketing banners can include:
Visual identity elements,
QR codes and links to your website,
Promotional information on new products or services,
Subscription options,
Special offers reserved for subscribers,
Events invitations,
And more!
Read more about email marketing with CodeTwo Exchange Rules Pro: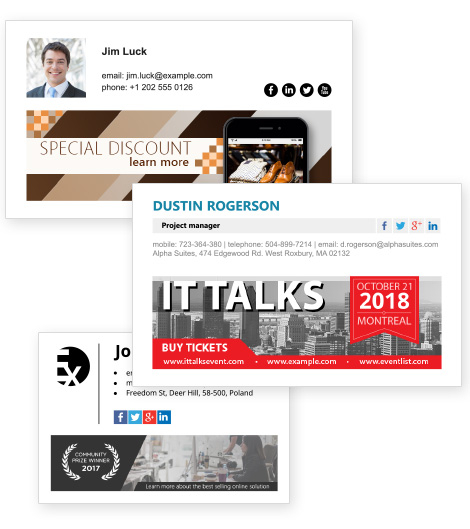 Add tags to the links and monitor your marketing campaigns
Since each marketing banner can be used as a link that sends users to your website or any other content on the web, you can use this opportunity to monitor their performance:

With CodeTwo Exchange Rules Pro, you will know exactly how much of your web traffic comes from emails. The program allows you to automatically add tracking parameters used by the most popular web analytics tools to each link inserted into your signature. That way you can keep track of your email marketing campaigns in Google Analytics, Piwik or Woopra. Use this opportunity to adjust your marketing strategy based on the gathered data or replace used graphics entirely if the results are poor.
Learn more about how to track email signature campaigns
If you are looking for a similar email signature management tool for Office 365, try out CodeTwo Email Signatures 365.