Centrally managed email signatures, disclaimers, marketing banners
and full mail flow control on Exchange 2016, 2013, 2010 and 2007.
Marketing banners, logos and users' photos in email signatures
Adding images to company-wide email signatures can be tricky. Exchange Server is not equipped with an easy-to-use editor for composing HTML, RTF and plain text signatures. In fact, it has no email signature editor at all. So if you are in the middle of creating your Hub Transport signature rule, it suddenly occurs you either have to create a simple text signature with no graphics or photographs, or need to know how to program in HTML, and then install external editor to be able to easily insert pictures into templates.
CodeTwo Exchange Rules Pro gives you all of this in one place. It has a built-in WYSIWYG (What You See Is What You Get) editor for creating all types of email signatures and disclaimers, which is as easy to use as a word processor. It lets you add company logos, marketing banners and even photographs of your employees to your email signature templates.
With CodeTwo Exchange Rules Pro you can: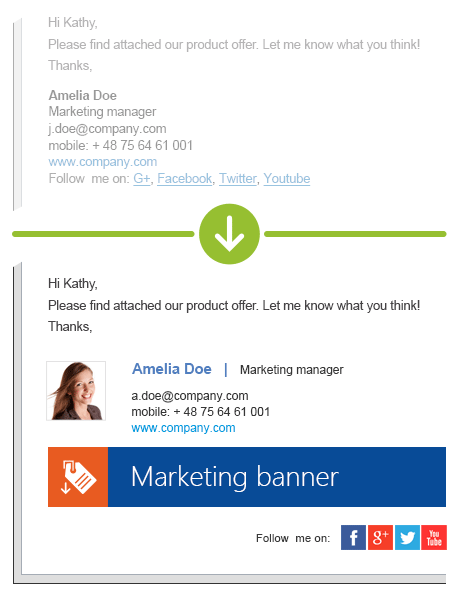 ---
Screenshots