CodeTwo Exchange Rules Pro
Centrally managed email signatures, disclaimers, marketing banners and email flow control
Support for all email clients (including Outlook and mobiles)
Used by thousands of companies around the world
Windows Server certified
Download
30-day free trial with support;
no credit card required
Email unsubscribe mechanism for Exchange Server (CASL compliance tool)
Canada's anti-spam regulations (CASL) introduced the requirement of deploying an email unsubscribe mechanism that would allow users to easily opt-out from receiving correspondence from a given company or organization. Although this functionality is already a standard in marketing and mass mailing systems, Exchange Server, even in the latest versions, lacks this feature natively.
CodeTwo Exchange Rules Pro is an advanced Exchange Server application based on a transport agent architecture. It adds many useful administrative features to Exchange, covering such aspects as mail flow control, email signatures and disclaimers management, attachment control, DLP and email forwarding options. Most importantly, the program provides a complete email unsubscribe mechanism for Exchange Server that will let you comply with anti-spam regulations in Canada and many other countries.
CodeTwo Exchange Rules Pro lets you:
Automatically add an unsubscribe link to all or selected emails
Create and maintain server-side lists of unsubscribed email addresses
Block messages sent to unsubscribed recipients
Import/export lists of unsubscribed email addresses
Integrate with a mass mailing system's unsubscribe mechanism used by your marketing department
About Canadian anti-spam law (CASL)
Canadian anti-spam law (CASL) went into force on July 1, 2014. To stay compliant with those regulations, if your company or organization sends out commercial emails to Canadian citizens, you need to make sure you have fulfilled 3 main requirements:
obtain an expressed or written consent from the message addressee to receive commercial emails from your company or organization.
clearly identify yourself in the message.
provide an unsubscribe link in the message for users that want to stop receiving further emails from you and your company or organization in the future.
Failing to meet these requirements may result in receiving a fine up to $1 million (for individuals) or $10 million (for businesses).
Read more about CASL
Canada's strict new anti-spam law (CASL) vs your email marketing
---
How can CodeTwo Exchange Rules Pro help?
If your company uses Microsoft Exchange Server 2019 or 2016, CodeTwo Exchange Rules Pro can help you stay in compliance with CASL and other similar acts.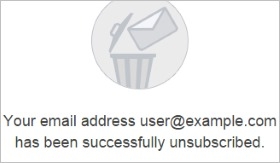 The program needs to be installed directly on the mail server with Microsoft Exchange onboard. Once configured properly, CodeTwo Exchange Rules Pro adds a complete set of features to Microsoft Exchange, including the email unsubscribe mechanism required by CASL.
If specific email rules are set, every email sent outside your origination will be stamped with a disclaimer containing an unsubscribe link. Once this link is clicked, the recipient's email address will be added to a blacklist on your email server's side. After that, whenever anyone from your company tries to send another message to this person, this message will be blocked.
Learn more about how unsubscribe mechanism in CodeTwo Exchange Rules Pro works