Centrally managed email signatures, disclaimers, marketing banners
and full mail flow control on Exchange 2016, 2013, 2010 and 2007.
Email attachment control on Exchange Server
Email attachments can have a big impact on IT infrastructure performance and security. They affect the message store of Exchange Server and are potential carriers of malware and viruses. At the same time, they are crucial in business communication as users need to exchange files e.g. offers, invoices and quotations. For that reason applying tailored email attachment control policies in companies, which protect the network and give users the necessary freedom, is crucial for every IT department.
Exchange Server admins can use some built-in features of Exchange that are incorporated in the Hub Transport/Mail Flow rules. However, these rules lack several features that are needed to fully control attachments in emails, e.g. the files can't be removed, compressed or archived. You can't also automatically add files to emails, which may come in handy in sales auto-replies and general marketing correspondence.
Luckily, CodeTwo Exchange Rules Pro can overcome these limitations by adding the following features to Exchange:
Remove attachments from emails according to file size, or type, message direction or sender's/recipient's properties
Compress attachments that exceed a given file size limit
Block attachments with given extension or exceeding a given number of mega bytes
Save attachments to a dedicated network drive and notify recipients
Add attachments automatically to emails according to rules
Check out the complete CodeTwo Exchange Rules Pro comparison with native Exchange mail flow rules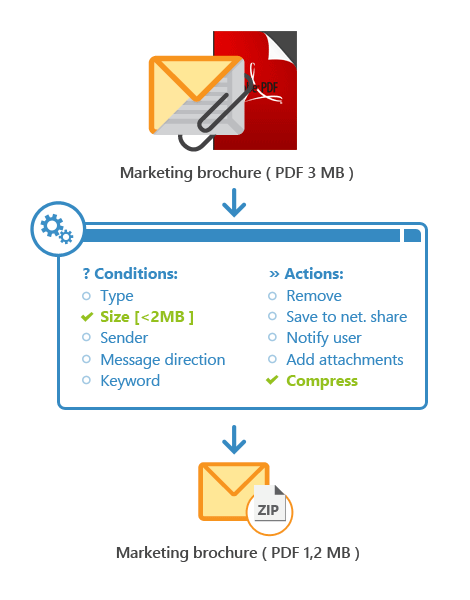 ---
Screenshots