CodeTwo Exchange Rules Pro
Centrally managed email signatures, disclaimers, marketing banners and email flow control
Support for all email clients (including Outlook and mobiles)
Used by thousands of companies around the world
Windows Server certified
Download
30-day free trial with support;
no credit card required
Fully-composed or simple email signature
Some users may not want to get large email signatures with many graphic elements each time they receive an email from you. It can sometimes be hard to find the message content amidst all these signatures in a long email conversation. This is why it would be a great idea to use simplified email signatures in forwards, replies or any other subsequent emails. And CodeTwo Exchange Rules Pro will do just that for you.
The program uses a highly efficient algorithm that recognizes if the sent email is the first one in a given conversation or a subsequent one. And that's not all – CodeTwo Exchange Rules Pro will also recognize if a similar signature, for example, sent by your colleague, has already appeared in this conversation. Use this opportunity to include an eye-catching, fully composed email signature only to the first email, and a short one, consisting of only the essential information, to all subsequent messages.
With CodeTwo Exchange Rules Pro you can:
Create and use different signatures for new emails, forwards, replies, and out of office messages
Stamp internal and external messages with different signatures
Personalize signatures for both senders and recipients
Insert the full signature only if it has not been found in an email conversation
Make use of various Active Directory fields and values to create advanced signature processing rules
And more.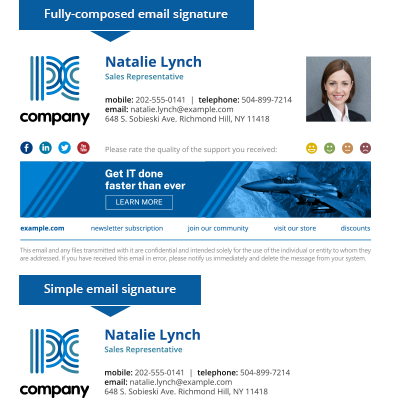 Additionally, the Apply full composition action allows you to make use of additional email layout elements in the signature template editor, i.e. header and side banners. You can use this extra space to place marketing banners and logos, or simply to create an advanced email signature design.