Office 365 administrators look for third-party tools for Office 365 to make their job easier and faster. It may not be possible to automate all admin tasks, but there are solutions that can definitely help you automate at least three aspects of your every-day routine – email signatures, migrations and backups. Keep reading to get more details on how you can benefit from the best tools for Office 365 from CodeTwo.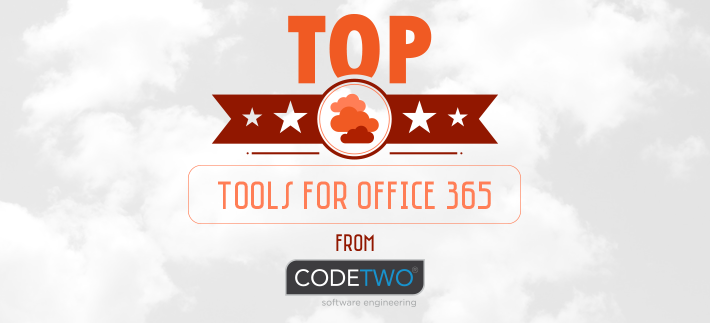 Email signature software for Office 365
If you are looking for email signature software for your Office 365 organization, you will appreciate CodeTwo Email Signatures for Office 365. Email signatures available natively in Exchange Online are insufficient for most companies. The lack of features like signatures added under the latest response or central control over signature design and deployment makes companies to look further for other solutions. And this is where CodeTwo software comes in.
CodeTwo Email Signatures for Office 365
CodeTwo Email Signatures for Office 365 is a cloud-based application, which allows you to centrally manage email signatures and disclaimers for all employees in your Office 365 tenant. The software can run in 3 different modes: server-side, client-side and combo. In server-side mode (default), it perfectly integrates with Microsoft Azure to ensure high level of security and reliability. Take a look at the diagram below to see the bigger picture of how the CodeTwo service harmonizes with Microsoft technology.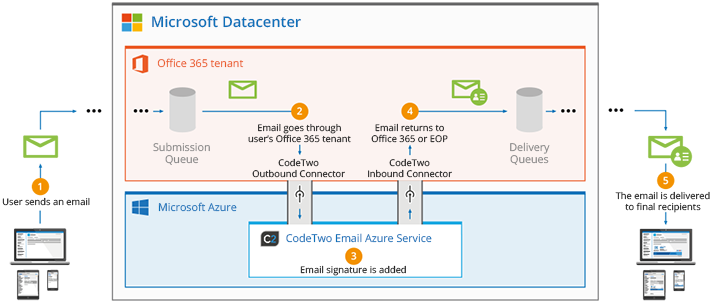 In client-side mode, the CodeTwo Signatures Add-in for Outlook is installed in every user's Outlook desktop app. The add-in automatically synchronizes with CodeTwo services, adding configured signatures directly to emails as users type them in Outlook. These signatures are always personalized and kept up to date, and if users have access to more than one client-side signature, can choose which one to use before sending an email.

Combo mode combines both modes. As a result, emails sent from Outlook desktop apps get client-side signatures and messages sent from any other email client (or mobile device) get server-side signatures.
And when it comes to service configuration, the application can be up-and-running within just a few moments. Most of the setup is wizard-driven – for example, creating a connection to Office 365. This saves you time and effort. Once the CodeTwo Email Signatures for Office 365 is configured and ready to work, you simply launch a user-friendly console – Manage Signatures App (see the screenshot below) – that allows you to create email signatures and manage the signature rules from one place. As a result, the software will either add signatures on a server level to each email sent from your organization (or to messages sent by e.g. specific users only) or distribute signature templates to selected users so that they can access and use them in their Outlook clients in Windows.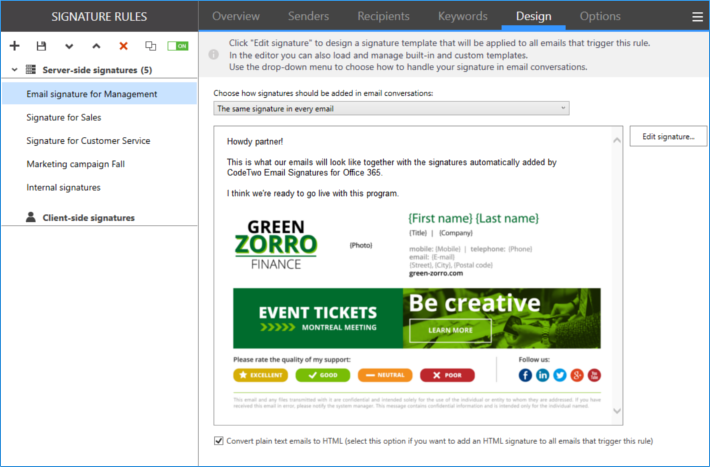 As the administrator, you don't have to create email signatures all by yourself. You can either load one of the predefined signature templates or delegate the task to someone else, for example, a colleague from the Marketing department. And don't feel concerned about the security. CodeTwo Email Signatures for Office 365 allows you to assign limited access rights to selected users or groups of users. This way a non-IT person can use the application to manage email signatures but has no access to other functionalities.
Who is this solution for?
CodeTwo Email Signatures for Office 365 is an ideal solution for those who want:
a central solution to manage users' email signatures in Office 365 tenants.
professional HTML signatures no matter what email clients and mobile devices they use.
signatures in replies added under the latest response, not at the bottom of an email conversation.
a preview of server-side signatures while composing an email in Outlook, Outlook on the web and Outlook for Mac.
to save their time by not spending hours on endless manual signature updates.
These are only examples of how you can benefit from this email signature software for Office 365. To find out more, see other features of CodeTwo Email Signatures for Office 365.
Office 365 migration tools
CodeTwo migration tools for Office 365 will help you migrate user mailboxes and public folders from Office 365, to Office 365, or between Office 365 tenants. The migration process is easier and faster when you can use the wizard-based administration panel with graphical user interface rather than playing with PowerShell scripts. And for migration scenarios like transferring data from Office 365 to on-premises Exchange or from Office 365 to another Office 365, this may be your only option to actually complete the migration seamlessly.
CodeTwo Office 365 Migration
CodeTwo Office 365 Migration is a tool that you can use to perform various migrations to Office 365. As for the source server of your migration, it can be either on-premises Exchange, IMAP servers or another Office 365 tenant (tenant-to-tenant migration). The light Administration Panel of the program lets you easily navigate through all the features, create migration jobs or view migration reports. Within just a few clicks, you can set up connections to source and target organizations, automatically match source and target mailboxes or even create target Office 365 users.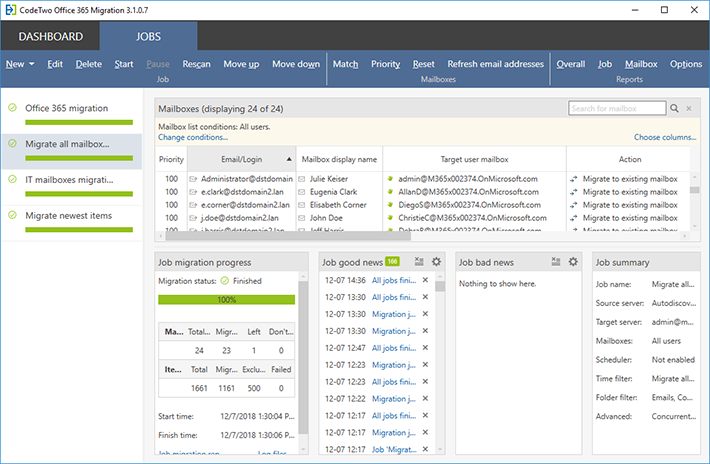 To manage the migration process, you create migration jobs (you can create as many jobs as you want). The screenshot above shows the Jobs tab of the Administration Panel of CodeTwo Office 365 Migration. On the left, there is a list of migration jobs. On the right, you can see details about the selected migration job, such as the migration progress bar, good and bad news, or list of mailboxes migrated within this job.
Who is this solution for?
The program is the best option for those who need to:
migrate from Office 365 tenant, on-premises Exchange or IMAP servers directly to Office 365 (one-hop migration).
move mailbox and public folders data efficiently without unnecessary delays or downtime.
reduce stress by managing migration via intuitive and GUI-based console instead of using PowerShell.
be sure that move corporate data via a secure and rock-solid migration tool.
To get a bigger picture, feel free to see other plus points that come with CodeTwo Office 365 migration tool.
CodeTwo Exchange Migration
CodeTwo Exchange Migration is a migration tool you want to use when migrating from Office 365 to on-premises Exchange. Surprisingly, this scenario is not supported natively so you need a third-party tool to get the migration done. And this is where CodeTwo migration tool comes in.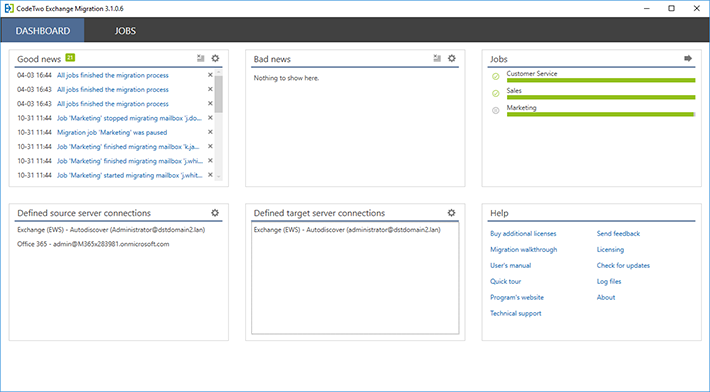 With CodeTwo Exchange Migration tool, the migration process is straightforward. You install the program in your target on-premises environment, connect to the target Office 365 tenant within just a few clicks and you are ready to set up the migration job. In the screenshot above, you can see what it looks like the main window of the Dashboard tab.
Who is this solution for?
CodeTwo Exchange Migration is for you if you want to:
directly migrate mailbox and public folders contents from Office 365 back to on-premises Exchange. All Exchange versions from 2003 through 2019 are supported.
ease and speed up the migration process by taking advantage of features like mailbox auto-matching, auto-creation of user accounts, scheduling the migration activity time, or no-need-for-PowerShell source and target connection wizards.
keep your data safe during the move.
ensure no downtime.
administer migration by configuring multiple jobs, for example, migrate each department in a separate job.
To learn more, see all the features that come with CodeTwo Exchange Migration.
Backup tool for Office 365
If you take seriously your Office 365 data safety and availability, you need to back it up. Especially, when you know that your company is the only one responsible for ensuring Office 365 business data backups. Against a common misconception, it is not Microsoft to blame if you lose data and they refuse to restore it. Of course, they do backups of your tenant data, but only to deliver services you pay for. And backup is not one of them.
CodeTwo Backup for Office 365
The Office 365 backup tool from CodeTwo is a solution allowing you to create backup copies of Office 365 mailboxes and public folders to keep them in your local storage. Having local backup copies of Office 365 data protects your company in cases of accidental data loss or intended data deletion. If that happens, you can easily restore user mailboxes or individual items from reliable backups.
Having solid backup can save you a lot of stress when you find yourself in a situation of business data loss. CodeTwo Backup for Office 365 lets you back up entire Office 365 mailboxes, browse through backups searching for specific items and easily restore data to Office 365 tenant whenever you need.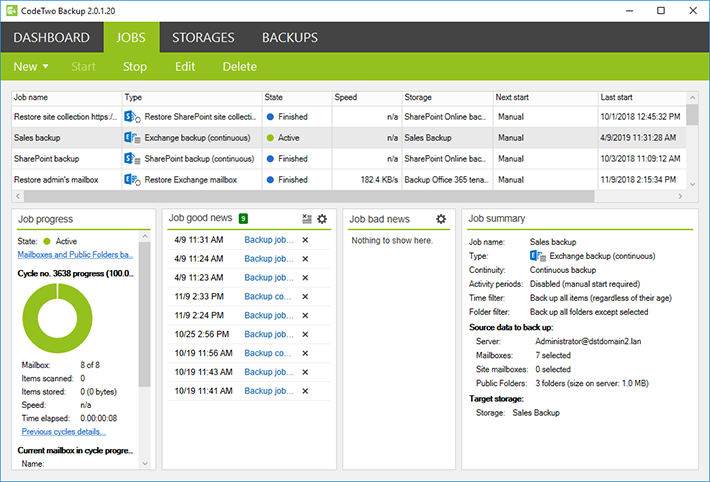 In the screenshot above, you can see the main window of the Jobs tab of the Administration Panel. It shows a list of backup and restore jobs as well as the backup process details for the selected job. The program allows you to create multiple jobs and each job can have different configuration. You can create separate backup jobs and restore jobs to manage different groups of users, data type etc.
Who is this solution for?
CodeTwo Backup for Office 365 is for you if you think of:
reliable and secure backup and restore solution to protect your Office 365 data.
an ability to search for and recover entire mailboxes or just individual emails or folders.
keeping your company complaint with legal requirements which require your business to store electronic data for future investigation.
See a full list of features as well as examples of use to get a bigger picture of how you can benefit from the program.
A free tool for Office 365
CodeTwo also offers a free tool for Office 365. This application can really improve admin's experience when it comes to central managing of user photos.
CodeTwo User Photos for Office 365
If you need to manage tons of user photos in Office 365 then CodeTwo User Photos for Office 365 is your rescue. This free application allows you to efficiently upload multiple user photos directly to Exchange Online mailboxes, which are then propagated to other services in Office 365.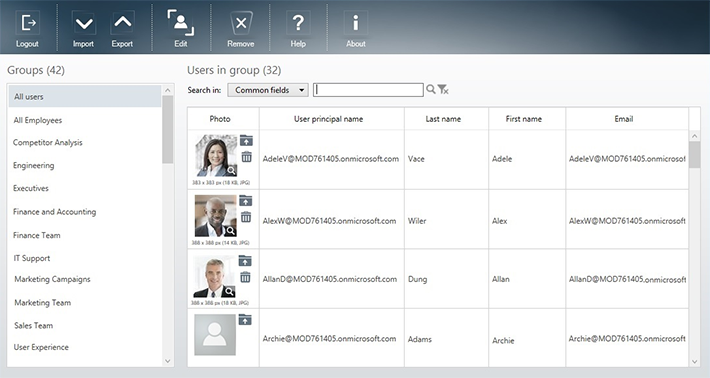 CodeTwo User Photos for Office 365 comes with light and intuitive graphical user interface. You don't need to use PowerShell scripting or spend time on photo preparation when you have this application on board. In the tool, you can resize photographs, automatically match them with user accounts or remove user photos and replace them with a default avatar.
Who is this freeware for?
CodeTwo User Photos for Office 365 is for you if you:
want to upload tons of user photographs to Office 365 so that they are automatically propagated to Outlook, OWA, SharePoint, Skype for Business, OneDrive, Office 365 Groups etc.
prefer to work via intuitive GUI rather than PowerShell.
dream of user photos automatically matching with Office 365 user accounts.
have CodeTwo Email Signatures for Office 365 and want to add user photos to Office 365 email signatures.
need a decent tool that won't cost you a penny.
Watch a short video below on how to insert user's photos to email signatures in Office 365:
See also: