Microsoft Exchange Server is a tremendously powerful platform that offers many useful native tools to help administrators deal with their everyday challenges. However, despite of the wide range of instruments facilitating their work with the Exchange Server, it still leaves the field clear for improvement that can be handled by third party tools – that is why CodeTwo developed programs that aim at making admin's life even easier.
CodeTwo programs complement Exchange Server functionalities mainly in such areas as email signatures management, mailbox migration across different Exchange versions (or to Office 365) and backup solutions, which help keeping user's mailbox data safe on local drives. All the programs can be easily administrated via handy editors and administration panels with clear and transparent UIs eliminating the need for PowerShell scripting.
Let's see the best tools for Exchange server provided by CodeTwo that ease the admin's life.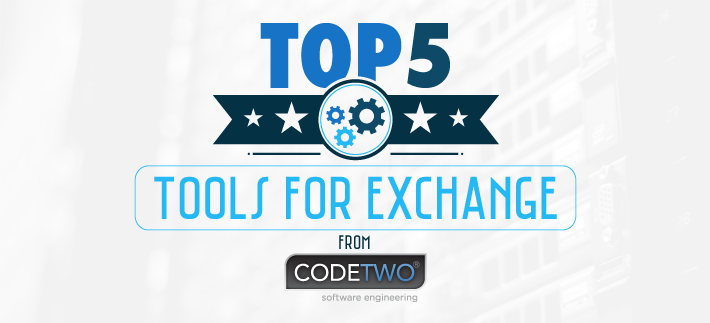 Email signature software for Exchange
Hub Transport rules will definitely help you manage basic email signatures and allow for setting up certain conditions that will determine when and to which email messages a signature should be applied. However, if you want to add your signature or disclaimer right under the latest response or view your signature in Sent Items folder you should consider one of the following tools:
CodeTwo Exchange Rules Pro
When you need a powerful tool for email signature/disclaimer and email flow management, you should consider CodeTwo Exchange Rules Pro. This software not only will help you design and configure unified email signatures for entire organization but also will greatly assist you in other administrative tasks related to email flow in your company. For example, you will be able to create a rule that will send auto reply messages, remove attachments from emails or rewrite sender's email address. These are only a few examples of how you can benefit from the program – to check its full range of functionalities it is worth downloading CodeTwo Exchange Rules Pro and testing it directly in your environment.
This program is compatible with Exchange Server 2016, 2013, 2010 and 2007 which means that it works flawlessly even in multi-server environments (also with mixed server versions installed within one environment).
The program is the best solution for those who:
have at least Exchange Server 2007 or multi-server environment with same or different Exchange versions (multi tenant and hybrid environments supported as well).
want to manage unified email signatures and disclaimers centrally that are enriched with company logo, user's photos or other visual elements.
need a powerful software that not only stamps corporate emails with signatures but also automatically compresses attachments, forwards messages, modifies email subjects, removes sensitive content and attachments from email messages or rewrites sender's address. More actions available here.
do not want to worry whether your email client or mobile device is supported – all devices that work with Exchange are supported.
Learn more about other features
In the screenshot below, you can take a brief look at the Administration Panel of the software. From this place, you can manage all rules, check the server connection, configure access rights to rules and many more.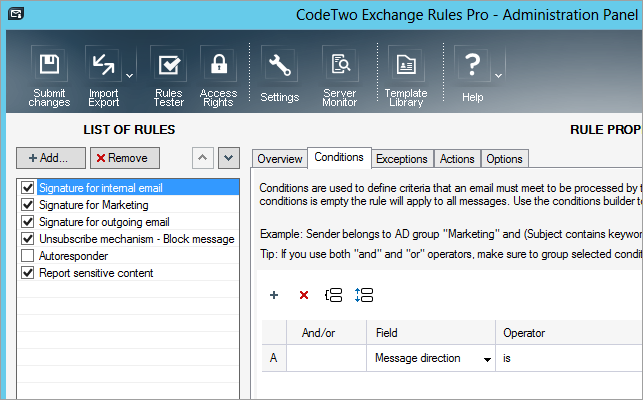 Download and test CodeTwo Exchange Rules Pro
CodeTwo Exchange Rules
For those of you who look no further than a need of inserting professionally designed signatures and disclaimers to your online correspondence, CodeTwo Exchange Rules would be a nice alternative to the Pro version discussed above. This program will help you create not only informative but also attractive email signature templates with logos and graphics that will be automatically inserted to you emails traveling through Exchange Server 2016, 2013, 2010, 2007 or 2003.
What should be mentioned here is that the program's version needs to correspond to a certain server version, e.g. if your organization works on Exchange Server 2013, you need CodeTwo Exchange Rules 2013 version to make it work. The program also supports multi-server settings but each server needs to be of the same version, e.g. all servers in the organization should be Exchange 2010.
It is the best choice for those who:
have Exchange Server (at least 2003) or have many servers of the same version
need to manage professional-looking email signatures and disclaimers for internal and outgoing messages
want to have different signatures for new emails and different for replies/forwards that are managed centrally
do not want spend extra money on functions that are dispensable for them – such as, for example, blocking messages or modifying email's subject
are fed up with signatures added at the end of the conversation thread instead of right under the latest response
See other reasons for this program
The screenshot below depicts the program's WYSIWYG editor where you can create your signature template. It has never been that easy to insert social links, logos, images or placeholders that will be filled in with Active Directory user's personal data on the fly. You can also decide where the signature should be placed in the message.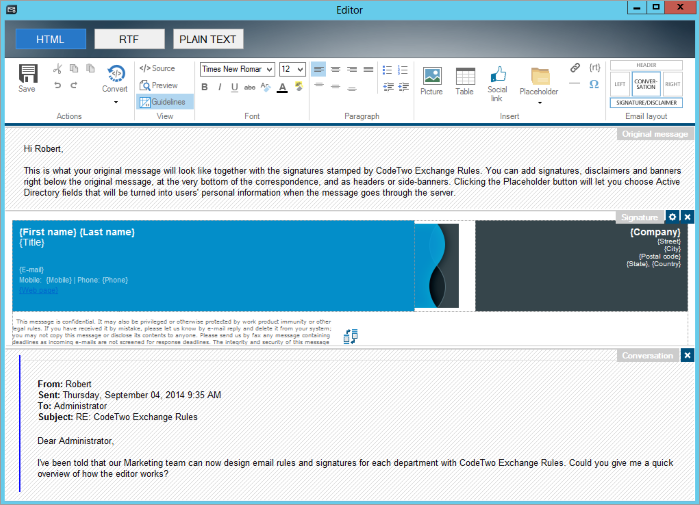 Here you can download CodeTwo Exchange Rules to test if for free
Migration tools for Exchange
Of course, you can perform a migration using native Exchange tools but the process may be troublesome in some scenarios e.g. when migrating from Exchange 2007 to 2016 you need to perform the upgrade from 2007 to Exchange 2010 first and then move to 2016. CodeTwo migration software is able to do direct cross-forest migration.
CodeTwo Exchange Migration
Once you face the challenge of migrating mailboxes between two Exchange Servers, you will perhaps be willing to accomplish the task without the PowerShell work as long as it is possible. If that is true for you, CodeTwo Exchange Migration is the program you should consider as it allows for performing the migration process in a more admin-friendly way thanks to a clear and intuitive UI.
The program can handle migration directly from 2003/2007 to 2013/2016 so it eliminates the need for double-hop migration. Here you can see other supported scenarios.
CodeTwo Exchange Migration provides a straightforward console where you i.e. configure source and target sever connections, create a migration job in which migration takes place or monitor the whole process of migration from the administration panel.
This program is for you if:
you need to perform exchange-to-exchange or exchange-to-SBS migration. See supported scenarios.
do not want to spend much time and resources to complete migration and play with PowerShell cmdlets
you want to have full control over migration with real time reporting
you need to schedule the migration in advance so that it triggers and stops automatically
you want to be assured that in case of any questions you can contact CodeTwo's Customer Service and be assisted.
Here you can get more information on its plus points
In the screenshot below, you can see the Jobs tab from the Administration Panel of the software. Under this tab, you can manage individual migration jobs, e.g. match each user's source mailbox with its target equivalent, see what the progress of the move is or whether there are any bad news reported. On the left pane, you can navigate between different migration jobs – each job can be edited, stopped or deleted.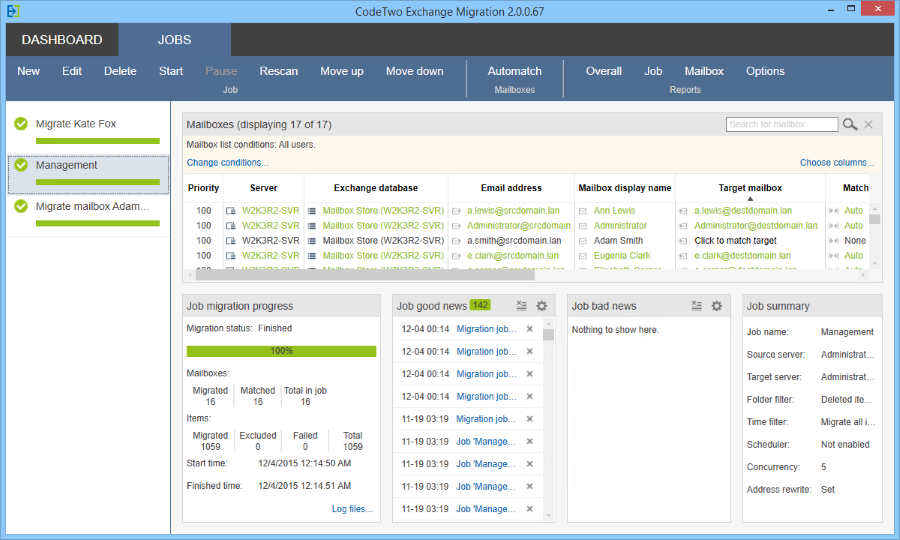 Download CodeTwo Exchange Migration and test it in your environment
CodeTwo Office 365 Migration
Another tool that can ease admin's work is CodeTwo Office 365 Migration. The program is designed to handle exchange-to-office365 migration in practically effortless manner. You just need to install the software, activate it, and create a migration job in which you can decide about the target server connection, select users' mailboxes to be migrated within that job and set up filters that will skip certain items during the migration process depending on those settings.
The program will help you migrate Exchange Public Folders to public folders in the cloud (you need to create an empty mailbox for them in Office 365 to accomplish the move). As regards user's mailbox migration, it is possible to get CodeTwo Office 365 Migration for free if you have a paid Office 365 plan.
This tool is for you if:
you need to migrate users' mailboxes and Public Folders from Exchange on-premises (2003, 2007, 2010 or 2013) to Office 365.
you want to perform migration at the possibly lowest budget – the software itself can be obtained at no cost. Learn more here.
you prefer to manage the whole process from one place via the 100% GUI based administration panel (no PowerShell scripting required) that provide you with all important reports and statistics about the migration progress.
you need to freely stop and resume migration process with no duplicates created.
you want to be assured that at any stage of configuration or migration you can contact CodeTwo Customer Service to get assistance.
Below you can see how the main window of the dashboard looks like. From this place you can quickly navigate to all important functionalities i.e. migration jobs, good and bad alerts or source and target server connection.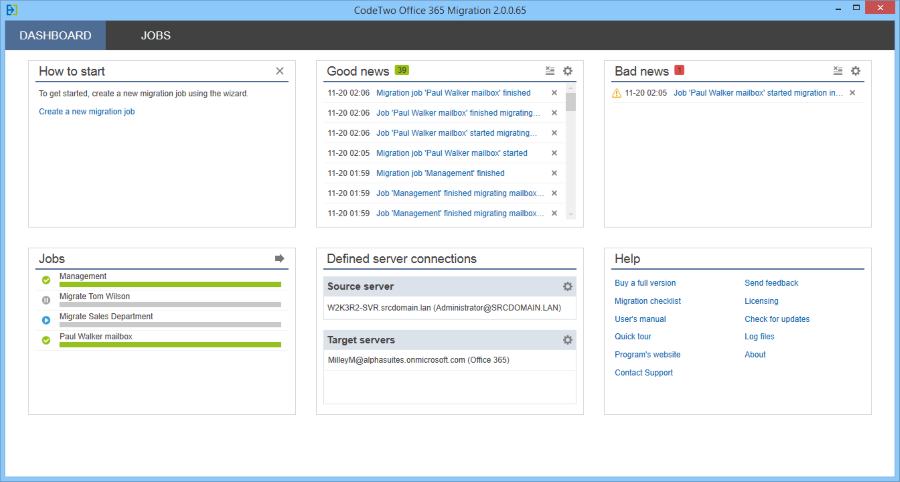 Download and test CodeTwo Office 365 Migration
Backup solutions for Exchange
Hopefully no one needs to be convinced to create backup copies of Exchange mailboxes. You may have already been asked to recover some deleted emails or search for certain items to fulfill any legal action taken in your organization. The following program from CodeTwo is designed to help you accomplish those tasks.
CodeTwo Backup for Exchange
This software will help you create backup copies of user's mailboxes and store them on local drives in your organization. CodeTwo Backup for Exchange can perform continuous or one-time backups – continuous backup runs in cycles where the first cycle is a full backup and every next is an incremental backup; one-time backup performs a full backup and stops but it can be started manually again – then it runs an incremental backup and stops.
For each backup job, you can set up activity periods so that the job starts and suspends automatically. If the option of activity periods is not enabled then you need to start the job manually. Additionally, you can backup items depending on their age or exclude some special folders NOT to be included in the backup job. Backed up data can be restored to an original or a different mailbox.
CodeTwo Backup for Exchange will help you if:
you want to keep your mailboxes safe and secure to protect them against damage or loss
you need to meet certain legal requirements regarding electronic records retention policy. Learn more here.
you do not want to keep an eye on mailbox backups all the time – if any problem occurs, the program can send you an email in which it reports the problem (if you configured email alerts)
you not only need backups but also want to archive backed up mailboxes (archive to PST available as well)
you simply want a software that is easy in use and eliminates the need for scripting
Find out more about other examples of use
See also why creating a backup is worthwhile
What seems to be especially attractive is the possibility of previewing single items under the Backups tab in the Administration Panel of the software (see the screenshot below). What is more, you can restore individual items, folders or entire mailboxes.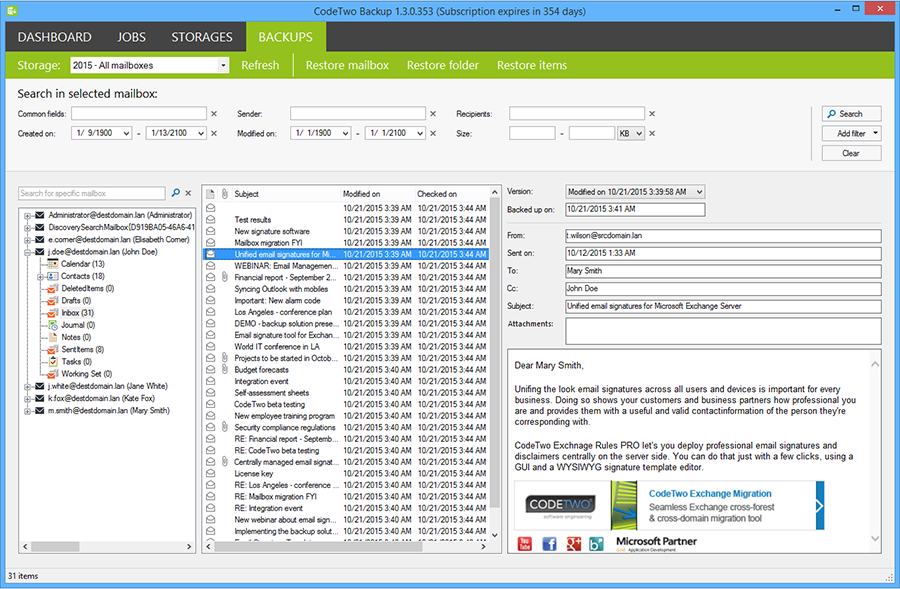 Download a trail version of CodeTwo Backup for Exchange
All programs presented above are paid. To check other CodeTwo products please visit our official website.
Suggested reading
Synchronize Public Folders to personal folders and view them on mobile devices via Active Sync
Migrate legacy (2003 or 2007) Exchange to Exchange 2016