In one of our previous blogs, we shared some of the most essential ways of using email signatures in business. Now, we would like to dive even deeper into the features of CodeTwo Email Signatures for Office 365.
If you would like to learn how to set up and automate multi-language email signatures, use signatures as canned responses, boost your email marketing campaigns with rotating banners and bring more innovative solutions to your Microsoft 365 signatures, keep on reading.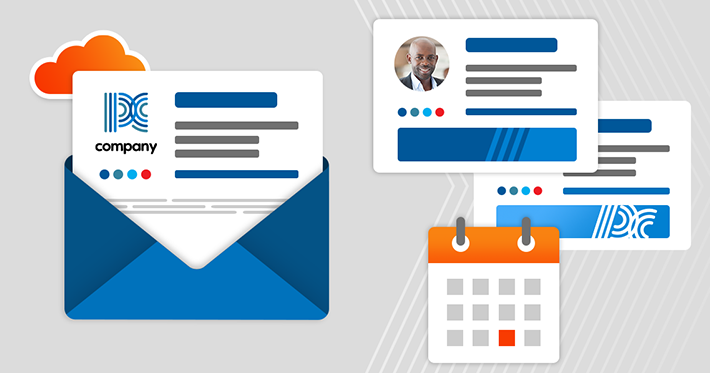 Automatically add signatures in different languages
There's a number of reasons why you should consider using different language versions of your company email signatures. For example, such signatures can help you break the language barrier or improve overall communication, generate more leads by accessing wider target audience, or help you stand out from your competition by providing a more personalized experience to your customers. Without the right tools, the deployment and management of multiple-language signatures can be a challenge, especially in mid-sized and large organizations.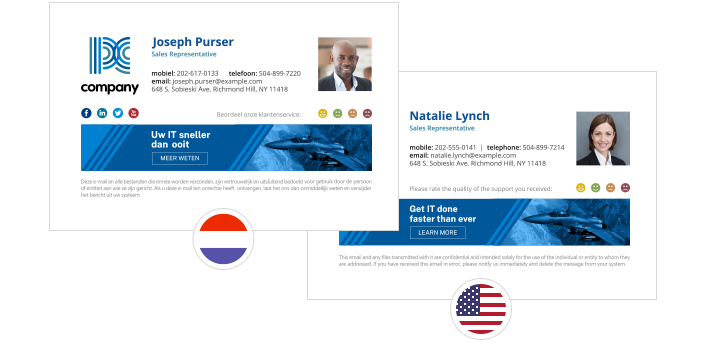 With CodeTwo Email Signatures for Office 365 you can automatically insert signatures in multiple languages, and there are a few ways to do it depending on your preferences. You can automate the signature adding process in server-side mode and let the program add the right signature based on email senders or recipients. Or you can use client-side signatures and let users select the correct language version of a signature when composing their message in Outlook. CodeTwo's service allows you to create and manage all signatures centrally and using any device via app.codetwo.com.
Learn more about configuring the program to add automatic email signatures with different languages
Use email signatures as canned email response templates
Canned responses are messages that are used as quick replies to the most common questions, requests or issues. They give you a way to standardize your communication with customers and make sure that no important information is left out. By using canned responses you also save time and effort, as there's no need to compose each message from scratch. So, what all this has to do with email signatures?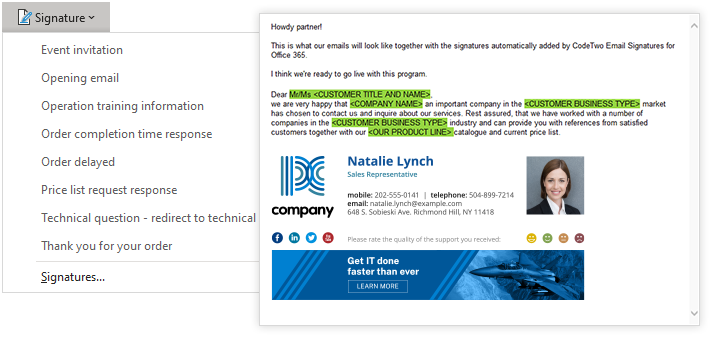 By taking advantage of the client-side signature mode in CodeTwo Email Signatures for Office 365, you can create signature templates as complete emails and make them available for your users. Now, a user simply selects the correct signature (canned response) while composing an email in Outlook and fills in blank spaces, such as the name of the recipient and whatever other information needs to be included. And that's it. You don't need a dedicated tool to introduce canned responses to your Microsoft 365 correspondence.
Find out how to set up canned responses using CodeTwo Email Signatures for Office 365
Set up email signatures with alternating banners
Email marketing campaigns are a great way to attract the attention of your recipients. Marketing banners placed in email signatures stand out from other elements of a message and tend to have a high click-through rate (CTR). However, when the same banner is used again and again in all outgoing messages, its effectiveness drops. To keep your recipients engaged, a good idea may be to introduce rotating (alternating) banners.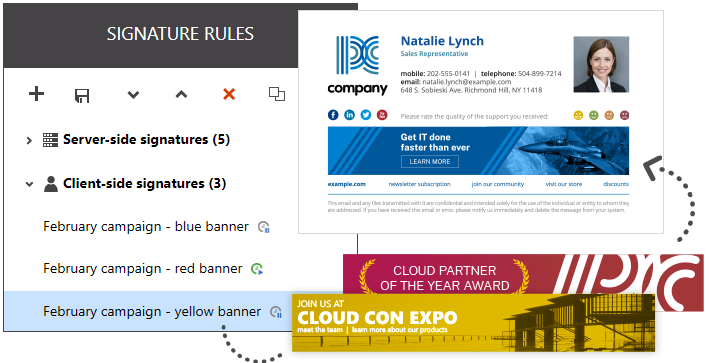 This can be easily done with CodeTwo's email signature app. If you have a signature template with a marketing banner, just clone it to create several templates, and add a different marketing banner to each template. Then schedule these templates to change on different days, weeks, etc. If you don't want any automation but prefer your users to choose a different signature manually, prepare as many client-side signature templates with different banners as necessary and make them available to selected users.
Learn how to create email signatures with rotating banners in CodeTwo Email Signatures for Office 365
Schedule automatic changes in email signatures
Every time you modify your signature rules at app.codetwo.com, the changes are instantly applied to all users in your Microsoft 365 organization. So, for example, if you want to temporarily switch a regular banner in your corporate email signatures with a holiday-themed one or include additional information about an upcoming event, you can do so anytime and from any device. However, you need to remember to undo all changes made to your signature rules after the holiday/event.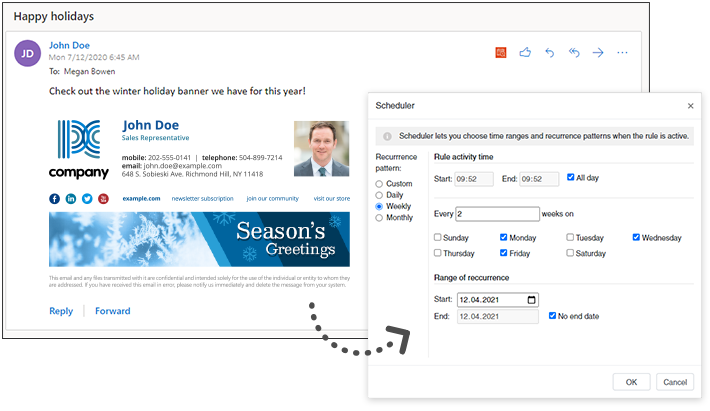 This is where the Scheduler comes in handy. It lets you define time frames during which a selected signature rule is active. So, you can create a new rule that adds a modified email signature and configure the Scheduler to apply this signature to all (or selected) emails only for a set period of time. Use this feature to plan your email signature marketing campaigns ahead.
See this article to see how to set up the Scheduler for different use cases
Trigger or suppress email signatures with keywords
Server-side signatures are added after a user sends an email, based on the rules defined by an admin or delegated persons. Because of that, users cannot modify the contents of such signatures and you can be sure all signatures in your organization always look the same and contain all the necessary elements, such as contact details or legal disclaimers. But what if you would like some users to be able to switch between different signatures or remove them entirely?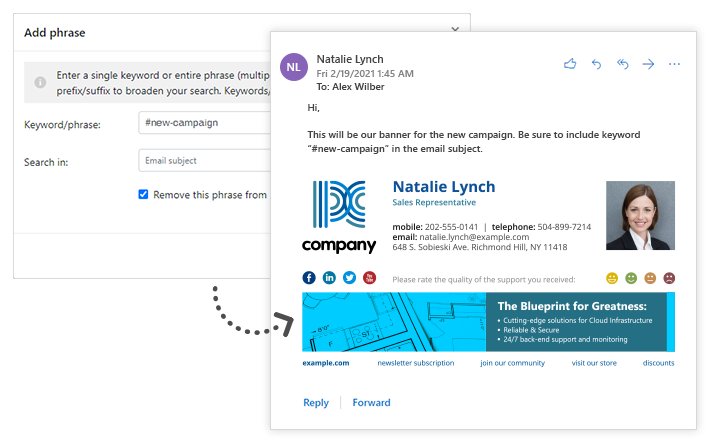 If you want, CodeTwo Email Signatures for Office 365 allows you to give users control over their signatures. The service can work in client-side mode which adds signatures directly in Outlook as users type their emails. However, if you'd like to stick to server-side mode, you can use keywords. The program lets you define a single keyword or entire phrase that users can include in the message subject or body (or both) to trigger a different server-side rule (and get a different signature) or to prevent the program from adding any signature at all. Simple as that.
Learn more about keywords and how to configure them in CodeTwo Email Signatures for Office 365
Add signatures to emails sent from shared mailboxes
Shared mailboxes are usually used to store emails sent to generic company email addresses, such as [email protected], [email protected], etc. These mailboxes can be accessed by multiple users to monitor incoming messages. In addition, users with the necessary delegation rights can also send emails as or on behalf of a shared mailbox. And this is why you need to make sure such emails also get branded signatures.

Configuring CodeTwo Email Signatures for Office 365 to add signatures to emails sent from a shared mailbox is easy as 1, 2, 3. In server-side mode, simply include such a mailbox in the scope of senders of a selected signature rule. In client-side mode, create a dedicated signature template and make it available for all shared mailbox users.
Learn more about how to add signatures to emails sent from shared mailboxes
Create and manage email signatures in Microsoft 365 from anywhere
These are some of the more advanced use cases of our award-winning email signature software. At its core, CodeTwo Email Signatures for Office 365 lets you easily and effectively manage all email signatures in your Microsoft 365 organization, from any device or platform (Windows, Mac, mobiles, and more). Get your free 14-day trial and try it for yourself.
Use the links below for detailed information about how to configure CodeTwo Email Signatures for Office 365 for each use case: