Exchange Online, similarly to the on-premises Exchange, contains a number of attributes you can set for each user. Personal details, address, organization-related and contact information – it can all be set up in Office 365. While for some Office 365 organizations, standard AD fields are enough, sometimes there is a need for a non-standard field. That is where custom attributes come in handy. In the article, I show how to set up Office 365 custom attributes and what are the possible examples of use for them.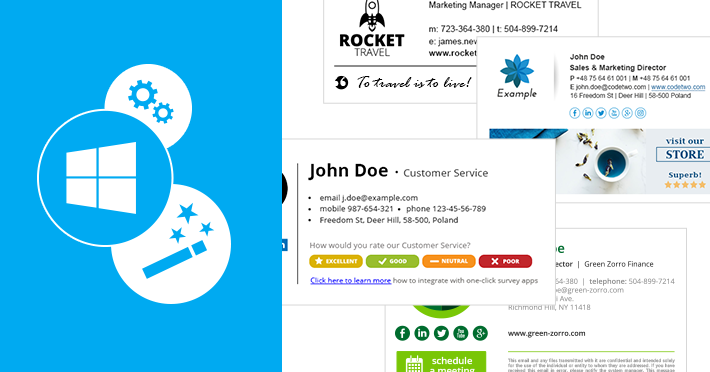 Why use custom attributes?
There are 15 custom attributes in Exchange Online. Quite similarly to directory extension attributes known from the on-premises Exchange. Some examples of their use include:
Creating custom address lists basing on custom attributes.
Adding additional contact details to Office 365 users.
Those are only a few examples of use. Custom attributes can have many other uses, especially for admins who want to filter results of various PowerShell cmdlets. Before you begin using custom attributes, though, you have to set them up. Read on to learn how.
How to set up custom attributes in Office 365
There are two methods you can use to set up custom attributes in Office 365: the Office 365 Admin Center, and PowerShell. Another method – using Exchange Online admin center – will not get its separate section in this article. It is identical to the first one, except for a slightly different access path.
Even though the first method makes use of a simple UI, you may find it much easier to use PowerShell (compare the two approaches below to learn why).
Office 365 Admin Center
Log in to your Office 365 tenant and click the Admin app.

Next, go to Users > Active users.

Click the user with an active mailbox to access their properties. After that, go to Mail > Edit Exchange properties.

Custom attributes are not visible until you click "More options". After you expand the window to include additional fields, click the Edit.

Finally, this is the window in which you can modify custom attributes for the selected user.

Edit Custom attributes using PowerShell
First, it's worth checking if custom attributes are already populated:
Get-mailbox User@domain.com | FL CustomAttribute*
To edit the first custom attribute for a single user, use the following cmdlet:
Set-Mailbox User@domain.com -CustomAttribute1 <the new value>
You could change a particular custom attribute for a group of users or all users:
Get-Mailbox | Set-Mailbox -CustomAttribute5 <the new value>
As you can see, setting up custom attributes using PowerShell is much quicker than going through the UI steps. Especially if you need to change those properties in bulk.
Use custom attributes in email signatures
To make use of custom attributes in email signatures, you will need CodeTwo Email Signatures for Office 365.
CodeTwo Email Signatures for Office 365 is an email signature management service. It allows you to unify email signatures and disclaimers in an organization, regardless of email clients and mobile devices used.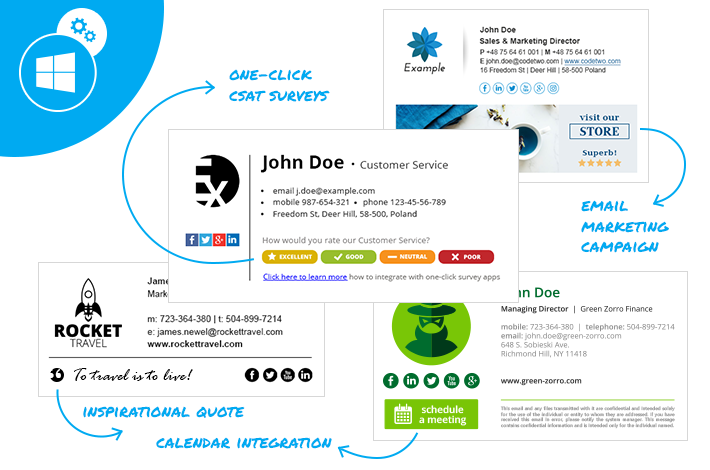 In an email signature template, you can use a placeholder to get an individual value of your users' custom attribute. This simple action allows you to:
Add one-click customer satisfaction surveys to your emails. One-click surveys are an easy way to collect feedback about your services from your customers. Most people are not willing to fill in a lengthy questionnaire about their customer experience. One-click surveys allow a much more friendly option of just clicking a rating button. Read more about CSAT surveys in email signatures.
Provide scheduling links. A scheduling link in an email signature is a great way to make it easier for customers to book a demo or any other kind of meeting. Instead of troublesome back-and-forth emails to book time, you can automatically direct your customers to your or your team's calendar. It is especially helpful if you and your customer reside in different time zones. Read more about the easy scheduling of meetings.
Add additional contact details. In some cases, you need to add additional contact information or specific IDs to your email disclaimer. Using custom attributes, you can any kind of user-specific attribute to their email signature, automatically.
Run A/B tests of your marketing campaigns. If you insert different links as users' custom attributes, you can use the exact same email signature template with different banners and landing pages. As a result, you can easily let your marketing team test the effectiveness of their email campaigns.
More about Office 365 email signatures
Email signatures are often a neglected aspect of communication in organizations. CodeTwo Email Signatures for Office 365 lets you upgrade your organizational email signature from an invisible addition to an invaluable, attractive asset. Build your branding and gain more marketing opportunities thanks to our software.
Suggested reading: