Autoresponder has become a common functionality across email apps, with nearly everyone knowing how to set auto replies in Outlook. However, the Automatic Replies feature isn't perfect, as it lacks certain capabilities (e.g. HTML support, defining the maximum number of auto-reply emails, etc.). Using admin centers in Microsoft 365 helps to solve some of these imperfections, but adds a bunch of new ones.
The Autoresponder feature in CodeTwo Email Signatures 365 overcomes these limitations and easily lets you make the most of your Microsoft 365 automatic replies (including out of office messages). If you're curious how our tool can help your organization on a daily basis, have a look at the business use cases listed in this article.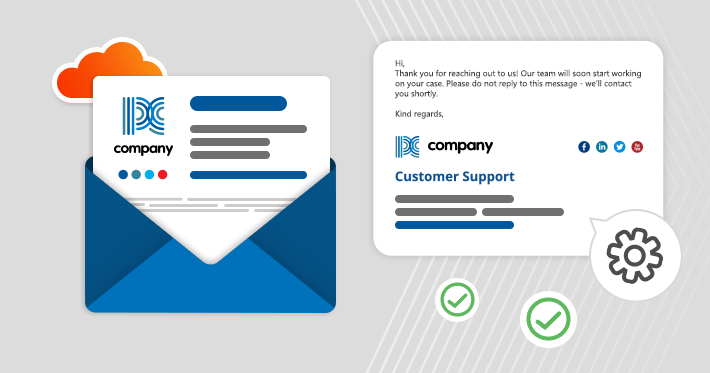 But first things first. Autoresponder is an additional feature in CodeTwo Email Signatures 365. You can use it for free if you have an active subscription of our email signature management software. Autoresponder allows you to create and centrally manage fully branded auto replies & out of office messages in Microsoft 365. It offers rich customization options, smart scheduling, email forwarding, the ability to delegate auto-reply management to selected users or group members, and more.
Now, let's look at those use cases:
Create and centrally manage fully-branded out of office messages
Decentralized auto replies can potentially lead to a kind of hodge-podge, where each end user decides what they want and don't want to include in their OOO/OOF message. Sometimes an employee might fail to include important information in their auto reply or to set it up at all. Or they might provide the last day of their absence as the day of their return, which can lead to troubles and misunderstandings.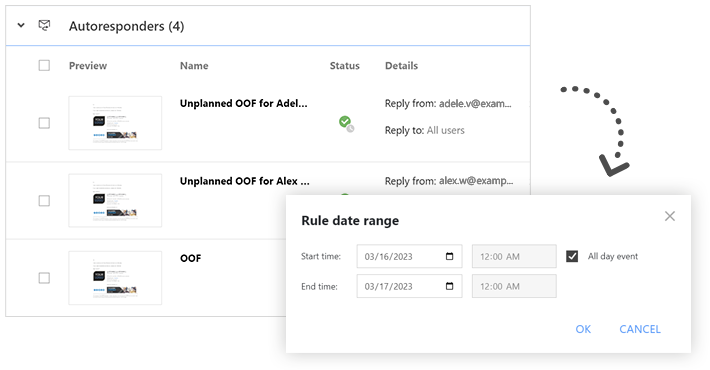 With Autoresponder, you have complete control over the out of office message design and content. Thanks to that, you can be sure auto-reply emails sent for absent employees are uniform across the entire organization and meet your branding needs. You can also centrally enable and disable professional-looking out of office messages for users who need them (e.g. in the case of a sickness absence or planned vacation). Finally, Autoresponder allows you to include the original email in your OOO message to provide the context for everyone in an email thread – something that the native Automatic Replies can't do.
Learn how you can centrally manage out of office replies for all users in Microsoft 365 with Autoresponder
Send auto-reply emails based on a pre-set condition
Very often organizations receive repetitive emails that require them to respond in a similar fashion, e.g. to confirm that they've received an invoice or inform that a given product is not supported any longer. The automation of such mundane and repetitive activities can save your employees a lot of time (and headaches).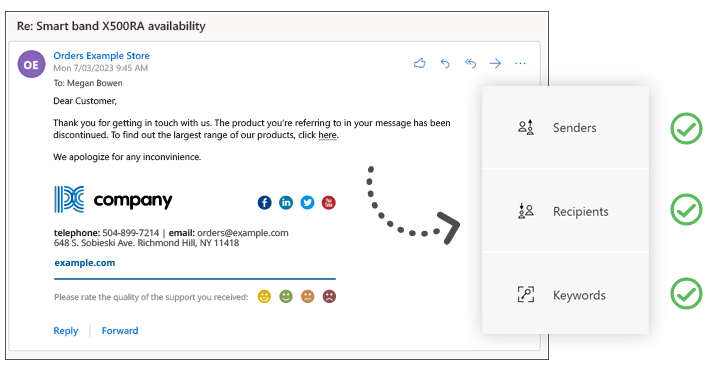 For each autoresponder rule that you set up in CodeTwo Email Signatures 365, you can specify multiple conditions for when to trigger sending an automatic reply. For example, auto replies can be sent only in response to emails that came from a specific domain/address; or that contain a particular word (e.g. invoice) or phrase (name of a product) in its subject and/or body. There are a lot of customization options that can be implemented in a centralized way.
See how to configure Autoresponder to send automatic replies based on various conditions
Let your end users enable autoresponder rules by themselves
If you would like to maintain control over the design and contents of all automatic replies in your organization yet lift the administrative burden of day-to-day OOO management from your shoulders, we've got you covered as well.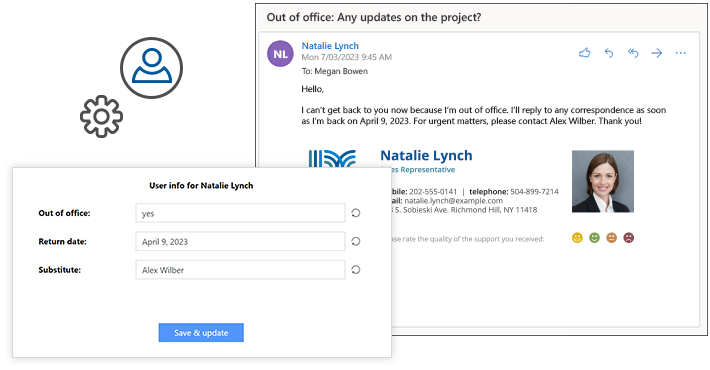 By combining the capabilities of Autoresponder and the User attributes manager (which you can also use for free), you can design an out of office reply that's consistent with your branding and, at the same time, let your end users toggle on/off automatic replies whenever needed (just like in Outlook). You can also create custom attributes that your end users can edit to change the basic information shown in their OOO replies, such as return date, substitute's name, etc. Filling in this information is super simple and quick.
Find out how to allow your end users to turn on their automatic replies in CodeTwo
Set up an automatic reply for disabled or deleted users
If you disable (remove a license) or delete a user in your Microsoft 365 organization (e.g. due to retirement or dismissal of an employee), people will not be able to contact them anymore. Autoresponder offers a simple solution that will help you avoid any possible miscommunication and ensure all emails sent from your customers are received: auto reply + email forward.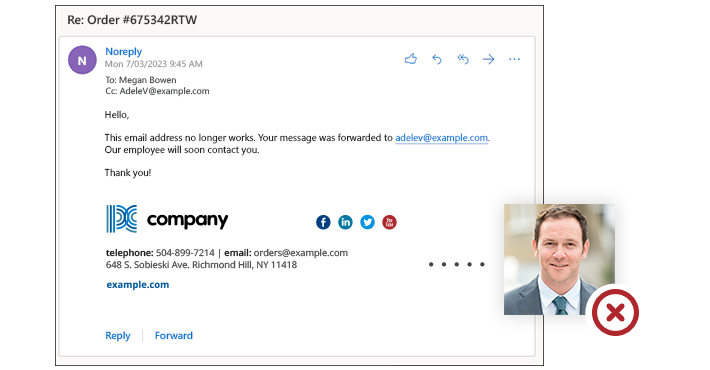 Create a special no-reply shared mailbox in Microsoft 365 and add email addresses of inactive users as aliases. Next, set up a fully branded automatic reply for this mailbox in CodeTwo. As you can freely customize your auto-reply message, you can include details (e.g. name and email address) of another user from your organization that will become the new contact person for your customers. You can also automatically forward all emails sent to inactive users to selected email address(es).
See how to configure an autoresponder rule to send automatic replies from disabled or deleted users
Create an auto-reply message for your Customer Service Team
You've probably sent an email or two to any support, right? If not, here's what usually happens: you receive an automated response with a confirmation that your case is being handled. That's also something you can implement in your organization with Autoresponder.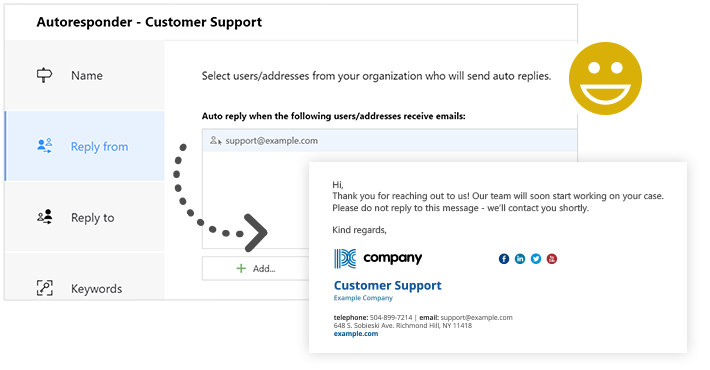 You can create an autoresponder rule for a shared mailbox that your support team uses. That way, each time an email lands in this mailbox, the sender almost immediately gets any response that you configure – just make sure the auto reply is also consistent with your organization's branding to enhance your professionalism. Additionally, you can configure multiple conditions for your autoresponder rule, some of which are not offered natively in Microsoft 365 like defining the number of automatic replies to be sent per sender or modifying original message's subject by adding a fixed 'welcome' phrase.
See how to configure an exemplary automated reply for your Customer Service Team in CodeTwo
Try the next-level automatic replies for free
If you've found some of the use cases interesting and would like to implement them for your organization, you can test CodeTwo Email Signatures 365 and the Autoresponder feature for free even today. Simply sign up for a 14-day trial and use the links below for a quick start:
For more examples of using CodeTwo Email Signatures 365 to enhance email signatures & automatic replies in your organization, visit this website.