As a business owner or a person responsible for promoting your brand, you're well aware that email signatures are essential in everyday business communication. They drive brand recognition, generate leads, promote your company's products or services, and can even help your company stay compliant with various legal obligations.
CodeTwo Email Signatures for Office 365 is the right tool to ensure all that and more. This award-winning email signature service brings benefits and capabilities that are not available natively in Microsoft 365 (Office 365). Read on to learn about the most popular usage scenarios and see how easy it is to customize email signatures to your needs and automate signatures in your organization.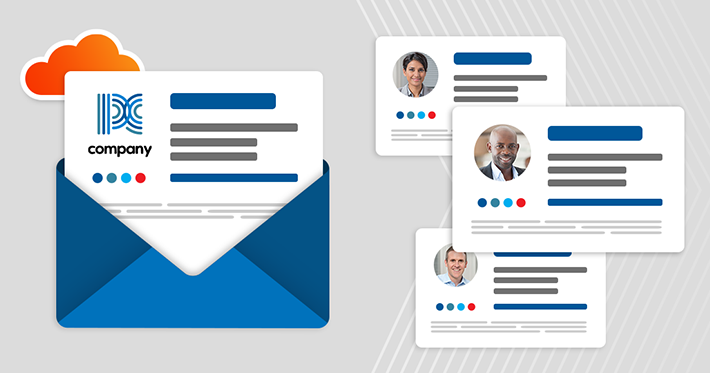 Add email signatures to messages sent from all email clients and devices (including mobiles)
If people in your company use mobile devices to send business emails, you're probably tired of seeing emails that end with the "Sent from my phone" phrase. What's the point of having a professionally designed signature if it is added only in Outlook or other desktop email clients?

When using CodeTwo Email Signatures 365 in server-side (default) or combo mode (learn more about signature modes), signatures are added to all devices out-of-the-box – no additional setup is necessary. You can also use predefined signature templates available in the program that are mobile phone friendly or compose you own templates from scratch.
Find out how to add signatures to messages sent from all email clients and devices by using CodeTwo Email Signatures for Office 365
Use different signatures for first and subsequent emails (replies/forwards)
Are your email signatures overloaded with information or graphics? Providing necessary information in an email is one thing, but you can easily leave a negative impression of your company if the signature is too large and appears too many times in an email conversation.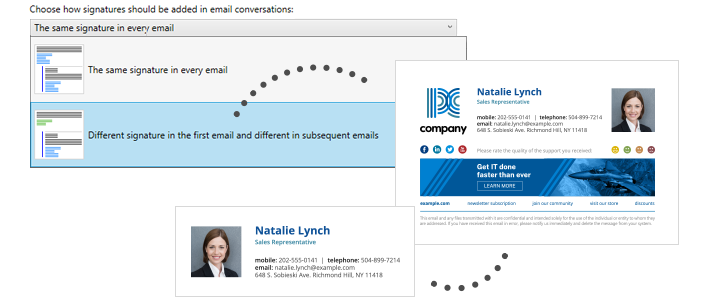 Why not use a different email signature template for new messages and replies/forwards? That way you can insert your full signature when sending a message for the first time and a shorter version (including only basic contact details) in subsequent messages sent within the same email thread.
Learn how to automate the adding of different signatures to the first and subsequent messages using our email signature software
(Pssst! You should also look into this article and see if there's anything you can drop from your corporate email signature.)
Use different signatures for internal emails
Email signatures that include graphics take up mailbox space much faster than text-only signatures. But elements such as company logo or a marketing banner are important and need to play their part in your branding or marketing strategy. That is, as long as they are added to messages that actually leave your organization.

Messages sent within your company, on the other hand, serve a different purpose – they need to be clear and informative. That is why it's a good idea to use simplified signature templates for internal emails and include only basic information in them, like sender's name, title, department, or extension number. It's easy to achieve that with CodeTwo Email Signatures for Office 365 – simply create different signature rules for messages sent to internal and external recipients.
See how to configure our email signature management software for this scenario
Create customized business email signature templates, for different users or departments
Unified signatures improve brand awareness. But uniform doesn't mean identical. If your company is a large organization with many departments and offices, you might want to use dedicated signature templates for different people and groups. For example, it's nice to include marketing banners in emails sent by your Marketing or Sales team, but such elements are not welcome in emails sent by your Accounting team to local authorities. Be sure your company has many different signature templates to choose from. At the same time, remember to maintain brand consistency across all these signatures.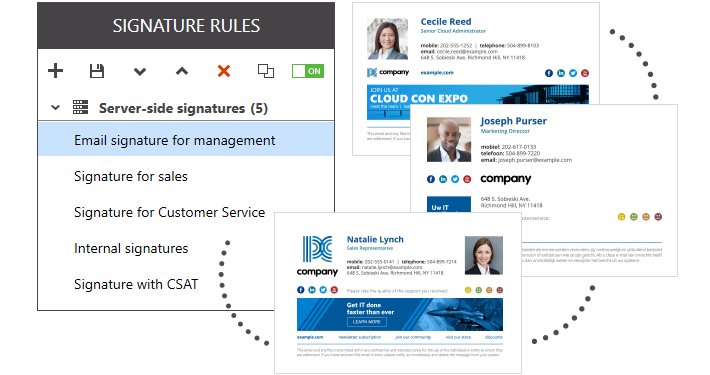 Adding different signatures to messages sent by different users is very simple with CodeTwo Email Signatures for Office 365. All you need to do is create dedicated signature rules and place them in correct order.
Find out how to automate the signature adding process based on message senders
Keep your signatures directly under your message
Have you noticed that sometimes email signatures end up at the very bottom of an email conversation? If yes, you are probably one of the few that made the effort and actually searched for the missing signature. Most of your recipients will not be so eager. If you want your signature to be noticed, be sure it is always placed under the latest message (reply/forward) in an email thread.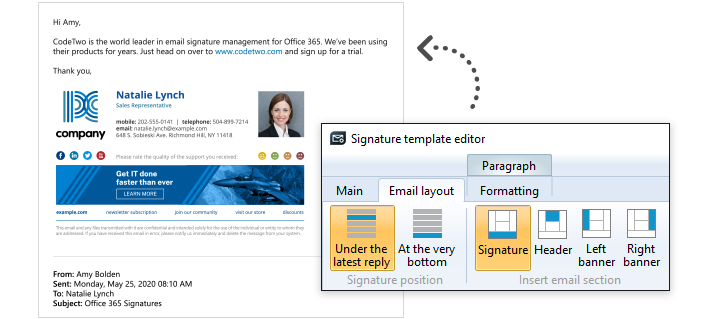 Bear in mind that you can't achieve that natively in Microsoft 365 (using mail flow rules in Exchange Online). And even Microsoft recommends using third party solutions for this purpose. Luckily, if you use CodeTwo Email Signatures for Office 365, placing signatures directly under the message body is something the program does by default. In other words, unless you change the signature placement settings intentionally, all your email signatures will be added directly under your latest reply and forward messages in email conversations.
Learn more about the program's signature positioning options
Automatically add a different signature based on the email address, language or the nationality of the recipient
Ok, so you decided to use email signatures for marketing purposes but you don't get the results you were hoping for. But have you tried to run targeted email campaigns? It is important to adjust the contents of your signatures (e.g. promotional banners, language, etc.) to intended recipients. Personalized email signatures are more likely to a evoke a response and increase brand engagement than generic ones.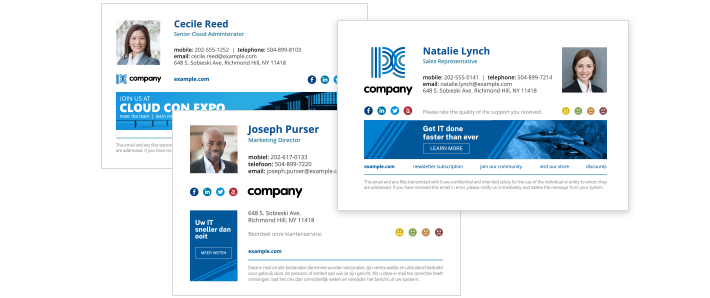 CodeTwo Email Signatures for Office 365 can change your email signature automatically based on the recipient of your message. So your email can have a different signature when you send it to specific users and email addresses, domains, countries, language groups, and more.
Find out how to configure the program to add different signatures to emails sent to different recipients
CodeTwo brings email signatures to the next level
And this is just the tip of the iceberg of what's possible with email signatures when they are centrally managed using CodeTwo Email Signatures for Office 365. If you haven't used the service in your Microsoft 365 organization yet, get your free 14-day trial here.