Installation process
CodeTwo Backup comprises two components installed together by the installation wizard: the Backup Service and the Administration Panel. The setup of the program needs to be run under the Local Administrator's account on any machine that meets the installation requirements. This machine must be also turned on at all times. Otherwise, no backups will be created. Make sure also that the machine you install the program on has a stable and uninterrupted high-speed connection to the Internet.
The table below briefly describes two components of the program and the installation rights required:
CodeTwo Backup components
Purpose
Installation rights

Backup Service

Executes all jobs and settings defined in the Administration Panel.

Administration Panel

Used for defining all jobs and settings of the program.
The setup of the program is a typical windows type installation where you manually go through the basic steps such as accepting the License Agreement or selecting the installation path. After the installation is completed, the wizard closes and the program starts automatically along the Quick Tour slides displaying the main features of the program (Fig. 1.).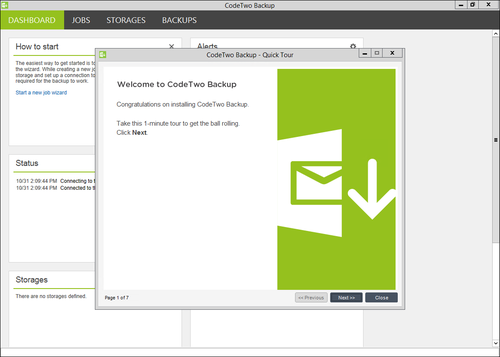 Fig. 1. Quick Tour.
See also
Supported platforms and system requirements - a list of supported Exchange Servers, operating systems, hardware requirements, additional components, and rights necessary to install and operate the program. You will be also provided with information about the account used for connecting to a server and what data can be backed up using the program.