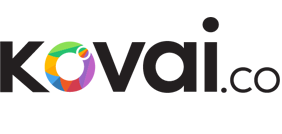 Summary
Company name:
Kovai.co
Number of employees:
300+
Number of emails processed every day:
4,000
Problem:
Lack of control over email branding, hurting the brand image. No way to target email marketing campaigns. Losing marketing opportunities.
Solution/Product:
CodeTwo Email Signatures 365
Implementation type:
130 mailboxes
Using CodeTwo since:
2020
Company description
Kovai.co is a SaaS product company founded in 2011 by Saravana Kumar. They are known for the B2B platforms for cloud resource monitoring, customer success management and knowledge base administration.
Problem
The main issue the company experienced was a lack of uniform email signatures for all employees. Even though employees were instructed to set up their email signatures during their onboarding, they either forgot or failed to do so. The company had no way to guarantee their email signature consistency, which decreased their brand value. But that's not all. Kovai.co runs a range of different promotional activities for all their products. They needed an effective way to promote their campaigns for the right target group.
Solution
Kovai.co wanted to efficiently manage their email signature branding. They have assessed a few solutions in the email signature market and chose CodeTwo. From the very beginning, CodeTwo made a very good impression, especially in terms of simplicity:
"CodeTwo is very intuitive to use and integrates with Microsoft AD seamlessly", said Saravana Kumar. He also praised how the built-in email signature editor makes it easy to add, edit and update email signatures on the go, even for non-technical staff.
While first impressions matter a lot, they won't keep a partnership happy forever. A great service needs to provide best experience possible on every step of the customer journey. That's why Kovai.co's CEO continued to stay satisfied with CodeTwo for the past couple of years:
"We are very pleased with CodeTwo Email Signatures 365. The knowledge base makes it very easy to configure and use certain product functionalities.", he said. Saravana Kumar was also fully satisfied with the overall quality of service provided by CodeTwo:
"The support team is very attentive and responds quickly. The product is very stable and reliable."
Central email signature management lets Kovai.co achieve the following benefits:
Time savings – the mundane and repetitive task of manual email signature update can be done by a single person within just a few clicks.
Better blacklist prevention – the marketing designs the signature to keep tabs on the number of hyperlinks and other potential risks.
Better brand value – each email is presented with a compliant, well-designed email signature with links to the right promo offers.
Easy targeting of marketing campaigns – Kovai.co sends close to 4000 emails daily. Creating targeted email campaigns with CodeTwo helps them reach a lot of external stakeholders who could be potentially interested in keeping tabs on what Kovai.co does and gain leads that can be converted into customers.
See more customer success stories