Customer Case Study
Agnew Group Ltd.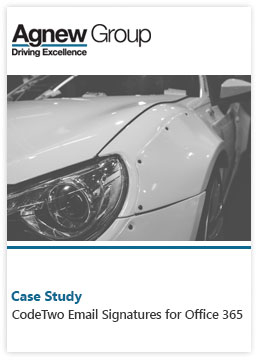 Company description
Agnew Group is a leading vehicle retailer group in Northern Ireland. The company offers a wide variety of services: they deal and exchange cars, offer a high level of quality repairs and provide an innovative fleet management solutions. Agnew Group prides itself on having a team friendly professionals, who stop at nothing to provide an outstanding customer service.
Problem
One of the factors which got the company where it is today, is an exceptional focus on keeping correspondence with clients highly professional. Among communication methods used by the company, emails play one of the most important roles. For an organization which sends from 5000 to 8000 outbound emails every day, they require a tool which automatically adds email signatures to all messages, as it takes a lot of weight off employees' shoulders and helps the company take both communication and branding to the highest level.
Agnew Group had such an email signature management solution, but when they migrated their mailboxes to Office 365, it turned out not to be compatible with the Microsoft Cloud. They needed to fix this as quickly as possible, to ensure the same level of customer satisfaction and to let their staff focus on their clients and not on setting their email signatures manually.
Solution
Mr. Nigel Skilling, Group IT Manager in Agnew, had to find a tool which is compatible with Office 365 and offers high flexibility of signature management. Mr. Nigel found a lot of different products and CodeTwo Email Signatures for Office 365 was among them. Tempted by a great score of features and competitive pricing, he decided to give it a try. He was not disappointed with his choice.
"Very impressed, the program has all the features we require and more. We now have the ability to create separate autosignatures for internal purposes as well as a customer facing version" - Mr. Nigel Skilling, Group IT Manager in Agnew Group Ltd.
It is not only the software that Agnew Group was impressed with. Their experience with CodeTwo turned out to be very positive because of a very responsive Customer Service team. But what matters the most to people at Agnew is that CodeTwo Email Signatures gave them the ability to apply centrally managed email signatures for Office 365 mailboxes.
Summary
| | |
| --- | --- |
| Company name: | Agnew Group Ltd. |
| Number of employees: | 900 |
| Number of emails processed every day: | ~6500 outbound emails daily |
| Server type: | Office 365 |
| Problems: | Previous email signature management tool not compatible with Office 365 |
| Solution/Product: | CodeTwo Email Signatures for Office 365 |
| Installation type: | 750 mailboxes |
| Implementation time: | 4-6 weeks |