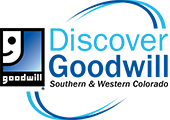 Summary
Company name:
Discover Goodwill of Southern & Western Colorado
Number of employees:
1,500
Number of emails processed every day:
26,000
Server type:
Office 365
Problem:
Problem with maintaining a consistent look of email signatures in email communications
Solution/Product:
CodeTwo Email Signatures 365
Installation type:
500 user mailboxes
Implementation time:
One week
Company description
Discover Goodwill of Southern & Western Colorado is one of over 160 independent organizations across the U.S. and Canada that help individuals with different kinds of disabilities in finding purposeful employment and being active participants of a community life.
The organization is recognized for its commitment to helping people achieve greater independence, and this way improving their quality of life.
Problem
Before implementing CodeTwo solution, the main issue Discover Goodwill experienced was an inconsistency in email signature design across different organization units. The organization also did not control whether users were maintaining different signatures for internal and external emails – it was left to their discretion. As maintaining unified email signatures for over 500 employees across 20 organization units was actually impossible, Discover Goodwill decided to look for a solution. They needed an application that would allow them to apply HTML email signatures with images, use Active Directory data in signatures and facilitate internal and external signatures management.
Solution
After a search, Discover Goodwill found CodeTwo Email Signatures 365 software. Before they decided to choose our solution, they read reviews and asked other companies that use CodeTwo programs for sharing their experience. After receiving positive feedback, the organization decided to implement CodeTwo Email Signatures 365. Bruce Purcell from Discover Goodwill of Southern & Western Colorado said – "CodeTwo is easy to implement and it simply works as advertised. Even with several business units and a complex set of rules separating internal from external signatures, configuration is straightforward."
As the company with multiple business units, they recognized "the ability to give each unit their own identity while easily managing content to ensure that the overall corporate identity and integrity is maintained. We also like the simplicity and efficiency of the program." – added Purcell.
After implementation of CodeTwo Email Signatures 365 solution, the crucial issues have been addressed allowing to improve the email signature control. This is how Bruce Purcell sums up the experience with our solution - "CodeTwo helped us solve our email signature problems by giving us an easy-to-manage method of controlling our content and giving our various business units their own identity. We can now maintain separate internal and external signatures."
See more customer success stories