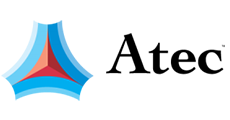 Summary
Company name:
Atec, Inc.
Number of employees:
400
Number of emails processed every day:
6,000
Problem:
Updating signatures individually was time consuming
Solution/Product:
CodeTwo Email Signatures 365
Implementation type:
280 mailboxes
Implementation time:
3 tenants over the course of 1 month
Company description
Atec, Inc., headquartered in Stafford, Texas, specializes in delivering solutions for aerospace and energy applications, including engine testing (jet and rocket engine propulsion), aero support equipment, space flight components, heavy fabrication facilities, and energy service products. Among their customers you can find organizations such as NASA, U.S. Department of Defense and other major aerospace companies as well as airlines and companies offering energy services. In 2016, the company was recognized by NASA as its National Subcontractor of the Year, and in 2017, Atec was named the Subcontractor of the Year in their region by the U.S. Small Business Administration.
Problem
Atec and all their subsidiaries (Vital Link, Celtech Corporation, Hager Machine & Tool) employ a total of 400 people, spread out across 10 locations in 5 countries. In addition, the company's mailboxes are kept in three Office 365 tenants. Every day, the companies process over 6000 emails, sent between the company's branches or exchanged with their customers and community partners. Atec puts great emphasis on the quality of their services and products, and this applies to their correspondence as well. They know how important it is for an email signature to contain the necessary contact details and all relevant information. Since there is no native solution that would let them manage signatures organization-wide, every time a change was made to their corporate email signatures, all signature templates had to be updated individually on each workstation. That, as you can imagine, was an intensely time-consuming process for IT staff.
Solution
Atec's search for an email signature management software led them to discover CodeTwo Email Signatures 365. Michelle Fenley, Director of IT and Materials at Atec, points out that their first impression of our signature manager was very positive, as it was "pretty simple to create an account and begin the trial. The program integrated well with our Office 365 tenants". After they created their first signature rule and designed a signature template that matched their current signature layout, the rest was like a walk in the park thanks to the "clone [signature] button that helped tremendously". Michelle Fenley mentions that they decided to take advantage of client-side signatures instead of using the software to add email signatures server-side. That way, all employees would have access to email signatures directly from their Outlook desktop apps and could choose different signatures while composing their emails. She recalls that the "roll out was fairly simple by downloading the client add-on and signing in to retrieve the custom signature for each user". She praises the software for "doing what it says it can do" and being available "for a reasonable price compared to competitors". But above all, she described CodeTwo Email Signatures 365 as "the true game changer" that allowed her company to "update email signatures at a much faster pace, saving time and money".
See more customer success stories