We would like to let you know that we have released new updates to our email signature managers for on-premises Exchange – CodeTwo Exchange Rules and CodeTwo Exchange Rules Pro.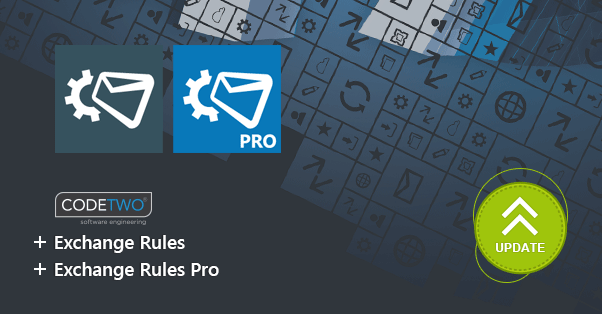 The newest version brings some minor UI improvements and makes it possible to see images embedded in email signatures on Outlook on the web in Exchange 2016 CU8 and newer. Additionally, the feature of the Pro version – unsubscribe mechanism – has been improved and now unsubscribe links are HTTPS enabled.
For a full version history, visit CodeTwo Exchange Rules Pro or CodeTwo Exchange Rules 2016, 2013, 2010, 2007.
To update the program, you just need to download the newest version using the links below and run the file on top of your current installation. All program settings and rules will stay untouched.
Use these links to download:
The update is free of charge for all licensed users whose program version's first digit matches the first digit of a selected version listed above. For more information on how to update CodeTwo program, click here and here.
As always, we welcome your feedback. If you have any questions, do not hesitate to contact us.