Centrally managed email signatures, disclaimers, marketing banners
and full mail flow control on Exchange 2016, 2013, 2010 and 2007.
QR codes in Exchange Server email signatures
QR codes, initially meant for automotive industry, made it extremely easy to quickly scan useful information onto mobile phones or any other devices that are able to read QR codes. These mysterious black and white images are a great way to pass your marketing info to customers and make it fast and easy to exchange contact data between you and your business partners.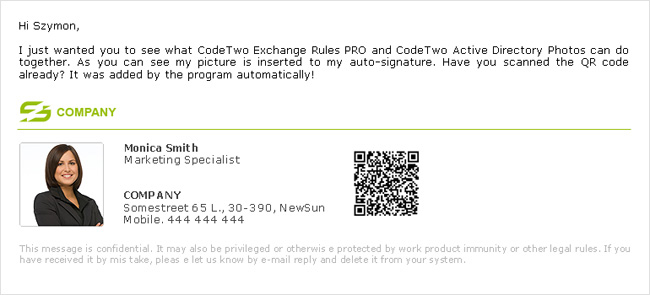 CodeTwo Exchange Rules PRO comes with a handy, build-in QR code generator. Whenever you compose your signature templates you can also choose to add a personalized QR code to them. The QR code feature is the integral part of the template editor of CodeTwo Exchange Rules PRO used to compose the signature and disclaimer templates. It can be found under the Dymamic Field tab of the template editor.

The administrator can provide any given text that he or she wants to turn into the QR code. It is also possible to use dynamic fields, e.g. date stamps, counters or even Active Directory properties that are replaced with QR codes after the message is sent.