We've just released an update to the signature management app that brings some handy features to CodeTwo Email Signatures for Office 365:
signature rules can be based on custom attributes,
easy adding of alternative text to images,
new Future date / due date placeholder & more.
Find out how these features can help enhance the user experience and accessibility of your email signatures.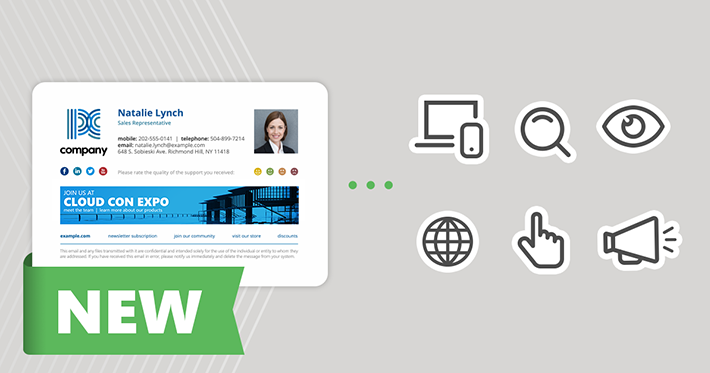 Support for custom attributes in the Azure AD filter and conditional placeholders
The Azure AD filter available in rule settings now supports Exchange Online custom attributes (CustomAttribute1-15), CodeTwo custom attributes (created in the User attributes manager) and additional attributes synced from an on-premises Exchange Server, bringing more customization options to your signature & autoresponder rules.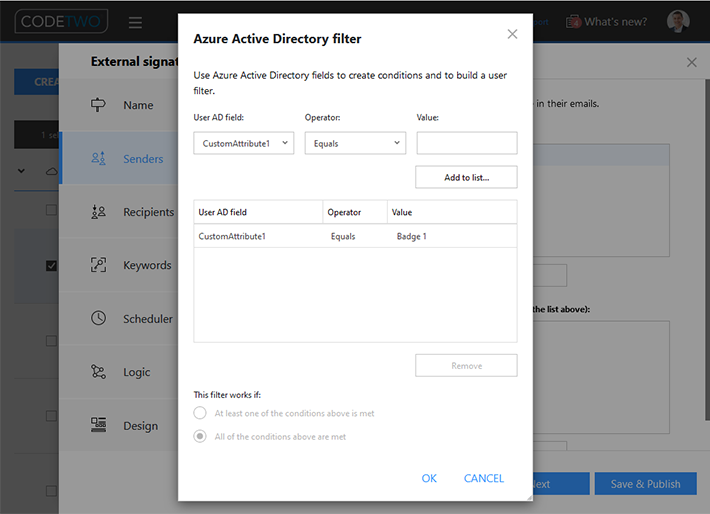 That's not all. You can also use custom attributes when configuring conditional placeholders. See the user's manual to learn more about:
Simplified adding of alternative text to images
Providing alternative text (alt-text) for all images used in your signatures is recommended for many reasons:
it improves the accessibility of signatures to people with visual impairments,
alt text is displayed when images are blocked by email apps,
it might be legally required in certain jurisdictions to include alt text.
If you're adding an image to your signature template, simply fill in the Alternative text field, as shown in the image below. You can also provide alternative text on the Picture tab in the editor (the tab appears when you click on any image in your template).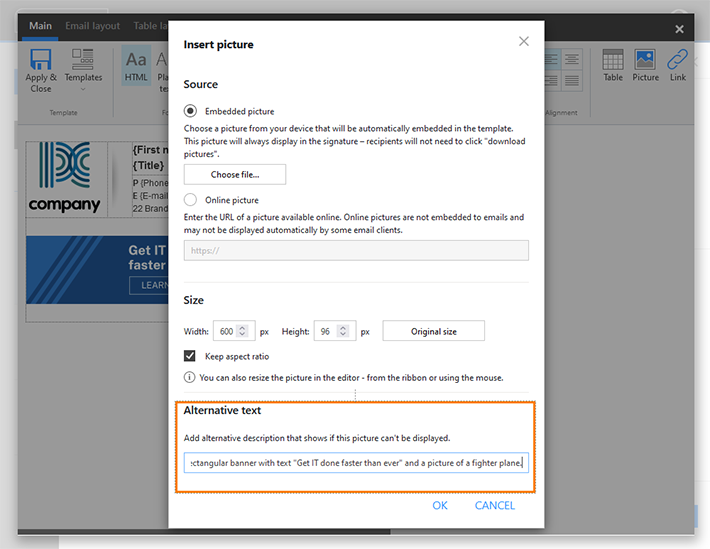 New Future date / due date placeholder
The Future date / due date placeholder can be used to add a specific date (and time) to your signature based on the time your email is sent. You can use it to inform email recipients about the validity period of an offer you are sending them, how much time they have to reply to your message, and so on. To insert the placeholder into your signature template, open the editor and select Placeholder > Other > Future date / due date from the ribbon. The configuration is easy: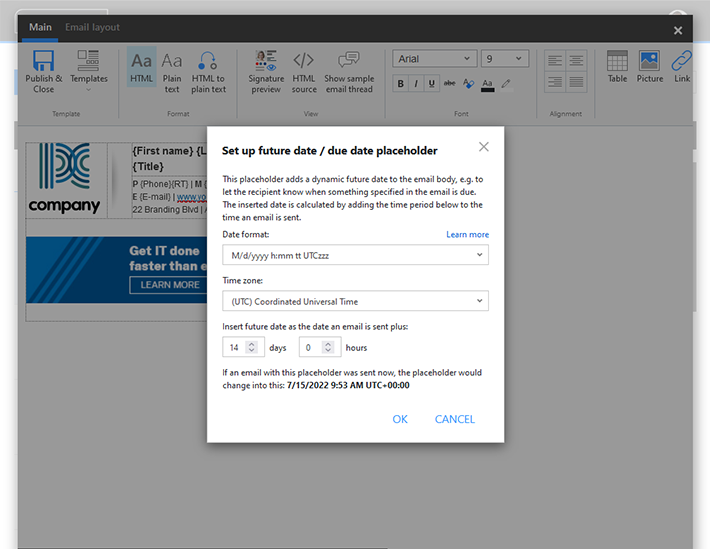 Learn how the new placeholder works and how to set it up
Other new features
Here are some additional features that are now available to all customers:
Time zone selection in the Scheduler – helpful, when setting up an automatic reply (out of office) for users working in a different time zone than yours, etc. Learn more about the Scheduler
Different view types for rules (new signature management experience only) – use the Change view drop-down menu at the top of the rules list to decide how you want your rules to be displayed: less rules but more details or the other way around. Here's how the new Compact view looks: