The latest update to CodeTwo Email Signatures for Office 365 brings a new functionality to the program's built-in signature template editor – conditional placeholders. Unlike regular placeholders, which are filled with senders' information pulled from Azure AD (such as name, job position, phone number, etc.) or message properties, conditional placeholders can be used to add customizable information (text, images, animations, and even HTML code snippets) to email signatures. This new type of placeholders also allows you to insert generic information into signatures, for example when some user Azure AD attributes are missing. Read on to find out how these placeholders work, what they can do, and how to start using them in your Microsoft 365 (Office 365) email signature templates.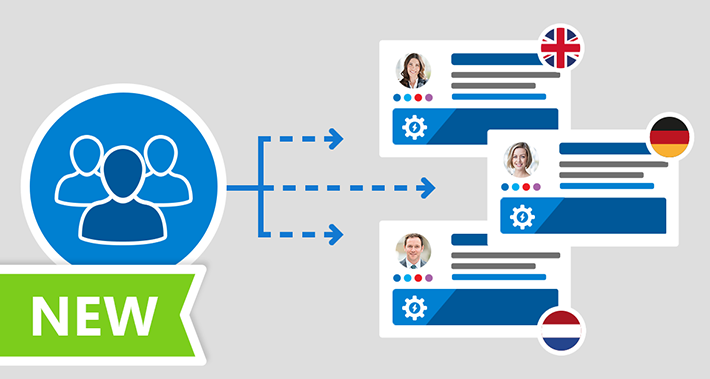 How conditional placeholders work
A conditional placeholder is a field that is added to an email signature and can be replaced with one of many values, depending on a set of user-defined rules. A conditional placeholder can have one or more rules. Each rule has a condition (based on senders' properties) and a value. These rules tell our email signature management software which placeholder value should be inserted into a signature when an email is sent. Only one placeholder value can be used at a time – it's the one defined for the first rule whose conditions are met. You can also specify a default placeholder value which will replace the conditional placeholder if none of the rules' conditions are met.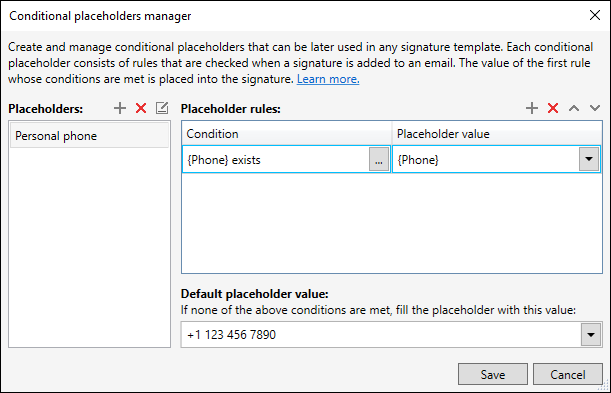 Examples of use
Conditional placeholders have tons of possible applications. You can use them to:
insert a generic phone number / avatar to an email signature if a sender has no phone number / user photo specified in AD,
add marketing banners or links to social media websites in different languages, depending on e.g. senders' Country attribute (see the figure below),
insert additional elements (disclaimers, one-click surveys, banners, etc.) into a signature for specific users or groups only, depending on e.g. their Microsoft 365 group membership,
replace senders' personal email address from the signature with a general address (e.g. [email protected]),
remove contact details from emails sent by e.g. senior management staff,
and many more.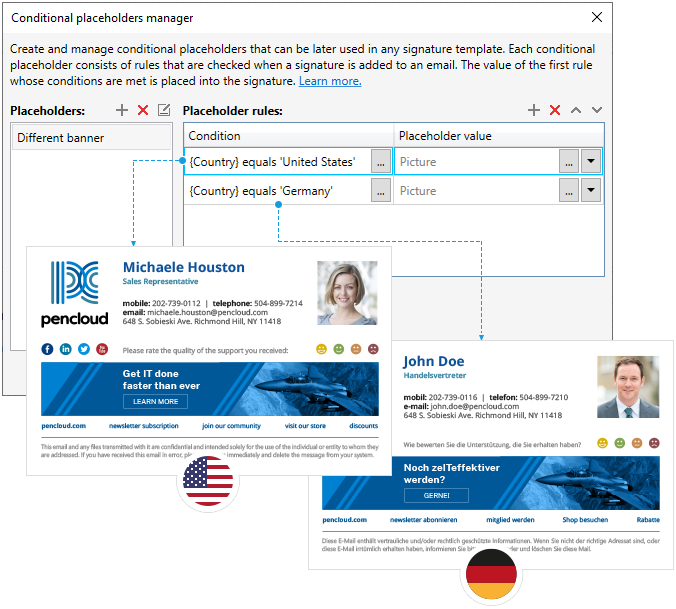 An alternative for the RT tags
If you already use the Remove Text tags (RT tags) in your signatures, conditional placeholders can sometimes turn out to be a good replacement. The RT tags let you remove certain elements (a specific contact detail, an entire line of text, a table row, and so on) from an email signature if an associated regular placeholder cannot be replaced with an information pulled from Azure AD. Thanks to this, you are sure there are no empty spaces left in your signature.
However, instead of removing empty placeholders by using the RT tags, you can insert a conditional placeholder that – if no value is available – will be replaced with some generic information or data provided in other AD attributes. By doing so, you make sure that email signatures will always contain all the necessary information, even if some data is missing from senders' AD. Learn more about using a conditional placeholder in such a scenario
How to get started
Existing users
Access the signature management app at app.codetwo.com (or click the Signatures tab in the CodeTwo Admin Panel), go to the Design step and open the signature template editor by clicking the Edit signature button. To begin creating conditional placeholders, on the Main tab of the editor click Placeholder > Conditional placeholders > Manage to open the Conditional placeholders manager.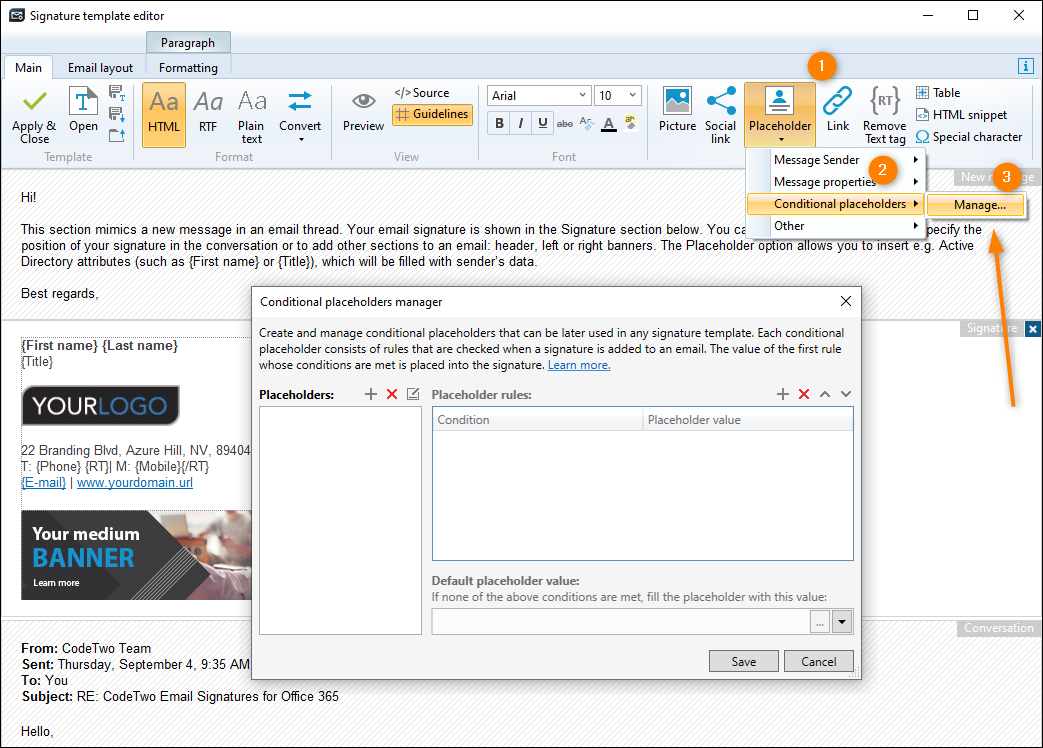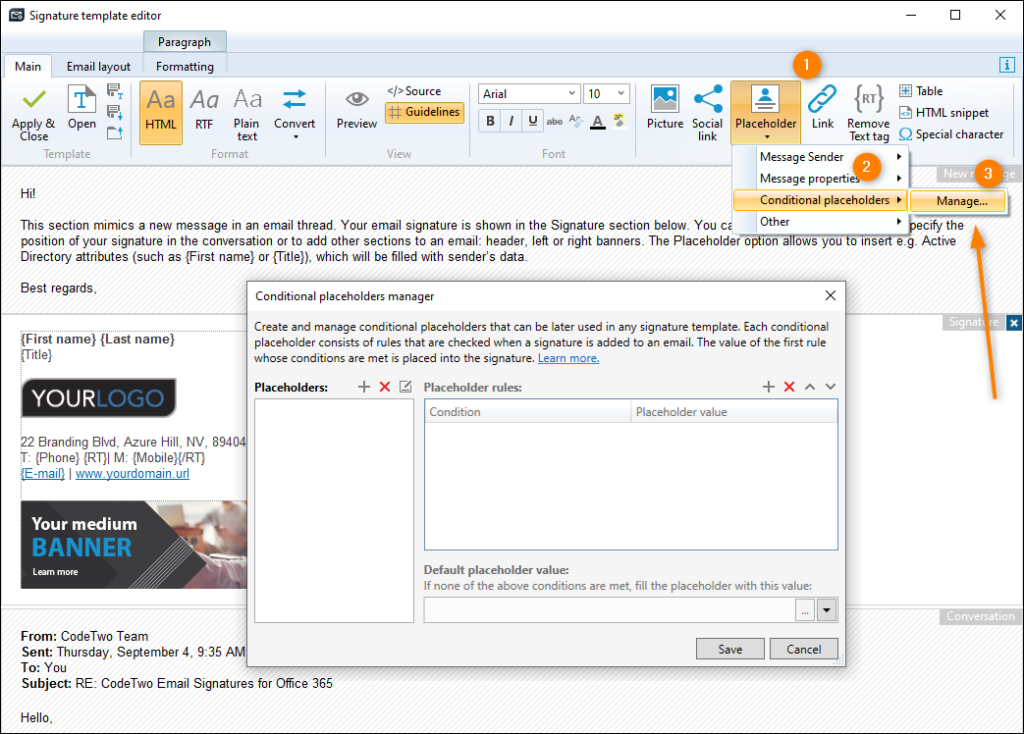 See the signature template editor's manual for step-by-step guide on how to create and use conditional placeholders.
New users
If you are new to CodeTwo Email Signatures for Office 365 and you would like to check conditional placeholders as well as other great features of our Microsoft 365 email signature management tool, you can test the program for free for 14 days. Click here to start your free trial now.