CodeTwo email signature management tools let you measure the satisfaction level of your customers. Thanks to an easy integration with one-click survey services, each email you send to your customers can be used to gather feedback in just one second. The statistics can be used to acknowledge the best members of your customer service team and to increase the overall satisfaction of your customers even further. To offer you more options to choose from, we have teamed up with Hively – a one-click survey provider.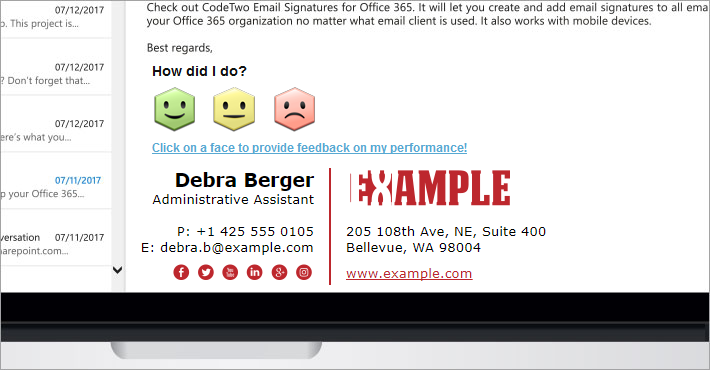 One-click surveys and email signatures just go together. Thanks to the integration of Hively and CodeTwo Email Signatures for Office 365 or CodeTwo Exchange Rules, you can automatically add one-click surveys to the emails which fall into chosen criteria. Recipients rate their experience simply by clicking a button. The simplicity of this solution encourages customers to share their opinions.
Thanks to our email signature management tools, you can integrate one-click surveys with the signatures so that no user has to lift a finger to benefit from the new feature. The rating snippet becomes an integral part of emails, no matter what devices are used to send them. What is more, you can use the ability to add images as hidden attachments, so that the rating buttons and other graphics are not blocked by email clients.
Learn how to integrate CodeTwo Exchange Rules with Hively
Learn how to integrate CodeTwo Email Signatures for Office 365 with Hively