Central email signature management
Unify email signatures in your company
Unifying email signatures in a company can be a difficult task when you have tens, or thousands of users, using various email clients (Outlook, OWA, iPhone/iPad, Android etc). Some users may configure their signatures correctly, but others will fail to include all the necessary (e.g. contact) details, or will create a layout inconsistent with Corporate Identity, or won't paste in the required legal disclaimer that's supposed to protect the company... or will forget to set up any signature whatsoever.
See how troublesome it can be to deploy email signatures in a 250-user company without the help of CodeTwo software.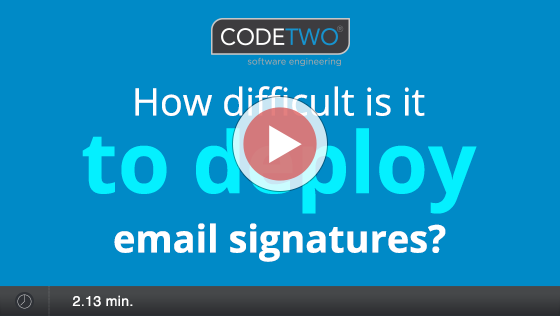 The only way of eliminating these mistakes is putting one person or department in charge of all email signature management duties. How to achieve this? Well, it depends on what email system your company uses.
Problems and risks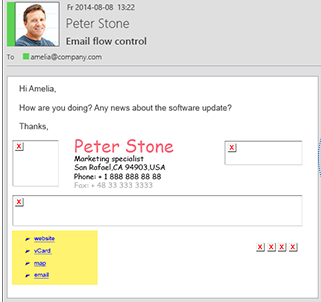 Email signatures set up by end users:
Lack of central management of signatures
Changes take time and waste resources
Inconsistent email signature designs (corporate identity disaster)
Users fail to provide legally required details
Signatures with incomplete and/or not up-to-date contact information
No control over the relationship between the company and customers
Marketing content not included in emails
And a lot of wasted potential for growing your business...
Solution
Email signatures managed centrally:
One person in charge of email signatures, disclaimers and banners
Company-wide standardization of email signatures
Quicker changes in design and content of email signatures
Ensured compliance with electronic correspondence laws
Easy management of corporate identity and branding in emails
Customer relationship building with user photos and social media
Emails as a marketing channel thanks to banners & promotional links
Professional layout of corporate electronic correspondence
Does my email platform support central email signature management?
The good news is that most companies host their electronic mail on on-premise platforms like Microsoft Exchange Server, or cloud services such as Microsoft Office 365, which come with built-in features that allow for designing and deploying email signatures centrally. Additionally, software developers like CodeTwo offer tools extending the range of native capabilities and even adding completely new ones.
Learn more about: