Possibly every Microsoft 365 administrator knows what Microsoft Entra ID (Azure Active Directory) attributes are. Exchange Online custom attributes also shouldn't cause admins to raise their eyebrows. But have you heard about CodeTwo attributes and what are they capable of? Well, if you're using CodeTwo Email Signatures 365, you might be familiar with the thing. If not, read on to learn what you're missing and discover what useful and unique things you can do with CodeTwo attributes for your organization's email signatures.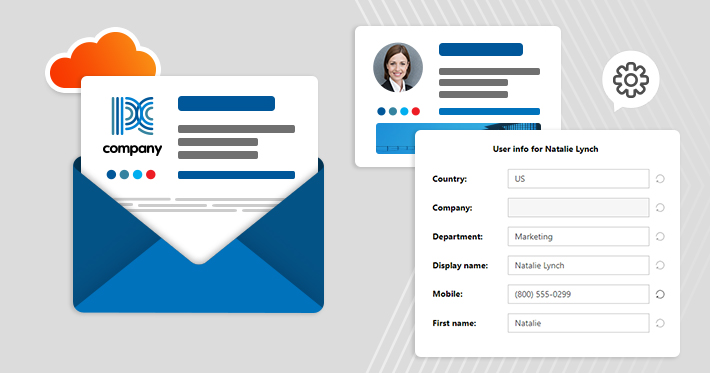 A bit of theory first. If you have an active subscription for CodeTwo Email Signatures 365, you can also access our comprehensive attribute management solution for free. Watch this video to see how it works:
Now, let's have a look at some interesting ways to use CodeTwo Attributes manager and custom attributes with your email signatures (and automatic replies).
Add extra information to email signatures
Each organization is different and each might need to use attributes (aka placeholders) to add different extra or non-standard information about users to their business email signatures. For example, a university might want to include their staff's academic title, a hospital – physician's professional license number, and so on.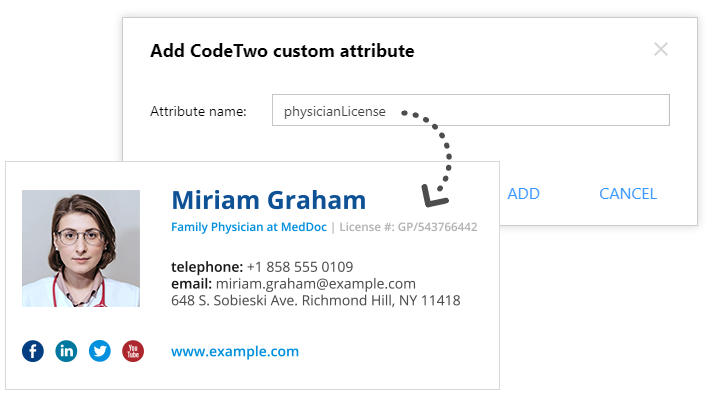 Compared to the 15 Exchange Online custom attributes, CodeTwo Attributes manager lets you create as many extra attributes as you want. Once your attributes are there, simply bulk-populate them with values (as shown in this video) or ask your users to do it on the My user info page (user.codetwo.com). After that, you can finally add the ready-made attributes to your email signature templates. And just to make the picture complete, CodeTwo custom attributes have one more advantage over the native ones – you can freely name them, so they are easily identifiable and memorable for anyone who manages them.
See how to include extra details about your end users in email signatures, disclaimers, and auto replies
Add an upcoming out of office period to email signatures
There are a number of occasions when your organization might be temporarily closed (e.g. due to holidays) or your users are absent from work (e.g. vacation or sick leave). In such cases, it's always a good idea to inform customers, partners or co-workers about the unavailability in advance to show that you care, avoid misunderstandings or missing deadlines, and so on.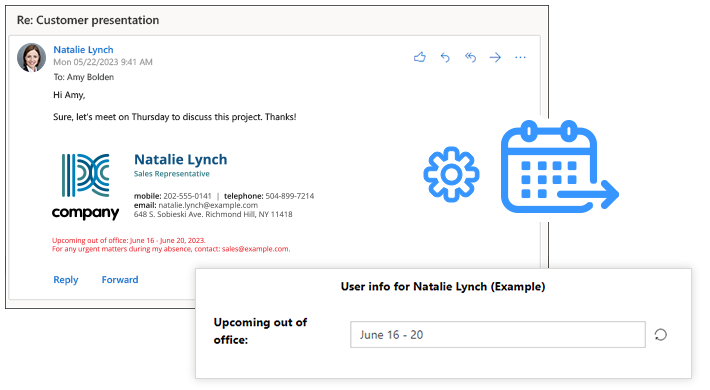 Using CodeTwo Email Signatures 365, you can add a global or individual OOO note to an email signature of your choice. Thanks to the Scheduler feature, the note will automatically start and stop to be added to a signature on chosen dates. Last but not least, in case of an individual OOO note, you can use CodeTwo attributes to allow your end users to enable it for themselves whenever needed.
See how to add an OOO note to all or selected email signatures with CodeTwo
Create a signature with user details in two languages
If you're an organization based in a country where a non-Latin alphabet is used and you do business with both domestic and foreign partners, you might consider preparing an email signature with user details in two languages (& alphabets). This will let you facilitate communication and avoid designing separate language versions of your email signatures. What's more, such an approach might be required legally in certain Arabic countries.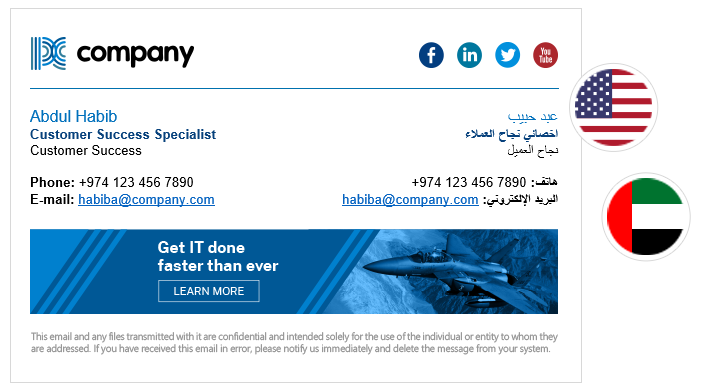 With the Attributes manager, you can create as many custom attributes as you want to accommodate all the basic user details (like first name, last, name, position, etc.) in the second language. Then, you can use our tool to bulk populate the details for all your end users – no scripts or coding required. Finally, create a signature template that contains both the regular Entra ID attributes (where you store senders' info in the first language) and your custom attributes (with senders' info in the second language).
Learn how to create a bilingual signature with the use of custom CodeTwo attributes
Let users manage their details visibility
Privacy is not only an essential human right, but also a personal matter. In other words, each person might have a different privacy 'threshold' and want to disclose different details about them in addition to the standard and obligatory set of information. The same applies to email signatures.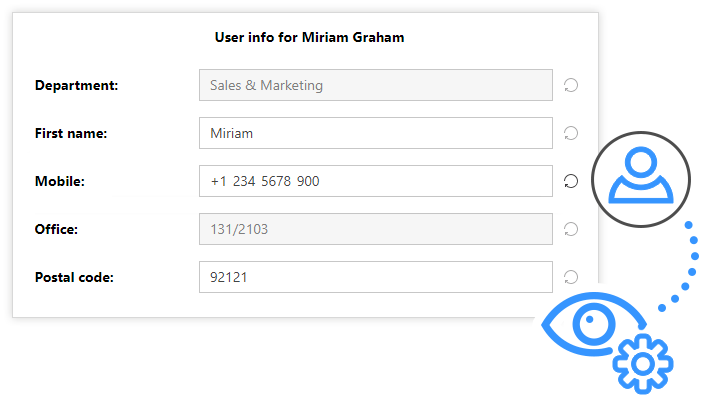 CodeTwo Attributes manager allows you to decide which information shown in signatures can be viewed and/or edited by your end users. Of course, you can allow editing only those attributes which are not required and which your users might opt not to provide. At the same time, our tool lets you easily check the information provided by your end users (to prevent misuses) and protect your email signature against layout changes if a given attribute's value is left empty.
Learn how to allow your users to change the information shown in their email signatures
Let users choose their default signature
Why not go a step further and let your users choose an entire signature design. Such an approach might be useful if your organization has multiple branches and users need a signature version that fits the local market, or if certain creative departments want to change email signature periodically to be up to date with current campaign or holiday season.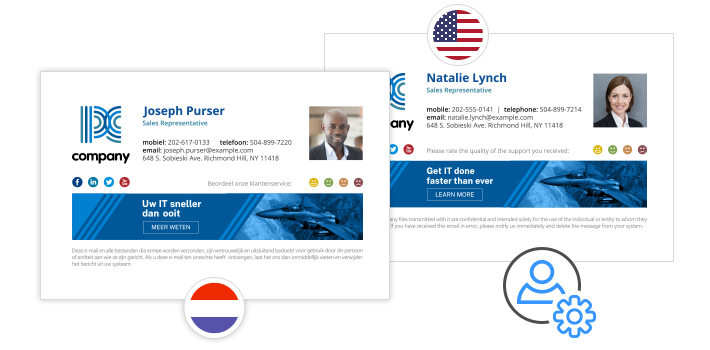 By default, CodeTwo signatures are assigned to your end users by specifying senders in email signature rules. Still, with the CodeTwo's attribute management solution, you can give your end users more flexibility and control, and let them choose the signature of their preference. All you need to do first is to prepare the signatures users will be able to choose from and next let them know which keyword they should type on the My user info page to start using a given signature. Quite simple, isn't it?
Find out how to allow your users to quickly choose their desired signature version
Unify a phone number format in email signatures or automatic replies
Information in Entra ID might be inconsistent because of different people being responsible for entering it, regional preferences, etc. Consequently, anyone who receives emails from different people in your organization might notice that, for example, a phone number format differs across users. This will very likely be regarded as unprofessional.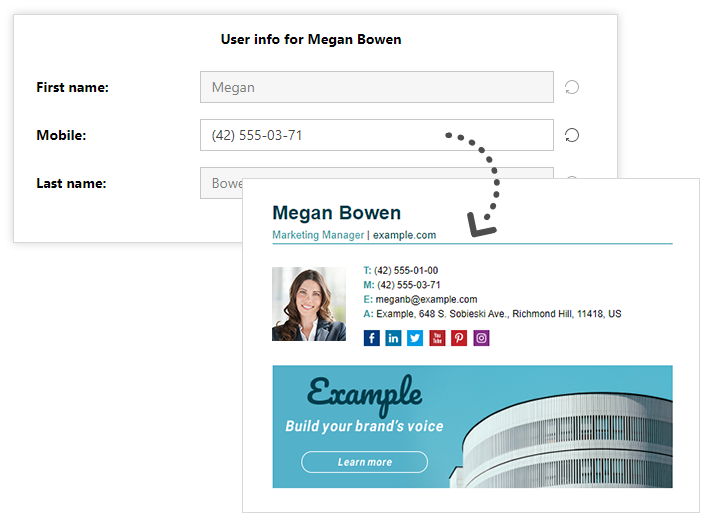 To avoid it, while keeping the original Entra ID (Azure AD) data intact, you can bulk-update your users' details by preparing a CSV file with uniformly formatted data and next importing it into CodeTwo Attributes manager.
See how to ensure phone number format consistency in your email signatures
Try the better way to manage your user information
These are just sample use cases. In fact, you can accommodate the Attributes manager and CodeTwo attributes to the very needs of your organization the way you want. In short, the sky's the limit.
Try out CodeTwo Email Signatures 365 to the full extent even today – sign up for a free 14-day trial.
Watch the videos below to quickly learn all the most important things about our email signature manager and the attribute management solution that comes with it:
For even more examples of using CodeTwo Email Signatures 365 to enhance email signatures & automatic replies in your organization, visit this website.