Since mainstream support for Exchange 2007 ended in 2012, the product's users have been relying on 'extended support', i.e. a guarantee that Microsoft will provide fixes to security bugs and offer paid technical support in case of issues. Soon, however, even this will be gone. Extended support for Exchange 2007 will expire on April 10, 2017.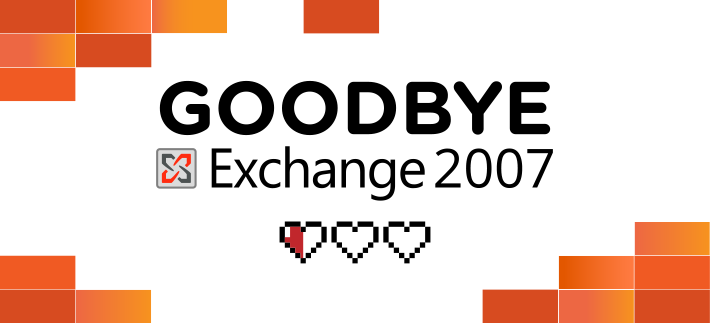 This prospect poses several questions which I will discuss in short below.
Can I stay on Exchange 2007?
Not recommended. While Exchange 2007 is by now a pretty solid piece of software, the lack of security patches and general out-of-dateness make it less than fit for use in production.
So… Upgrade to Exchange 2013?
A big argument in favor of moving to Exchange 2013 is the easy upgrade path with no double-hops required and potentially little patching (depending on AD Schema, installed RUs, email client versions, etc.). On the other hand, Exchange 2013 is already 3 years into its lifecycle – only 2 years of mainstream support left! Choose only if you are 100% sure you can live with the drawbacks.
Go to Microsoft's Exchange 2013 deployment assistant
Exchange 2016, then?
The obvious choice if you want to keep your organization on-premises. It also has the added benefit of not requiring a single server role – Mailbox. One thing to remember though, is that coexistence between Exchange 2007 and Exchange 2016 is not supported. This leaves 2 secure options – a double-hop with Exchange 2010 or 2013 acting as intermediary, or a cross-forest move using CodeTwo Exchange Migration.
CodeTwo Blog: Migrate legacy (2003 or 2007) Exchange to Exchange 2016
What about migrating to Office 365?
The choice between on-premises and Cloud is often a tough one. What convinced many to switch to Office 365, are the savings in maintenance, power and staff expenses. If you decide to migrate your Exchange 2007 email organization to Exchange Online (note that Exchange 2007 hybrids are not supported), you can do it directly using the native tools offered by Microsoft, or CodeTwo Office 365 Migration. The latter option entirely automatizes the mailbox move, which takes all scripting and guess-work out of the equation. Also, CodeTwo Office 365 Migration user CALs are available free of charge to Office 365 subscribers.
Download J. Peter Bruzzese's (Microsoft MVP) Office 365 migration guide