Update: This article was updated on March 13, 2020.
Mailbox backup is a particular area of IT. While it is one of the most important ways to ensure business continuity, it is also one of the most neglected practices. This detailed guide covers the subject of mailbox backup for Office 365 and Exchange: from the general definition to mailbox backup tools.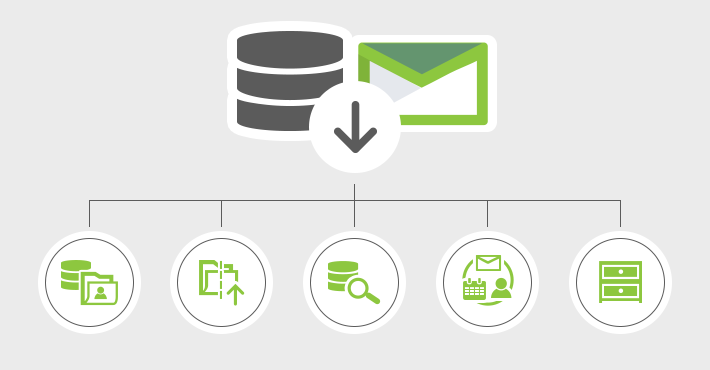 Table of contents:
What is an email backup?
Backup is a copy of data which can be recovered in case the original elements are destroyed or deleted. Backup is often mistaken with archiving. The main point of archiving emails (and other mailbox elements) is to declutter mailboxes without actually deleting data and to store those mailbox items in a different place for future use. Data in archives is not usually accessed on a regular basis.
Backup, on the other hand, is a means of data protection. Backup solutions secure data by copying it to a storage location. Whenever items are changed, deleted, or corrupted, having their copies gives an opportunity to restore lost data. Or restore earlier versions of documents. The main point of a backup is to prevent data loss. Email copies can also be extremely useful in case of litigation. A practical Exchange mailbox backup tool should let you search through backed-up elements and restore them at any time. This way, you can handle the most common data protection scenarios.
Archive vs backup – this infographic lets you see the difference between those two terms.
When it comes to Office 365 and Exchange mailbox backup, you need to keep in mind that mailbox in Exchange Online is not only email. It is also other items, such as meetings, contacts or tasks. What is even more, Office 365 introduces Teams, Groups and SharePoint Online which are strictly connected with mailboxes. A backup tool like CodeTwo Backup for Office 365 lets you secure mailboxes, as well as SharePoint Online, OneDrive for Business and public folders data.
Why back up Exchange or Office 365 mailboxes?
There is a simple answer to why Exchange and Exchange Online backups are so important. Native Exchange mechanisms can help you secure your online data, but they do not protect you from every possible scenario. Provided you have set those mechanisms properly, the only way to recover lost data is by using the eDiscovery tools. And these tools are not very user-friendly – it is not easy to browse through and filter backed-up data with them. In addition, because there are native backup-like mechanisms in Office 365, 3rd party backup solutions are easily discarded. And the thing about mailbox backups is that you usually do not appreciate them unless you need them – and then it is too late.
What are the reasons for mailbox backups? Emails are the backbone of business communication for most companies. Thanks to emails, personal information, contracts, invoices and all kinds of important documents can be securely and easily transferred and conveniently stored. Unfortunately, at some point, all data can be subject to unexpected data damage or loss. Email data can be deleted or corrupted in many ways:
Unintentional deletion – sometimes, for example when a user declutters their mailbox, some important emails can be deleted by mistake. If an email is deleted permanently, often there is no way to retrieve it, other than from a backup copy.
Intentional deletion – probably nobody likes to think about this option, but it is possible for employees to delete important emails on purpose. As a result, they can harm the entire company.
Hardware malfunction or system crash – accidents happen, and sometimes, for no apparent reason, data stored in emails can get corrupted beyond repair. It applies both to data stored on personal computers and email service providers.
Malicious software – cybersecurity market is doing its best to protect computers from viruses and other malicious software, but there is always a chance that a virus takes its toll.
Remember that keeping the data of your company safe is the responsibility of that company. That is why you should take all measures to protect email data from loss and have a backup in case, at some point, an accident happens.
What is also very important, is that backups can save your company from fines. There are legal regulations which require organizations to store data safely and to provide the data, for example, in case of litigation. One of the most important laws concerning emails is eDiscovery. Learn more about why it is worth to back up emails and how backup can help you comply with legal acts.
Email backup serves its purpose only when you perform it on a regular basis. The question is, how often you should create the copies to guarantee business continuity in case your data disappears.
How often should you back up your data?
Ideally, the copies of the mailbox items should be as up to date as possible. This way, in case of emergency, you will be able to restore all data and continue working as if nothing has happened. On the other hand, performing a mailbox backup very often may cause the storage space to run out very quickly. At this point, it is a good idea to look into different backup types – some of which prove to be more storage-friendly than others. Many companies schedule their backup tasks to run automatically when most employees are out of office. That is because some backup tools cause a delay, and the right scheduling guarantees that users are not affected.
Usually, it is the IT department which is responsible for securing data. That is why, when the unexpected data loss happens, it is the IT that gets the blame. It is the small and medium-sized companies, which are the most disadvantaged – a manual data backup requires a lot of time and effort, and those enterprises usually do not have huge IT departments. Email backup tools can make this task fully automatic and more reliable so that a lot of time and effort is saved. Unfortunately, the risks of not having a backup are not well-known. This often gives a false impression that backup applications are not worth the resources, and that they are simply unnecessary. Sometimes it might require some convincing to secure the vital company data.
Although it is possible to make copies of your email data manually, using a backup tool may save you vast amounts of time and provide you with complete business continuity in case of a disaster. As many companies choose to use an email backup software, it is worth looking into the most important features that a backup solution should have.
Office 365 and Exchange mailbox backup software
There are many software solutions for mailbox backups out there. Before deploying a certain tool, it is crucial to know what features are the most important.
Automatic – one of the most important qualities of a good email backup solution is that it does its job automatically. This way, administrators can set the program to back up mailboxes as often as necessary and forget about it, until something bad happens.
Type of backup – there are different types of backup. It is important to learn what kind of backup the solution of your choice performs. For example, if a solution supports only full backups, the size of storage grows very quickly, and the backup tasks take a lot of time. It is a good idea to use a method which creates a full backup and then performs incremental backups periodically.
Granular recovery – a good backup should have the option to look for certain items and to restore them granularly. It means that in case a single file is lost, you should not need to restore the whole mailbox, but just the items which are missing.
Archiving – as I mentioned before, there is a difference between backup and archiving. However, if you add the archiving feature to a backup solution, it will provide you with a comprehensive tool which covers those two areas all at once. What is more, setting archiving and retention policies for storages lets you control the space consumed by your safe copies.
Brick-level backup – it is natural that some mailboxes store a lot of business-critical data, while others are unlikely to have a lot of essential content in them. The perfect backup software should let you control which mailboxes or even folders require the strictest policies.
Security – one of the most important aspects of a backup solution is its security. Without proper measures, like encryption, storage protection, and secure data restoration, a backup solution can, ironically, make your data less secure from, for example, inside attacks attempts at capturing confidential data.
Supported workloads – as I stated before, mailboxes are a priority when it comes to Exchange and Exchange Online backup. However, a perfect backup solution should also support other workloads, closely connected to Office 365, like SharePoint Online or OneDrive for Business.
Types of backup
From the technical point of view, backups can be divided into three types:
Full backup – a full backup creates a one-to-one copy of files. This type is the most sizable, but, at the same time, is the starting point for the two alternative kinds listed below.
Differential backup – copies data differences from the last full backup. It is a storage-friendly solution when compared to the full option.
Incremental backup – saves the changes which were applied since the last incremental backup cycle. This type is the quickest and the most storage-friendly. What is more, it can be performed in the real time.
See this article for an in-depth comparison between incremental and differential backups.
Backup solutions can also be compared regarding the storage type. Some of them store emails in the cloud, while others use local storage. In most cases, there is a rule not to concentrate all resources in one place, so that emails from Office 365 are often backed up in local storages, while Exchange mailboxes are either secured in a cloud service or a separate local storage.
The main difference between local and cloud storage is that the former requires you to have your storage and protect it, while the latter leaves everything in the hands of a third party, which provides you with a ready-to-go service. At the same time, local storages offer 100% availability with complete data independence, while cloud services make you dependent on the service provider. It is a very basic comparison, though, so you might want to see a more comprehensive guide in this blog entry.
Backup of Office 365 mailboxes
The first and the most important thing you need to know about Office 365 mailboxes is that there is no native option to back them up. There are mechanisms which you can use to archive data and to recover it in case it is lost; however, these are not the backup solutions which provide the functionalities the third party software gives. (Read more about the native backup options) That is why many companies choose third-party solutions to secure their data.
One of the ways to back up Office 365 mailboxes is to export them to PST files. See this article to learn how to create a local copy of Exchange Online mailboxes. Mind that although it might look like the cheapest way to back up emails and other Office 365 items to a local storage, it is far from being reliable. Email export to PST can be done either manually by users, which is a rare case, or using eDiscovery – an Office 365 mechanism used primarily in case of litigation. PST backup is treated more as a workaround than as a true solution. What is more, PST files are extremely space consuming and cannot be managed centrally. As storage grows, those files become more and more difficult to search through and tend to get unstable. If you want to know more about PST backup in Office 365, see this article.
There are additional native ways to secure Office 365 data, other than creating a backup. Those methods are a litigation hold and retention policies. A litigation hold is a way to prevent items from being permanently deleted. Combined with an eDiscovery case, a hold can provide a way to protect a certain mailbox and to find the data you need relatively easy. Retention policies were primarily used to delete items after a set period. Currently, they can also block items from being purged. As opposed to holds, retention policies can be used globally for a group of users, or even for a whole organization. To see a full comparison of a litigation hold and a retention policy, consult this article.
Mailbox is a bit different when it comes to the on-premises equivalent of Exchange Online.
Mailbox backup in Exchange Server
The on-premises Exchange Server mailboxes can be copied to different storage for protection with two native tools.
The first one is the PST backup using PowerShell (see this how-to article to learn how) or Exchange Admin Center (although this way is far from being automatic). Mind that all PST files limitations mentioned above, apply to the Exchange Server as well.
Another native backup option for the on-premises Exchange Server is using WSBExchange plugin. It lets you use the Windows Server Backup.The tool performs a full server backup; however, it cannot be used to perform incremental or differential backups. It might be too space and time-consuming to be an effective solution.
If you want to know more about native backup solutions available in Exchange Server, the How to backup Exchange Server mailboxes? The article will provide you with more information. If you want to see a more functional option, see the section below.
CodeTwo mailbox backup solutions
CodeTwo is a software provider which is best known for email signature management software. They also provide mailbox backup tools for Office 365 and on-premises Exchange Server. Their tools check off every feature from the list and add even more:
No impact on users – mailbox backup tasks can be scheduled to run every minute. The process will be invisible to users – there is no delay or any other kind of influence on the mailbox performance.
Easy to use – thanks to a simple, yet powerful, user interface.
Search, preview, and recovery – thanks to an advanced indexing feature, searching through the database is a breeze. All found items can be easily restored to a chosen location.
Security-focused – CodeTwo Backup solutions go an extra mile when it comes to the security of storages and personal information stored in them.
Learn more about CodeTwo Backup tools for Exchange and Office 365
Read more about mailbox & email backup
Convince your boss to back up Exchange/Office 365 mailbox data
Many companies underestimate the need to back up mailboxes. If you are an IT administrator or a user concerned about security, here you can learn how to convince others that backup is important.
Why and how to back up Exchange or Office 365 data
If you want to learn, without extensive reading, why and how to backup Exchange or Office 365 mailboxes, see this infographic. It contains the most important information on why to back up emails.
Comprehensive SharePoint Online backup solution
Create backup copies of SharePoint Online and OneDrive for Business data in your Office 365 organization and restore it when needed.