In 2017 Exchange Server 2007 will reach the end of its life-cycle. This will inevitably prompt many companies to contemplate an upgrade to Exchange 2016 – by now a mature enough product to meet the highest security standards.
With these companies in mind, the CodeTwo Team has prepared a free guide detailing how to prepare and perform a smooth migration from Exchange 2007 or 2003 directly (no double-hop!) to Exchange 2016.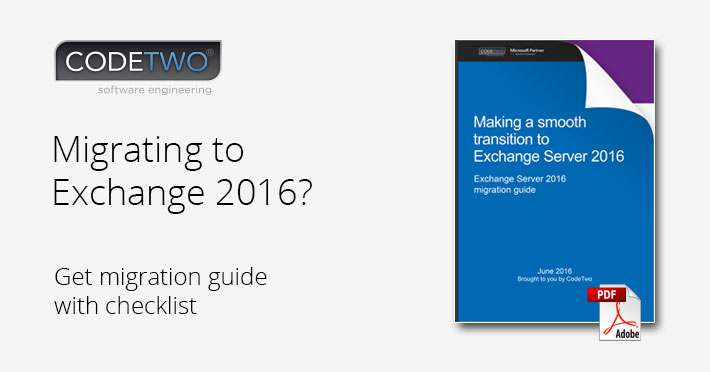 The contents of our Exchange 2016 migration guide include:
Exchange 2016 software, network and hardware requirements
List of free tools that will help you prepare your environment for the installation of Exchange 2016 and plan the migration
Step-by-step walkthrough of migrating from Exchange 2007/2003 directly to Exchange 2016
Printable Exchange 2016 migration checklist
Download your copy of Making a smooth transition to Exchange Server 2016 now!