CodeTwo Exchange Rules Pro
Centrally managed email signatures, disclaimers, marketing banners and email flow control
Support for all email clients (including Outlook and mobiles)
Used by thousands of companies around the world
Windows Server certified
Download
30-day free trial with support;
no credit card required
Customer Case Study
Teléfonos de México S.A.B. de C.V.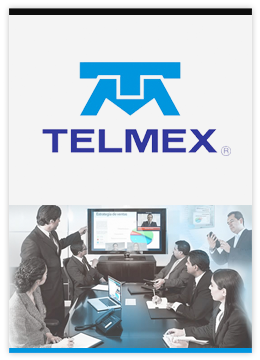 Company description
Teléfonos de México S.A.B, known as Telmex, is a Mexican telecommunications company based in Mexico City. It was founded in 1947 and is owned by Carlos Slim & family, currently second on the Forbes list of World's Billionaires. The company offers a wide range of products and services related to telecommunications in Mexico, Latin America and the U.S., which include an extensive network of telephony, pay television and the Internet.
Problem
Telmex uses Microsoft Exchange 2007 and 2010 servers to host their messaging service. The Mexican telecommunication giant's Exchange administrators' main duties included making sure that all users had their messages stamped with correctly formatted email signatures and that proper forwarding, routing and content control policies were in place. With 23,000 employees sending over 1,320,000 emails every day, achieving these ends using only Exchange's built-in Hub Transport rules turned out to be frustrating and sometimes even impossible.
Solution
Lizbeth Caudillo and Raúl Cruz, the heads of the IT department at Telmex, decided to look for a solution that would extend the reduced abilities offered by Exchange Server, without putting an additional strain on the company's resources. They found CodeTwo Exchange Rules PRO and decided to give it a try. "The software was easy to install and creating rules, e.g. for professional disclaimers, was very easy and intuitive." - Ms. Caudillo describes her first impressions of the program.
After a period of testing Telmex was ready to deploy CodeTwo Exchange Rules PRO on production servers. Mr. Cruz is happy with the outcome: "It´s a perfect opportunity to get a tool to increase the capabilities of our messaging services in relation to cost-benefit". "Designing disclaimers with images and creating advanced transport rules using CodeTwo Exchange Rules PRO allows us to have better use of our messaging service." - he concludes.
Summary
| | |
| --- | --- |
| Company name: | Teléfonos de México S.A.B. de C.V. |
| Number of employees: | 23,000 |
| Number of emails processed every day: | 1,320,000 |
| Server type: | Microsoft Exchange Server 2007/2010 |
| Number of servers: | 2 Edge Servers, 2 CAS Servers, 3 HUB Servers & 6 Mailbox Servers |
| Problems: | The reduced ability of editing and creating disclaimers and transport rules by Exchange Server |
| Solution/Product: | CodeTwo Exchange Rules Pro |
| Installation type: | 23,000 mailboxes |
| Installation time: | 6 months |