Targeted email campaigns let you customize your emails depending on your recipients. While the term "targeted email marketing" makes you instantly think of newsletters, there is an easier and more effective way of dealing with targeted email advertising – targeted email signature campaigns. How come, you ask? There are a few reasons. Stay with me to see what those reasons are and how to run targeted campaigns with the help from CodeTwo Email Signatures for Office 365.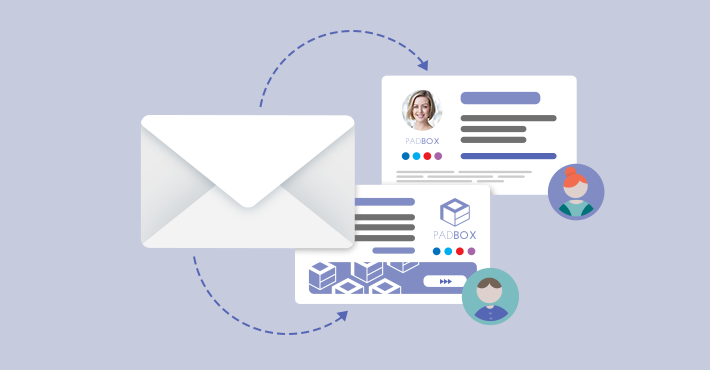 Why are targeted email signature campaigns effective?
Have you ever subscribed to a newsletter but lost interest after a couple of emails? Most people have. The reason for that is the low open rate of such newsletters, that is, the percentage of emails that were actually opened (but not necessarily read) by their recipients. And keep in mind that the open rate tends to be painfully low, even for well-targeted email campaigns.
With targeted email signature campaigns, it is usually quite different. You wouldn't send direct emails to complete strangers (hopefully), as those are sent to leads, customers or generally people genuinely interested in your products or services. That's why the open and view rates with email signature campaigns usually go through the roof, especially when compared to newsletters.
In most cases, when you send an email with your signature, you know your recipient to some extent. This personal aspect makes it much easier to decide which offer that person might be interested in, or what kind of banner might be most effective.
Sample targeted email signature campaigns
One good question you could ask is: how to customize your email signature campaigns based on different recipients? This highly depends on your corporate identity, the kind of services you offer and the type of your target audience. Here are some examples:
First, you set up a default email signature template, which will be sent to all recipients who don't have the targeted email campaign assigned to them: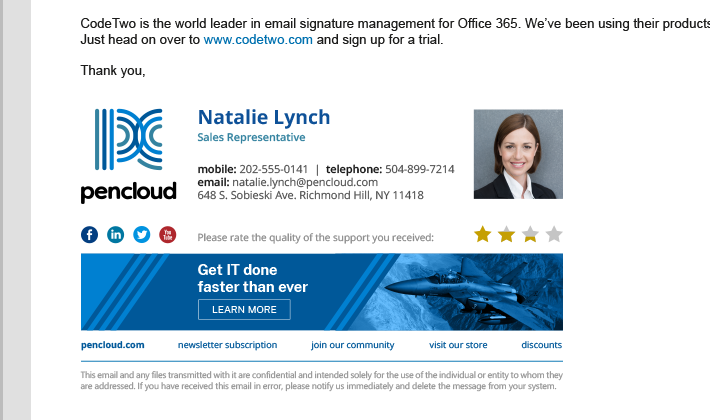 You know that some of your recipients might be interested in an event you are about to organize or participate in. It might be a good idea to automatically send them emails with a signature banner which mentions this event: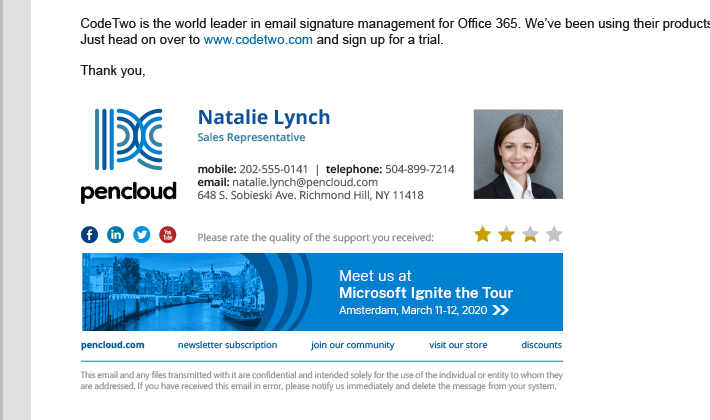 You want to know if an animated email signature will increase the click rate of your marketing banners. You can set up CodeTwo Email Signatures for Office 365 to send signatures with animated gifs for chosen email contacts and tag links to track this specific campaign: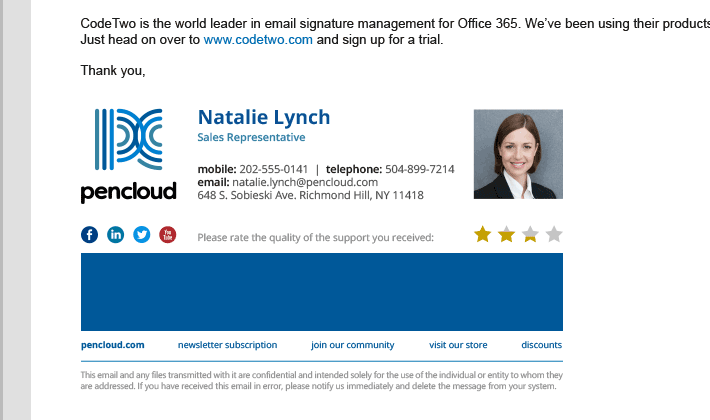 Finally, a group of your recipients doesn't wish to receive marketing banners. CodeTwo Email Signatures for Office 365 lets you easily create a signature template which is compliant with your brand identity, but doesn't include a marketing banner. You can set up signature rules to use such template whenever necessary.
How to run targeted email signature campaigns?
Running targeted email signature campaigns is easy with CodeTwo Email Signatures for Office 365. All you have to do is choose which recipients should get a certain email signature. A good way to start targeting your email signature campaigns is to test a new campaign on a subset of your recipients. To do so, you need to follow a few simple steps:
First, sign in to the signature management app and create a new rule by clicking the plus icon (+).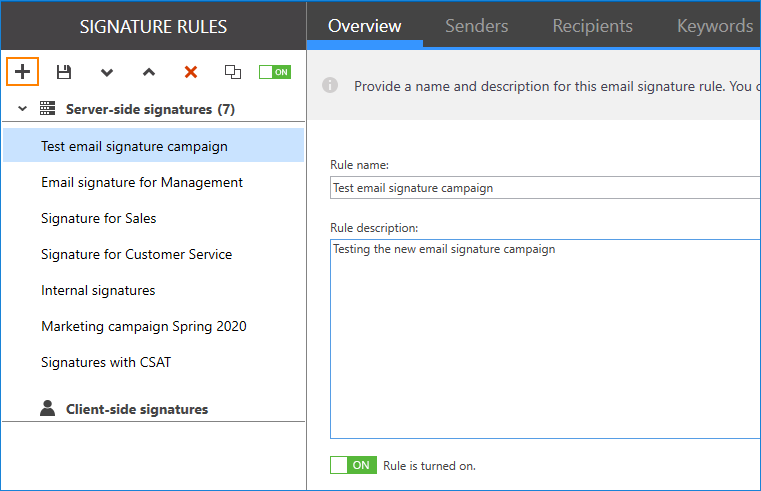 Next, choose users whose emails should be getting the new email signature. In the example below, the signature will be added to emails sent by members of the Sales team.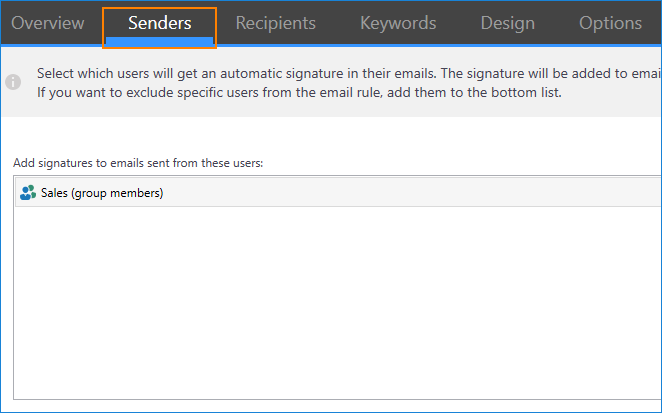 Move on to the Recipients tab. This is where you define the actual target audience of your email campaign. There are a few options to choose from. You can select to apply your email signature rule to internal, external or individual recipients. Or you can use the Email addresses option to choose specific domains or email addresses.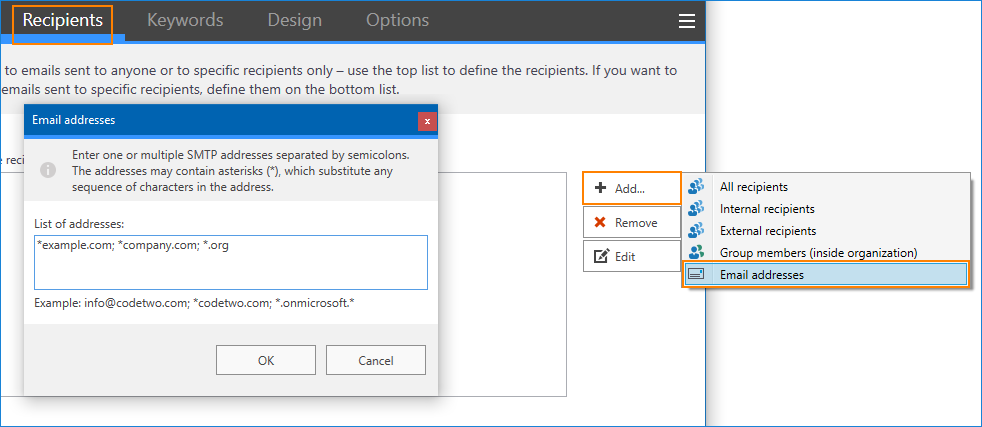 On the Design tab, create your email signature template or adjust one from the Signature template library.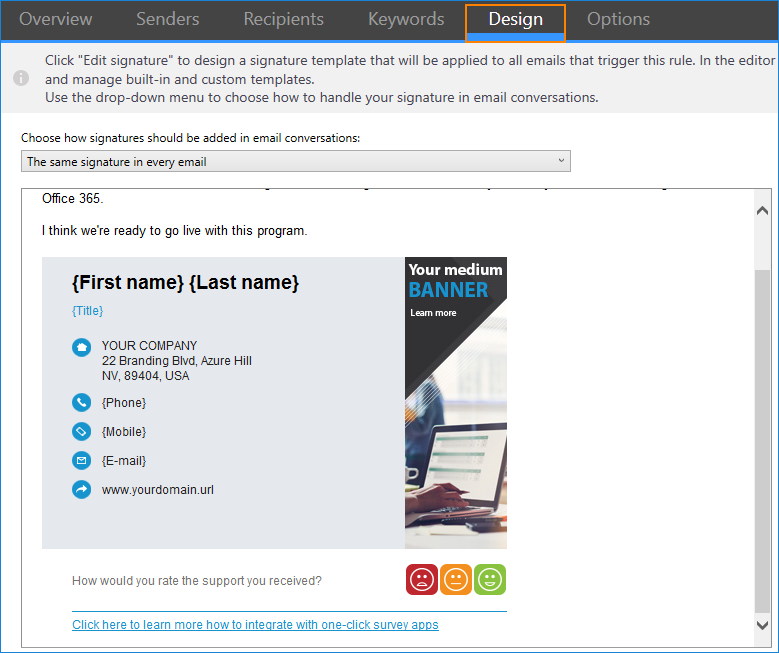 Choosing the right recipients for different email signature campaigns, combined with the right tracking method, allows you to run A/B tests and campaigns targeted at a specific group, or even specific email addresses.
Let users choose which email signature template to use
CodeTwo Email Signatures for Office 365 gives you the option to allow users to decide which signature to use. Simply create client-side signature rules with as many signature templates as you need: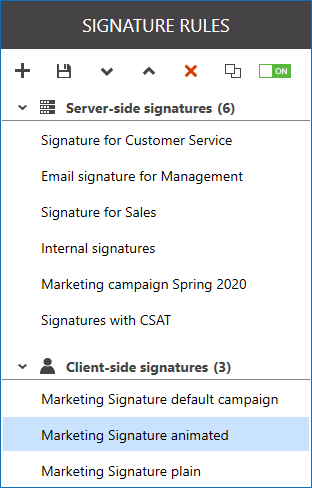 and your users get the right, personalized signature in their Outlook as they type their email. If you provide them with more than one template, users can choose which signature they want to use before sending an email to a specific recipient. That way, they can have more control over the targeted email campaigns.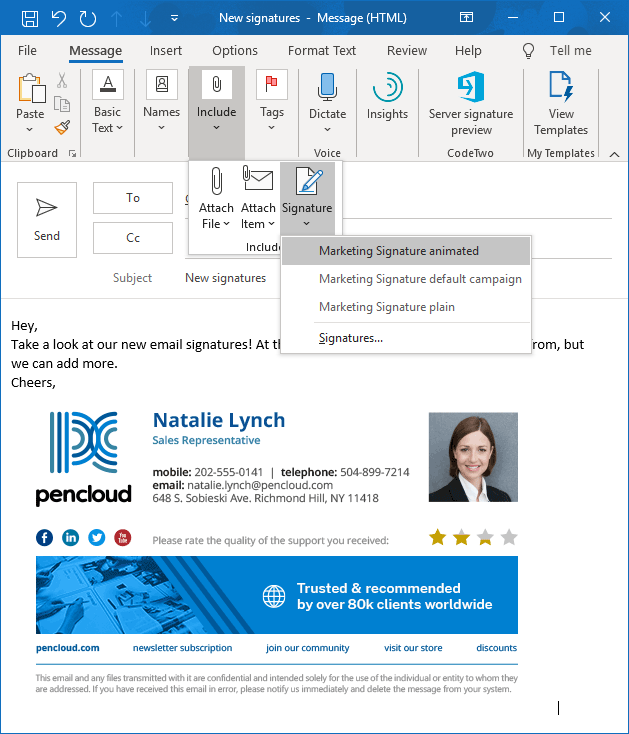 Learn more about client-side signature mode…
Stay tuned for more articles on how to get the most out of CodeTwo Email Signatures for Office 365.
Useful links: