Email signatures are a powerful tool to build a professional image of your brand. They can also serve as a marketing tool, especially if they are well targeted. That's why we're so excited to tell you about the latest feature in CodeTwo Email Signatures for Office 365 – recipient-based email signature rules – which greatly enhances the program's native email targeting capabilities. You can now add personalized email signatures depending on who gets your email. And with the sender and keyword related conditions already available in the program, you gain complete control of email signatures in your organization.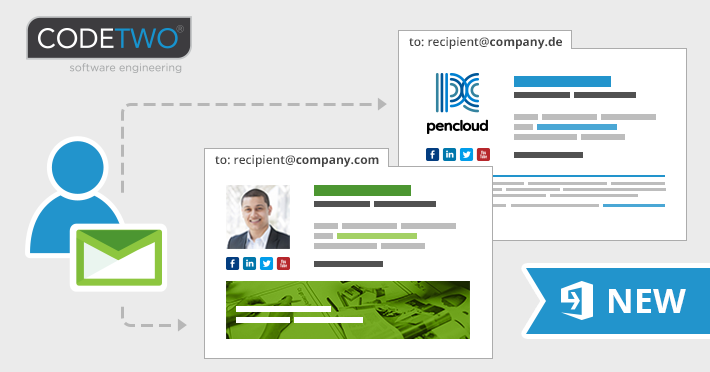 Signatures based on email recipients – your new secret weapon
CodeTwo Email Signatures for Office 365 is all about creating email signatures and defining rules that control when signatures are added. With the introduction of recipient-based conditions and exceptions, you have more freedom in creating email signature rules to better match your business needs. Here are a few typical examples:
A marketing team wants to run a targeted email campaign
They can create email signature templates with different banners and define a specific range of recipients for each template.


A company has just introduced a policy to send signatures with full contact information to external emails only
The person responsible for email signature management can design two signature templates: one with basic sender's details (full name, job title) and another, more sophisticated, with the necessary contact details. Next, all that's left is to set the CodeTwo software to apply each template to emails sent to the right recipients: internal or external.


A manager in a worldwide enterprise needs to have email signatures that automatically change depending on the language of the recipient
You can easily help him by preparing email signature templates for each language version. Then you can use the email addresses filter on the Recipients tab and add a different domain (*.com; *.ca ; *.de, etc.) for each language version of the email signature template.


You want to send an email to multiple recipients and some of these recipients should see different email signatures than others
With CodeTwo Email Signatures for Office 365, that's also possible thanks to the message splitting capability. All you need to do is create different signature rules with different signature templates and define the recipients for each rule – the program will do the rest automatically.
How it works
Signature rules are triggered by various conditions and exceptions. In the latest version of the software, you can create server-side signature rules based on email senders, recipients (including email direction), and keyword phrases found in an email body or subject. These settings are available in the signature management app and each set of conditions and exceptions has its own tab.
The newly released recipient-based settings are available on the Recipients tab (which replaced the Email direction tab). The program lets you add signatures to emails sent to:
all recipients or to internal/external recipients only,
members of selected groups and distribution lists in your Azure Active Directory,
specific email addresses, domains, and more.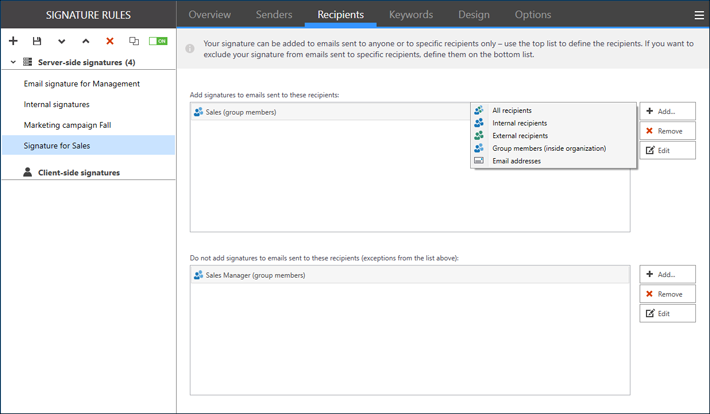 The top list is where you define recipients for whom your signature rule will be triggered. In other words, if a user sends an email to these recipients, the signature will be added. The bottom list is where you can specify recipients who you don't want to see that specific email signature.
When specifying recipients' email addresses, you can use asterisks (*) as wildcard characters to replace any part of an email address. In this way, recipients are not limited to particular people or group members, but you can also create rules that apply only to emails sent to selected domains, language groups, and more (e.g. *gmail.com, *.de, etc.).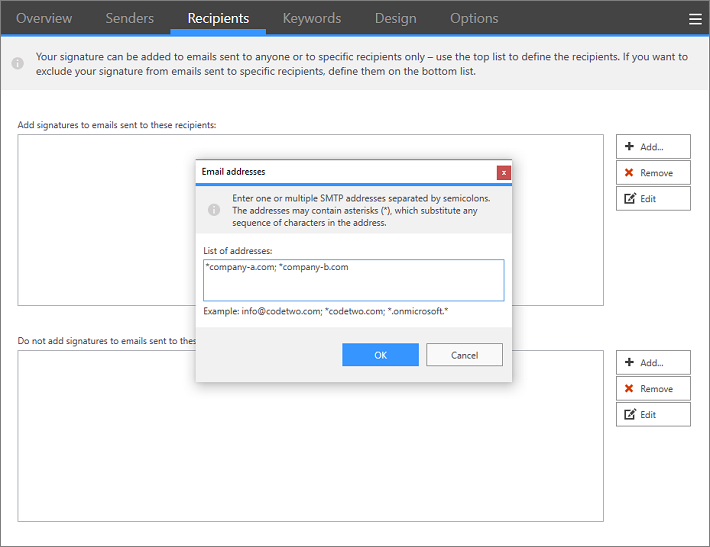 How to get started
As with all updates to CodeTwo Email Signatures for Office 365, you don't have to do anything to get this new feature. Simply sign in to the signature management app and go to the Recipients tab.
Existing users
The introduction of the recipient-based conditions won't affect your existing signature rules. The settings specified on the Email direction tab have been moved to the Recipients tab and automatically applied to your rules.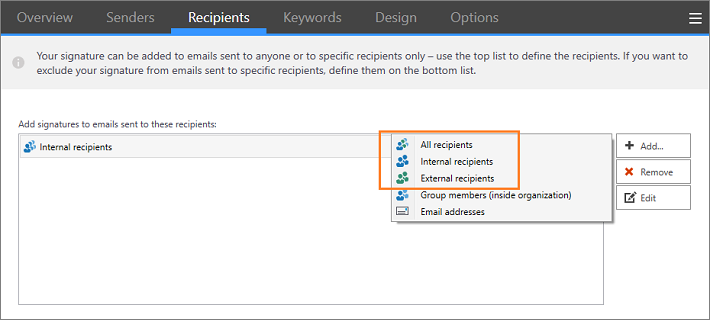 Find out our more about this feature (and about the other conditions and exceptions you can use to control when email signatures are added) in the program's user manual.
If you have any questions about this new feature, feel free to contact us. We are available 24/5.