Update: This post was updated on July 21, 2020
Dark mode has finally arrived in Outlook & Outlook on the web! At last, you can change the background of emails to a deep dark gray, which most people would call "almost black". Why is this a feature worth mentioning? Judging from the discussion under the Changing background colors in Outlook article, many people are desperate for this feature. That's why we wanted to share which versions of Outlook have dark mode available, how it works, and what to keep in mind when using it.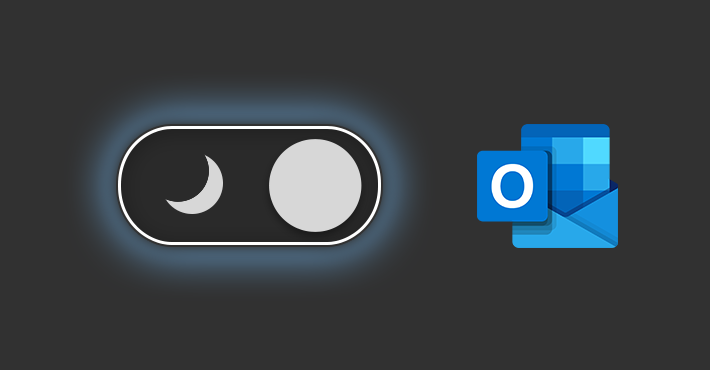 But first, let's see why this feature might prove to be a real game changer.
Dark mode might be more than you think
The dark mode, or "switch background" option, is something entirely new for the Office suite. Outlook has already had the so-called black theme available. But the black theme that's been around for years has in fact a very limited use in Outlook – it only changes the frame around emails, leaving the actual email body unchanged (usually, the background stays white, which strains your eyes a lot). With dark mode, which is an extension of the black theme, you can change the background, too, making Outlook eyesight-friendly. Take a look below to compare dark mode with the regular "light mode":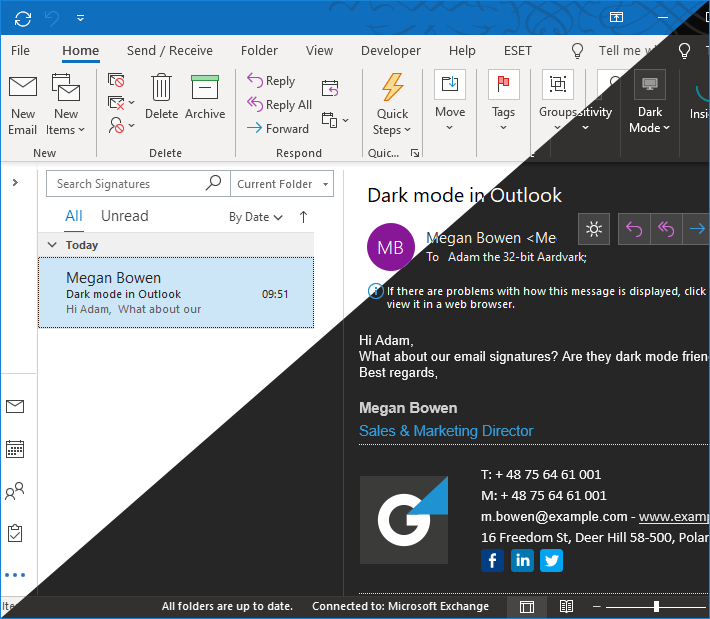 When it comes to dark mode in general, there are, typically, two most distinct kinds of reactions:
I love it!
How can you work like that?!
Those who like dark mode appreciate that the screen emits less light. Dark mode is simply more comfortable for your eyes. For some people, prolonged exposure to overwhelming bright background causes headaches. Not to mention that if you check your Outlook at night, those white backgrounds bear a strong resemblance to blinding headlights. Ask most developers if they would like to work in a light IDE…
Those of you who don't think dark mode is much of a feature should think about all those recipients that might have dark mode enabled. It changes the background of any email. HTML, RTF, plain text – all are converted. Don't you like your emails to look great in all modes?
How to enable dark mode in Outlook?
The dark mode, night mode, or switch background option is not available in just any Outlook. Currently, to experience the feature you need to use one of these Outlook versions:
Outlook for Microsoft 365 (Outlook delivered as a part of your Microsoft 365 subscription): the first Outlook version to get this update was the version 1907 of the Insider Channel (released June 21, 2019). Since July 14, 2020 and the version 2002 of the Semi-Annual Enterprise Channel, all Outlook for Microsoft 365 versions should include the dark mode feature, as long as you keep your Microsoft Office suite updated to the most recent version.
Outlook on the web
Outlook.com
When it comes to the above Outlook versions, dark mode is enabled by default for the black theme.
To enable dark mode in Outlook, you need to have the Black Office theme turned on (Options>General>Personalize your copy of Microsoft Office):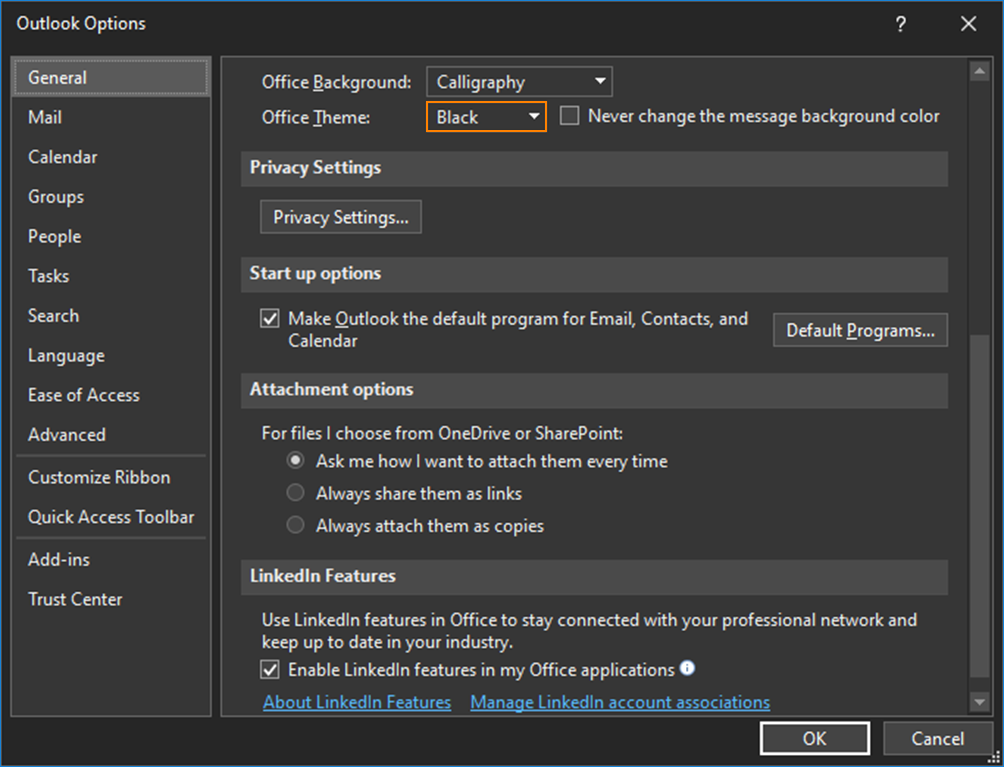 To turn the dark background on in Outlook, you can either use the button next to the reply option:

or the switch background option on the Home or Message tab:

The checkbox never change the message background color disables the dark mode.
In Outlook on the web and Outlook.com, dark mode is supported with the default blue theme. To see emails in a different light, click the Turn off the lights button

How to check your Microsoft 365 Apps version
You might wonder what the semi-annual channel is and which exact version of the Microsoft 365 Apps (Office suite) you have.
There are two kinds of updates – related to performance and security (aka fixes, which are provided when they are needed) and feature-related (aka features).
Microsoft 365 Apps have different update channels available. The frequency of feature-related updates depends on the update channel you have. At the moment of writing this article, there were 3 main channels available. Recently, there has been a change to how those channels are named, and a new channel has been added. Currently, there are 3 main update channels, and one which shouldn't be used in production environments:
Semi-Annual Enterprise Channel (previously, it was simply called the Semi-Annual Channel) – the default one – has the lowest frequency when it comes to new features added. While it is considered to be the most stable option, you will wait for the newest features longer than in other channels – they are released on the second Tuesday of January and July.
Monthly Enterprise Channel (as you can expect, previously it was just Monthly Channel) – while security updates and fixes are as frequent as in the Semi-Annual Enterprise Channel, new features are deployed once a month (again, on the "Update Tuesday").
Current Channel (the newest invention) – it is one step ahead of the Monthly Enterprise Channel. Features are released as soon as they are ready, without a set schedule.
The Office Insider Channel – or the "lab rat" option – allows you to get early access to features that might still be refined before getting released in the other update channels. It is the best option if you want to get a sneak peek at the features to be released and prepare before deploying them organization-wide. Office Insiders with their thoughts and ideas help shaping the final form of new features.
To check the version of your Office suite (and Outlook in particular), follow those simple steps:
In Outlook, go to the File tab.

On the File tab, go to Office Account. The About Outlook section contains the information you need.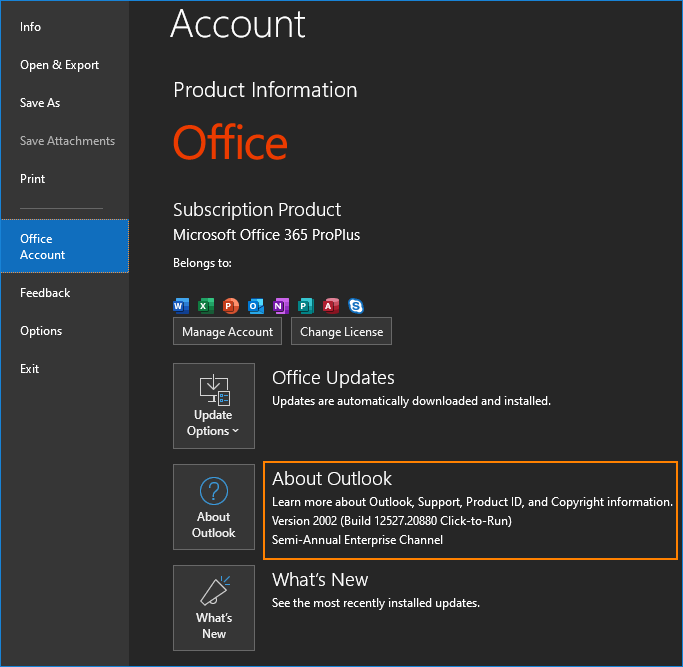 How does the dark mode work?
Like I mentioned before, the dark mode changes the background of any email type (HTML, RTF, or plain text) to its darker version. The background, of course, is not the only element that changes its color. Fonts, separators – all those elements have their colors changed so that the whole email message gets darker (while not affecting readability).
The most obvious, traditional color of an email background is white while font is typically black. The night mode will convert such messages into whiteish text on a blackish background. To be exact, white (#FFF) changes into a very dark gray (#262626) and black (#000) changes into a "dirty" white (#F6F6F6). On the other hand, HTML-designed emails (usually newsletters) are sometimes created with the dark background by default – those emails will get brighter in dark mode.
Perfect email signatures in dark mode
You don't care about dark mode and don't want to use it? No problem. Keep in mind, however, that you have no control over your recipients. And since this option changes the background and text color of any message, you might need to take a closer look at your email signature design.
Since emails' text and background are automatically converted (or inverted, if you like), you don't have to worry about them that much. The case is different, however, if you look at images – they will stay exactly the same as in the "light mode". Which might ruin them completely, especially if they have a white non-transparent background.
So, how to make your email signatures dark mode friendly? Here are some guidelines:
Do not use all-image email signatures. Using email signatures that are just one huge image is never a good idea. Using them in the dark mode is even worse: recipients will immediately see that those signatures are out of place.
Get rid of white backgrounds. A social icon or logo on a white background is bound to look out of place in dark mode. All graphic elements will probably look better on a transparent background, so they can become a unified part of the design.
Use images that look well in both modes. It is crucial that your email signatures look well in both modes – the dark and the light. While the traditional, white background will most probably continue to prevail, the dark mode is bound to get some popularity. So, when it comes to social icons, badges, or other graphic email signature elements, it's a good idea to use colors that will stand out regardless of the recipient's display mode.
Test your signatures in dark mode. The most reliable way of finding out if your email signature design gets along with dark mode is to test it. Make sure that all elements look well, and the font colors don't stray too far from your original design.
Manage your email signatures. Using email signature management tools is the easiest and the most reliable way to make sure that all users in your organization have well-designed email signatures. You can design and test your layout once and every user will automatically get personalized email signatures.
Watch out for animated gifs. Although animated gifs usually give a nice touch to an email signature, you need to be extra careful if you want them to look perfect in both dark and standard mode. The safest approach with such animations is to use a neutral solid background, like in this example. White backgrounds, like with images, look out of place and transparent backgrounds won't give you good results because gifs don't support semi-transparency, which results in unprofessional, pixelated edges of the animated object.
You might also be interested in: