Contrary to widespread belief, signature cloud settings (aka roaming signatures) will NOT revolutionize email signature management in Microsoft 365. First and foremost, it works based on the rather archaic Signatures and Stationary options in Outlook that offer no central management. If you are looking for a professional email signature management tool that lets you add signatures directly to emails in Outlook, CodeTwo is your best option. Below, we present a quick comparison between signature cloud settings and the capabilities of CodeTwo Signatures Web Add-in for Outlook & OWA.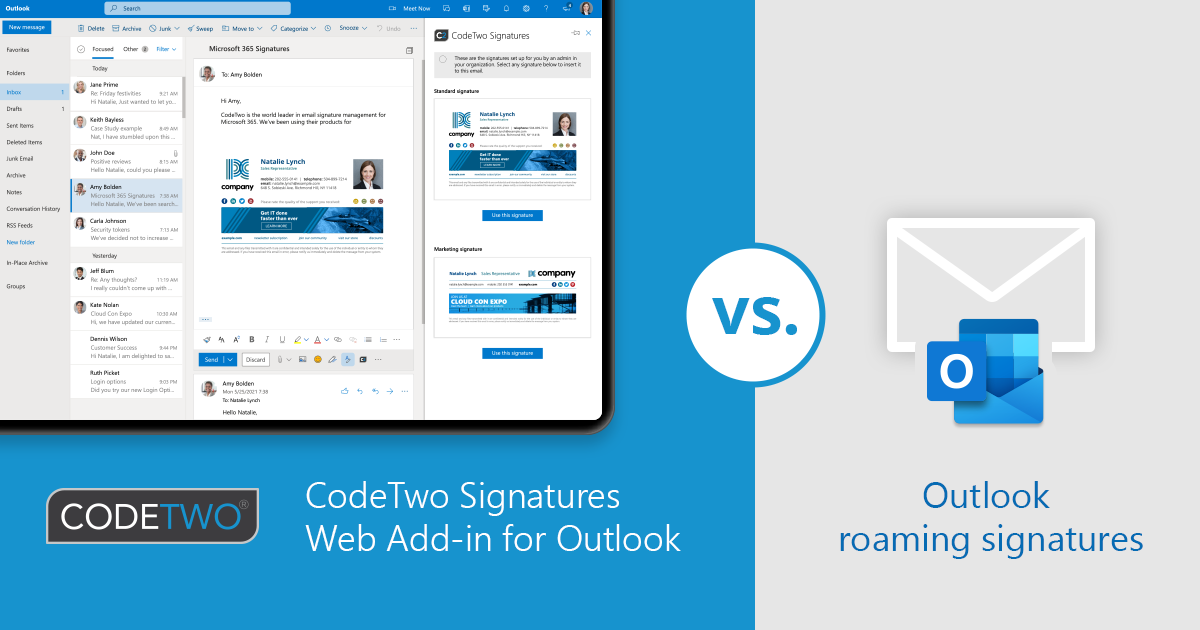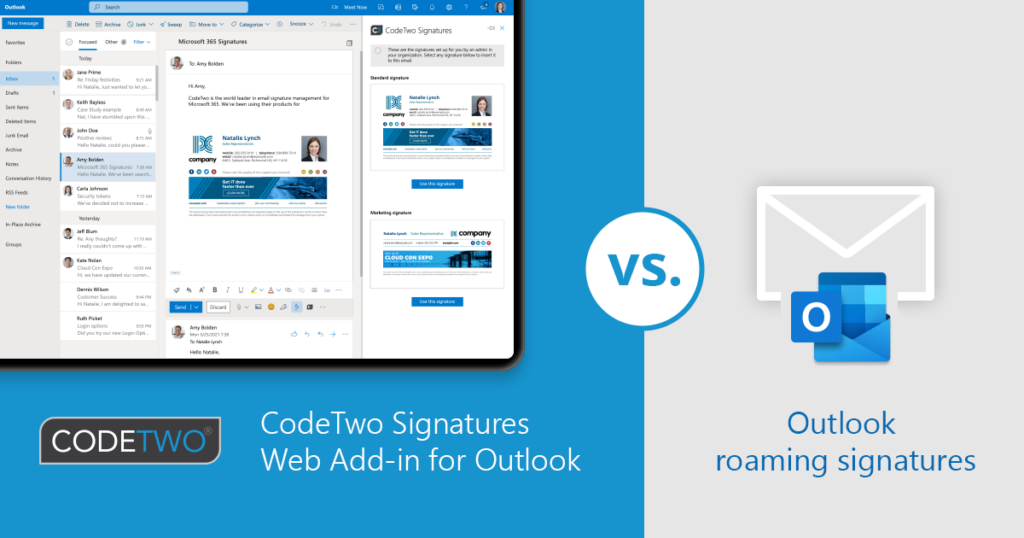 We've already discussed in our previous article how signature cloud settings work and how this feature compares to CodeTwo Email Signatures 365. Here, we want to focus more on how Microsoft's new feature differs from what you can get out of our signature management software when working in the Outlook (client-side) signature mode to get automatic and personalized signatures directly in Outlook.
CodeTwo signatures Web Add-in – quick overview
CodeTwo signatures Web Add-in is our pride and joy. Developed in close collaboration with Microsoft's developers, it uses the newest technology available in Outlook to provide the best possible signature experience when using CodeTwo Email Signatures 365 in Outlook (client-side) or combo mode.
The Web Add-in is deployed centrally to selected users from the Microsoft 365 admin center. It can add signatures in Outlook as you type an email and preview cloud signatures added by CodeTwo after an email is sent.
See this video to learn more about the Web Add-in:
Central management
Roaming signatures let users sync their signatures across different instances of Outlook for Windows and Outlook on the web (OWA). It means that users still need to design their signatures the traditional way, make sure those signatures work as they should, and so on. Every user needs to do this separately in their Outlook app.
With CodeTwo, by using our signature management app (app.codetwo.com), you can create a signature template that is automatically personalized and applied to all users of your choice, based on defined signature rules. There's no user involvement in the whole process.
Supported email clients
Right now, signature cloud settings work in Outlook for Windows and Outlook on the web in chosen update channels. More update channels are to follow soon.
Our Outlook add-in works in all update channels of Outlook for Windows, Outlook on the web and Outlook for Mac (see the full list of supported platforms). All the other email clients and devices are supported when using CodeTwo Email Signatures 365 in cloud (server-side) or combo mode, where email signatures are added after an email is sent. This means that, with CodeTwo, you can ensure all company emails are fully branded with your company's logo and other visuals.
Features
Signature cloud settings work together with the native Outlook signature options. You can take a look at the list of your signature names, use signatures as default signatures for new messages, for replies and forwards or both. That's it.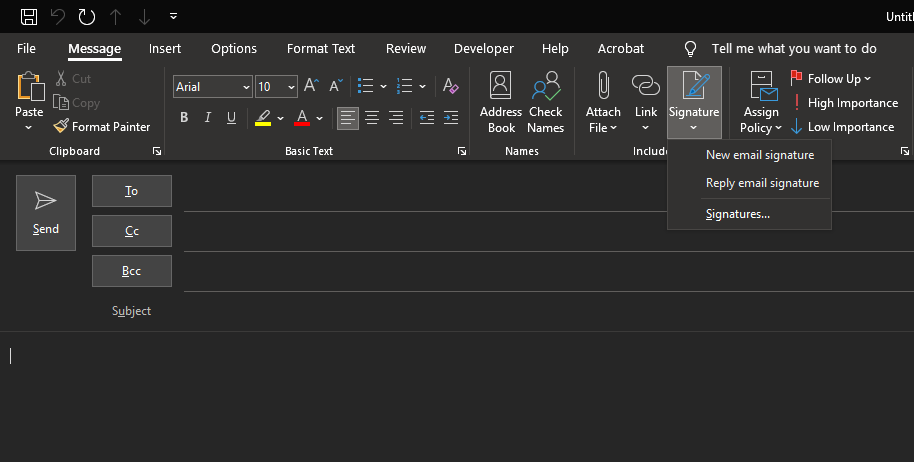 With CodeTwo signatures Web Add-in, you get all those features, plus:
The Web Add-in's pane shows all available email signatures together with a preview of how the signature looks – not only its name.
The Web Add-in supports tamper-proof "cloud signatures", which are added after an email is sent. In this case, the Web Add-in displays what signature will be added to which recipient.
The Web Add-in can disable user-defined signatures in Outlook.
When using CodeTwo Email Signatures 365 in combo mode, users can switch between Outlook and cloud signatures directly from the Web Add-in's pane. Learn more
Coming soon: you can define different signatures based on email recipient (e.g. different for internal and external recipients). This feature was showcased during Microsoft Build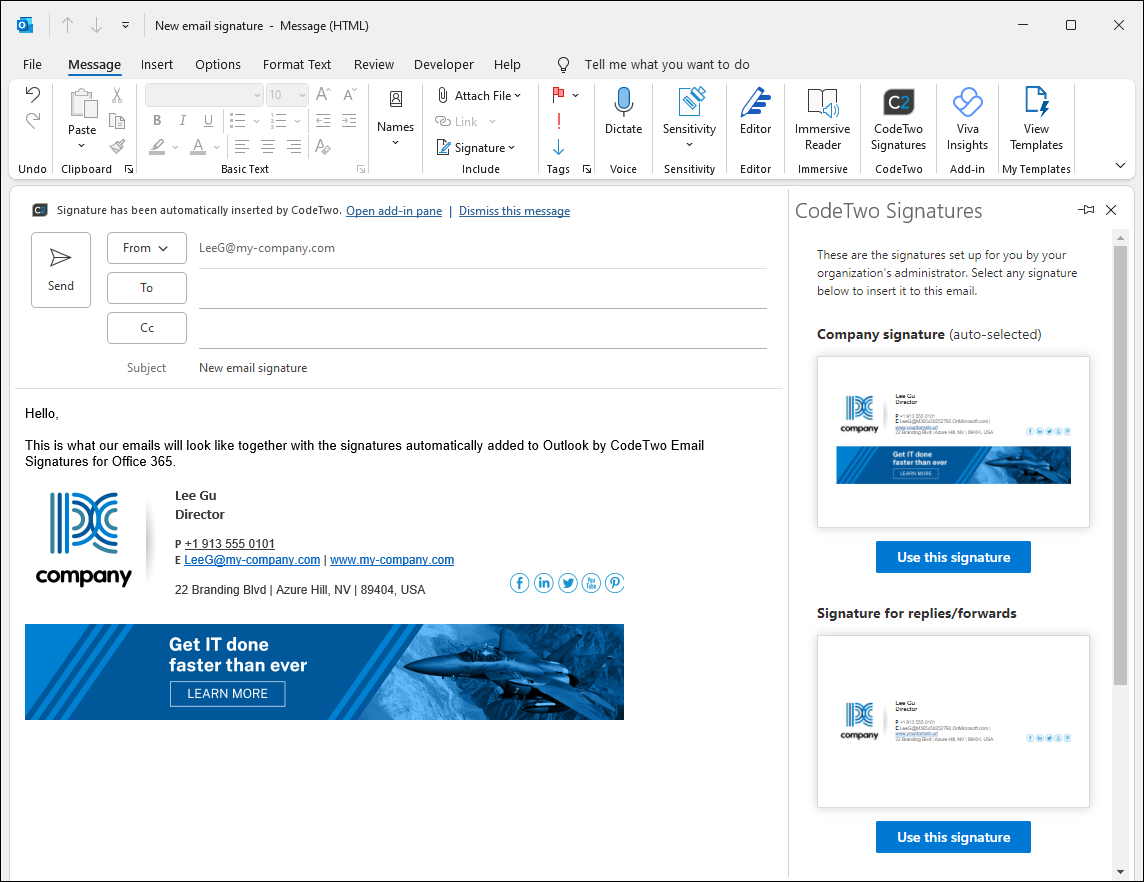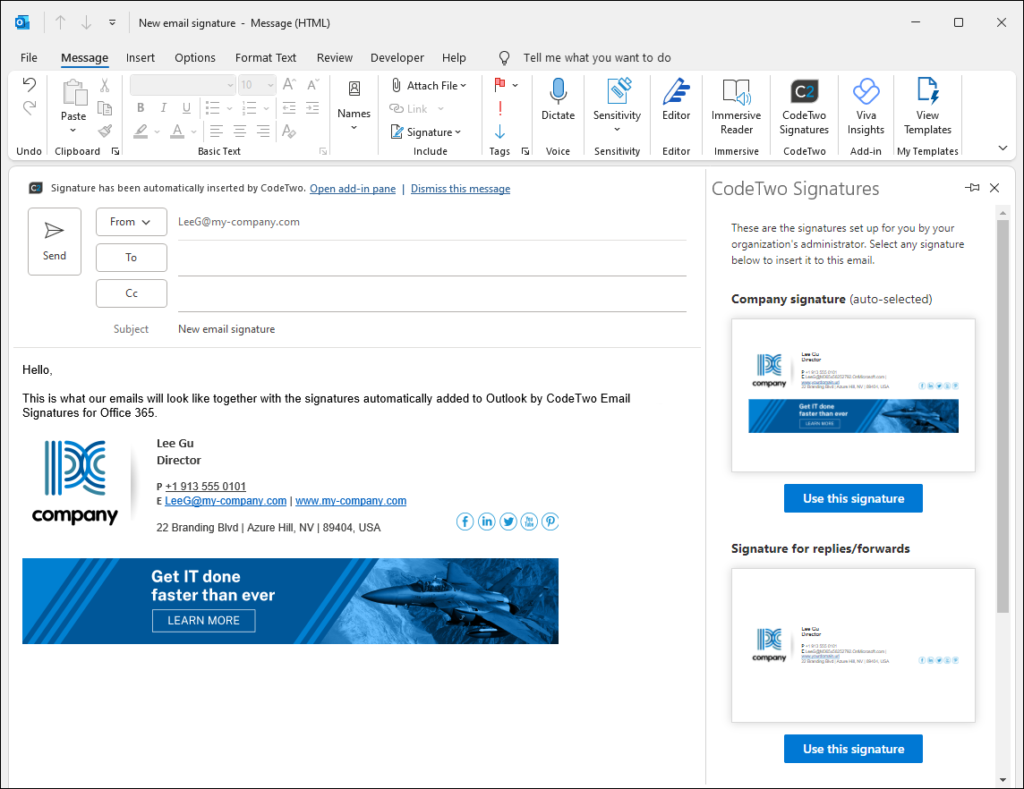 Signature editor and template library
Outlook has a basic signature editor that has very limited customization options (e.g. you can't even insert a table or edit the signature's source HTML code). With the release of the signature cloud settings, Microsoft also created an email signature gallery: a Word file that contains dozens of signature templates that can be pasted into Outlook's editor. However, the templates are very simple and many of them don't display correctly in other email clients than Outlook.
CodeTwo's solution comes with a build-in signature template editor that offers virtually unlimited customization options. By using placeholders that are replaced with personalized sender's details, taken from Azure AD, you can design only one template that can be used for all users in your organization. The editor is also very easy to use – no HTML skills required. It comes with dozens of templates, designed to work with every email app and device. Those templates let you design a professional business email signature in just 2 minutes, as shown in the video below:
Additional features
Outlook roaming signatures don't have any additional features. You can provide your user and company details and sync it across supported email clients. With CodeTwo, you can achieve much more and across the whole organization, for example:
add one-click customer satisfaction surveys to gather invaluable feedback,
add meeting links that simplify appointment scheduling,
use analytics tags to check the performance of marketing banners used in your signatures, and more.