[Update]: This article was first published on June 4, 2020. It was updated due to changes concerning Outlook roaming signatures feature development and release.
Microsoft is in the middle of rolling out a new feature for Outlook for Windows called roaming signatures (or signature cloud settings). The new feature changes the way Outlook email signatures are stored. Instead of storing them on a local drive (ironically, in roaming user profiles), signatures are moved to the cloud (and tied with a user's account), which makes them available on all devices running Outlook for Windows that are configured with this user's email account. As there is a lot of inaccurate information regarding the feature, let's explain what this feature really is, when to expect it (if you still don't have it), and whether it affects CodeTwo solutions at all.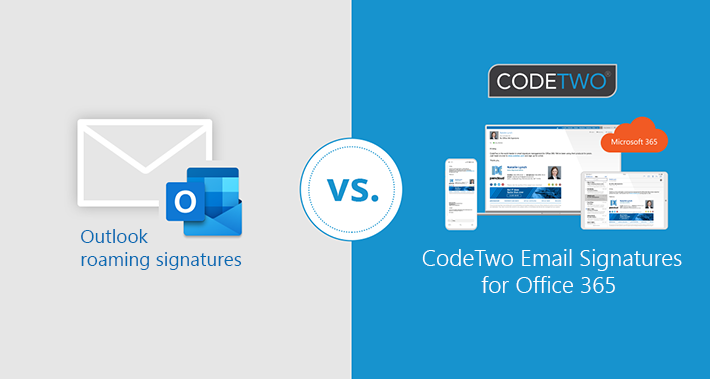 When to expect roaming signatures?
The feature was first added to Microsoft 365 roadmap in early 2020 (roadmap item 60371 – Outlook for Windows: Signature cloud settings). Its shipment was expected still in 2020, but the release date has been moved several times. Starting October 2022, the feature has finally started rolling out gradually.
The date is not the only thing that changed in the development plans. While at first roaming signatures were supposed to be available for everyone, now we can read that its Global Availability phase is planned for the Current Channel only. It means that most companies will probably never get to use it, since many organizations prefer more stable release channels, like Semi-Annual and Monthly.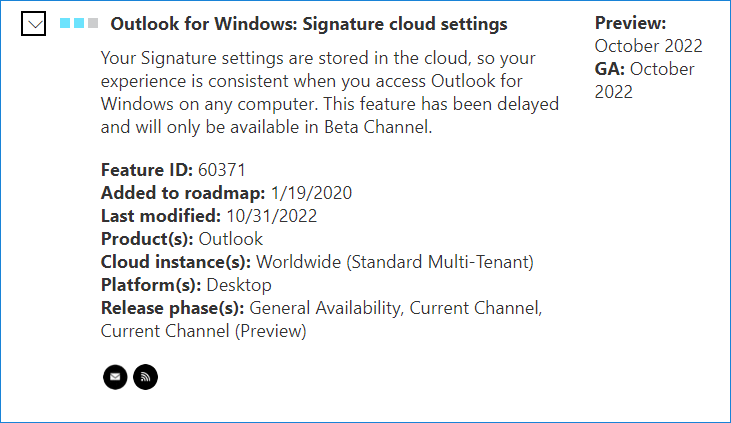 For those users who get the chance to use the feature, here's a quick description of how it works:
Roaming signatures for Outlook: short description
Moving signature settings from a local drive to user's mailbox is a good change. Thanks to that, if you are using your Outlook on multiple computers, you don't have to set up a signature separately on every single endpoint. Also, this potentially opens up a way to use tools such as PowerShell to set up a signature remotely.
Along with the new functionality, Microsoft prepared a rudimentary email signature library with simple templates for users to pick and customize with their company logo, photo, website and social profiles. Once the feature has been rolled out to a user, the gallery can be accessed from within their Outlook client (from the Signatures and Stationery settings) or directly from this link.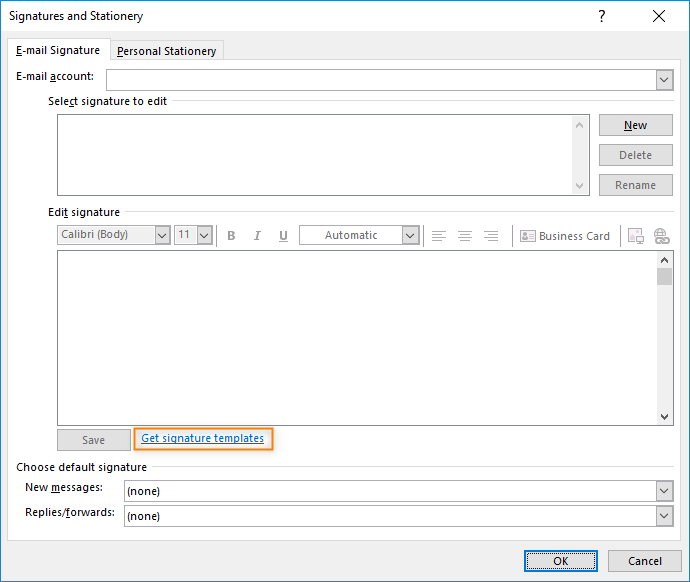 However, Microsoft's declaration that Outlook signatures can consistently display your brand and contact information might be a bit of an overstatement. Out of the box, users still need to download, choose, modify and import signatures into their Outlook apps by themselves. This can lead to inconsistencies, typos and other discrepancies. Not to mention the fact that these signatures are just examples stored in a Word document and might not be displayed correctly in email clients other than Outlook.
Moreover, if you take a closer look at the roadmap item, further limitations become apparent. At this moment, plans are only for Outlook for Windows. In other words, it means that you will benefit from the changes only if you, for example, occasionally use Outlook for Windows on another PC. When you use Outlook on a Mac or a mobile device, signature settings will still be separate.
UPDATE: Some users report that roaming signatures set up in Outlook for Windows are getting synchronized with Outlook on the web but there is no mention about this in the Microsoft 365 roadmap item.
There has been some information that roaming signatures might affect or even break email signature add-ins. Let's take a look at how the feature might affect third-party tools like ours.
Impact of Outlook roaming signatures on CodeTwo software
In a Message center announcement and an email sent to Microsoft 365 clients, Microsoft mentioned that roaming signatures will affect third-party COM add-ins for Outlook. According to the message, these add-ins will no longer work when this feature is released unless admins modify the registry for users in their organization as per this article. The similar information is spread throughout many different sources and articles as well. Because of that, we would like to clarify that the new feature from Microsoft:
will not "break" CodeTwo tools or substitute them in any way – it just saves Outlook signatures in the cloud, like Outlook on the web (OWA) did for years. That way, these signatures are automatically accessible on other Windows-based PCs for a given user once they use Outlook hooked up to the same Microsoft account;
does not introduce central management of signatures, AD integration, dynamic signatures, signature campaigns and other features you already get from CodeTwo;
does not work with mobile devices and other email clients – it's limited to Outlook for Windows only (UPDATE: some users report availability in OWA, too, but there's no confirmation from Microsoft yet);
does not require you to take any action

*

for your organization no matter which signature mode and CodeTwo Outlook add-in you use with CodeTwo Email Signatures for Office 365:

the modern CodeTwo Signatures Web Add-in for Outlook is not a COM Add-in, so it will continue to work and add client-side signatures even when roaming signatures feature is enabled;
the classic CodeTwo Signatures Add-in for Outlook is a COM Add-in, but it will also work properly. All versions of this add-in released since June 17, 2020 automatically make the necessary change in the registry for all users who use the COM Add-in. The add-in is updated automatically

*

for these users (they might be prompted to restart Outlook after the update).



*

Only the admins who deployed the classic COM add-in globally via GPO before June 17, 2020 will need to redeploy it to make sure all users get the latest version of the add-in (instructions on how to do this can be found in the user's manual).
Comparison of Outlook roaming signatures and CodeTwo Email Signatures for Office 365
As mentioned above, the new feature for Outlook changes nothing for companies that use third-party email signature tools such as CodeTwo Email Signatures for Office 365, because these tools address completely different problems. See a short video that highlights all the distinguishing features of CodeTwo's cloud signatures and take a look at the table below to compare native signature cloud settings in Outlook with CodeTwo's email signature solution.
| | CodeTwo Email Signatures for Office 365 | Native signature cloud settings in Microsoft Outlook |
| --- | --- | --- |
| Central email signature management for the entire company or selected groups of users | | |
| Support for all email clients and devices (including mobiles) | | |
| Setting up different signatures for internal and external emails | | |
| Signatures inserted automatically based on rules | | |
| Email signatures in encrypted messages | | |
| Azure Active Directory synchronization (user info automatically added to signatures) | | |
| Scheduling email signature campaigns | | |
| Delegation of email signature design and management to specific people or teams | | |
| Unified visual identity across the entire company | | |
| Automatic conversion of plain text emails to the HTML format (signatures in emails sent by mobile devices look the same as those sent from PCs) | | |
| Signature editing blocked for all/selected users | | |
| One-click customer satisfaction surveys in email signatures | | |
| Signatures added/removed by specific keywords in the email body | | |
| Other features | | |

If you have any additional questions or concerns regarding the new feature and its impact on CodeTwo software that you use, feel free to contact us.