Join CodeTwo & Microsoft Outlook Add-ins team at Microsoft Build 2023 (a virtual event) to see exciting new capabilities coming to our Outlook Signature Web Add-in.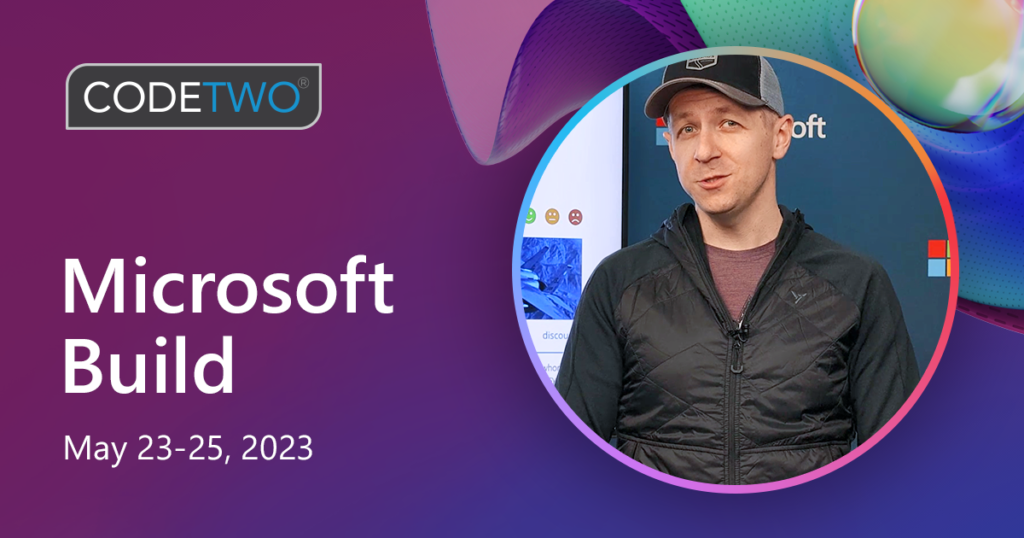 The new Outlook is coming to town
Microsoft Build is the go-to event for all developers who create apps or add-ins for Microsoft platforms. In 2023, there are many interesting announcements that should be of interest not only to devs, but also to all users. For example, Microsoft reminds that the New Outlook is coming and one of the changes it brings is the support for Web Add-ins only. Buh-bye legacy COM add-ins! To sweeten the time for goodbyes, Juan Balmori, Principal Program Manager at Microsoft, together with CodeTwo's CEO Simon Szczesniak, will highlight new web add-in capabilities that are just around the corner. We're sure you'll love them!
Microsoft & CodeTwo join forces to develop new add-in features
We've been working with Microsoft Outlook Add-ins Team from the beginning and we're proud to be the first signature vendor to release the new Signatures Web Add-in to general public back in 2021. The add-in turned out a huge success – it's now used by hundreds of thousands of users and adds about 3 billion signatures a year!
We've continued working closely with Microsoft to develop new add-in capabilities, focusing on the features that are most useful for our customers, such as:
recognizing email recipients – web add-ins can automatically change the signature based on who gets your email,
recognizing email senders – web add-ins can now automatically change the signature based on the email sender you choose in the From field of your message. In other words, it's even easier to support common business use cases like different signatures for users and shared mailboxes.
The second feature (known to developers as the new FromChanged add-in API event) premieres today and we're the first to show it!
Learn more about the CodeTwo Web Add-in and see the new features in action in the following Microsoft Build 2023 session: Unleash your Outlook Add-ins experiences into the new Outlook
Or watch it directly on YouTube:
(CodeTwo starts at 13:26 but watch the whole presentation to learn about the New Outlook that's now in preview for Windows.)
The new features are coming soon to our Signatures Web Add-in. And that's not the only major update that's right around the corner, so stay tuned!