Autoresponder is a new major feature available in our world-leading email signature service. It allows you to create fully branded and personalized automatic replies & out of office messages and manage them centrally for all users in your Microsoft 365 organization. It's available to all our customers at no extra charge. CodeTwo Email Signatures 365 is the world's only cloud signature service to offer this!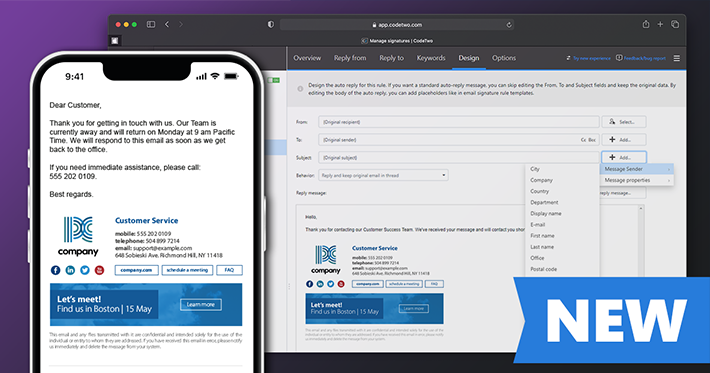 Examples of use
Autoresponder allows you to create auto replies to inform your customers (or anyone who sends emails to your organization) that:
You got their message and will answer shortly (or within a specified time) – a common use for every Customer Support team.
The person they tried to reach is currently out of office.
The email address to which their message was sent is no longer in use.
The email address / your organization's domain will soon change (e.g. due to domain change resulting from a merger or acquisition).
And so on.
You can also set up Autoresponder to forward incoming messages to another email address.
How does Autoresponder work?
You just need to turn Autoresponder on in tenant's settings in CodeTwo Admin Panel (see how) to be able to create and use new type of rules – autoresponder rules – in the signature management app. This works similar to signature rules: based on conditions you define in an autoresponder rule, automatic replies can be sent when emails:
reach specific users (email addresses) in your organization,
are sent to your organization from specific email addresses,
are sent to your organization at a specific time or date,
include specific keywords or phrases, and more.
Autoresponder lets you design professional HTML templates for your auto-reply messages and enrich them with links, graphics as well as personalized email signatures. You can also freely change the From, To, Cc, Bcc and Subject fields of your auto replies.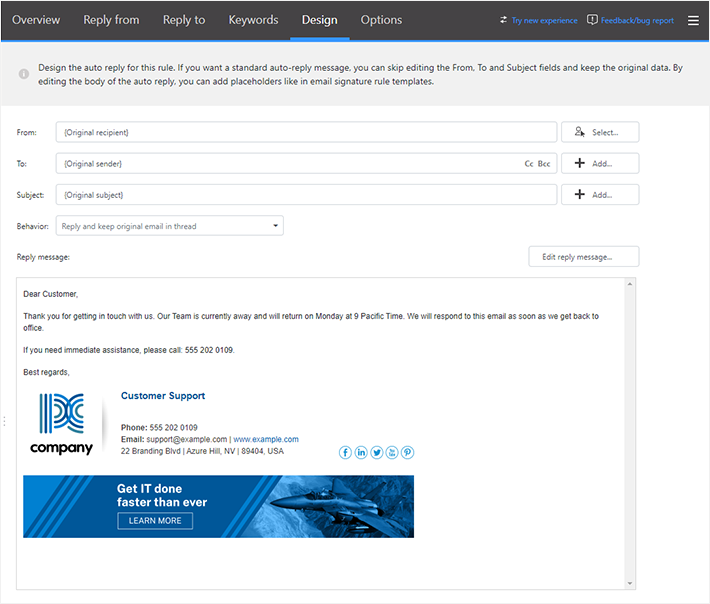 With the built-in Scheduler, you can schedule auto replies to be sent in advance or only on specific days. The Limiter option lets you decide how many automatic replies you want to send to the same email address over a specific period of time (e.g. you can send one auto reply per day).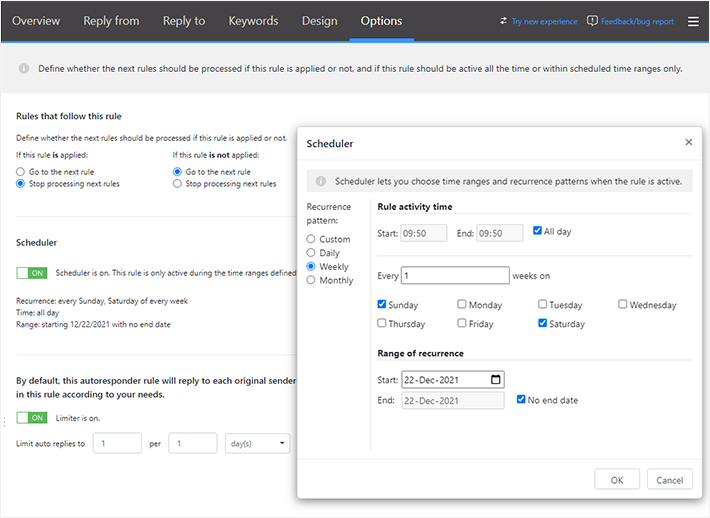 Learn more about Autoresponder in the user's manual
How to get started with Autoresponder?
Autoresponder is available at no additional cost as part of your existing CodeTwo Email Signatures 365 subscription. You just need to enable it in CodeTwo Admin Panel. Get instructions
Autoresponder licenses are counted separately from signature licenses. This means that if you have a subscription for 100 licenses, you get 100 signature licenses and 100 autoresponder licenses. Learn more about autoresponder licensing
If you don't have a subscription for CodeTwo Email Signatures 365 yet, start a free 14-day trial now. All the features and full customer support are available as you test the service.
Be sure to let us know in the comments what you think about the new feature. You can also contact CodeTwo Success Team directly with any questions.