G2.com is a portal which gathers feedback from software users to offer an unbiased comparison between similar solutions. Once every quarter, G2 publishes reports which sum up how customers rated their experience. The best solutions in each category also receive awards, which recognize their strengths over the competition. We're thrilled to tell you that CodeTwo's solutions got multiple awards, including the Leader award.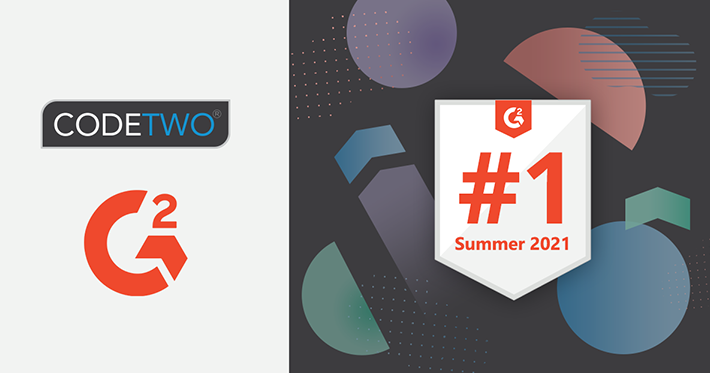 CodeTwo Email Signatures for Office 365
Our flagship software for managing email signatures in Microsoft 365 stays on the top of the Email Signature Software category. Not only does it uphold the Leader title, but it's also #1 solution when it comes to user satisfaction and ease of use.
Review process at G2 is very meticulous – it aims at rating each possible aspect of software solutions to provide a detailed comparison between alternatives. We're thrilled to announce that CodeTwo Email Signatures for Office 365 received a whopping number of 14 awards: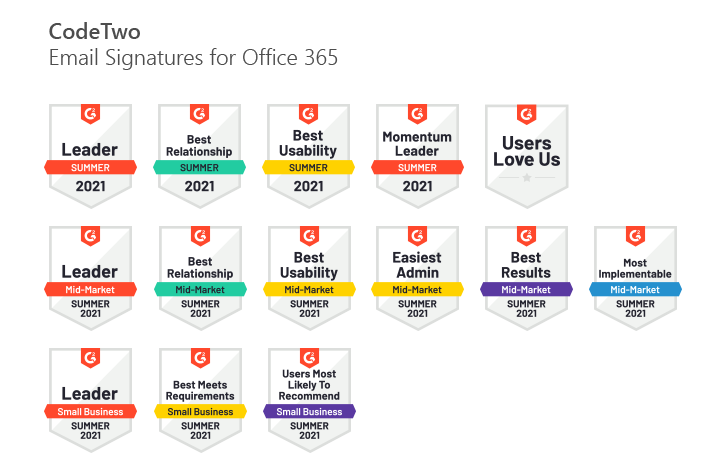 The reviewers especially liked how our software meets their requirements, how easy it is to implement and administer, and the quality of support we provide.
To be honest, if we were to rate our experience with the customers, you would receive the highest awards, as well. It's been a pleasure to work with you!
See the reviews of CodeTwo Email Signatures for Office 365 on G2
Just to mention, not only our customers are willing to say a few words about their experience. Our solution recently caught an eye of a multi-time Microsoft MVP, Brien Posey. Learn more about the review
Other solutions
That's not all! CodeTwo Exchange Rules Pro, our email signature and mail flow manager for on-premises Exchange servers, and CodeTwo Office 365 Migration, a tool which lets you easily migrate to Microsoft 365, were recognized as well.

Our migration tool received two awards: Easiest Setup and Easiest to do business with. Those two accolades are especially important as the migration process in general can be quite complex. However, with our software, you can be sure it will go smoothly – thanks to the ease of setup and how simple it is to do business with us. We support you every step of the migration journey.
CodeTwo Exchange Rules Pro was awarded with two badges: Users most likely to recommend and Best support. If there was a separate category for email signatures management in Exchange Server, we're certain that out tool for managing email signatures would come out on top. Our customers deem this solution as powerful and versatile, yet simple and intuitive to use.
Thank you for the feedback
We strive to offer the best customer experience in the market. That's why we are hungry for feedback and thrilled whenever we get a new review. You, the customer, decide how our solutions evolve and what our developers focus on. That's why we wanted to thank everyone who ever shared their opinions and suggestions. You've helped us shape our modern Signatures Web Add-in (co-engineered with Microsoft) and introduce many new features (like easy integration with scheduling tools) as well as thousands of smaller improvements over the years. All this allowed us to become the world's leading provider of solutions for Microsoft 365 (Office 365) and Exchange Server.
Thank you!