CodeTwo's signature management service for Microsoft 365 has just been tested and reviewed by Brien Posey, who is currently a 19-time Microsoft Most Valuable Professional in Cloud and Datacenter Management and a few other categories. Read on to find out what he thinks of our software.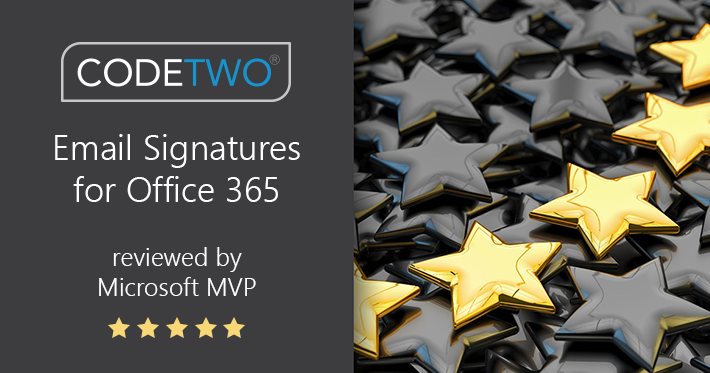 In a CodeTwo Email Signatures for Office 365 product review on TechGenix, Microsoft MVP Brien Posey explains how the software works, from deployment and choosing different signature modes to advanced scenarios such as using conditional logic (placeholders) in email signatures. He praises software's simple interface and rich capabilities, and highlights many of the features that set CodeTwo signature management service apart from the competition, such as our 4-layer security system or world's first signature Web Add-in that works with Outlook desktop & OWA.
Brien gave CodeTwo's email signature solution a perfect 5/5 score and a Gold Award, stating in his summary that he "legitimately could not think of a way to improve the product" and that "CodeTwo has exceeded his expectations in every way and created a top-notch product".
Nothing drives us more to move forward than to be acknowledged by a world-class IT professional. At CodeTwo, we're already the market leader in email signature management solutions, but we're not stopping there. Expect new exciting features, not offered by any other competition, to roll out real soon!
(Psst! If you're on Microsoft 365 and you have not tested our email signature service yet, try it for free. No strings attached.)