A new version of CodeTwo Office 365 Migration and CodeTwo Exchange Migration is out. With this release, we've added another layer of security to our migration tools by switching to the OAuth 2.0 authorization protocol to access Office 365. We've also completely redesigned Office 365 connection wizards and introduced modern APIs that further improve the performance and reliability of both programs.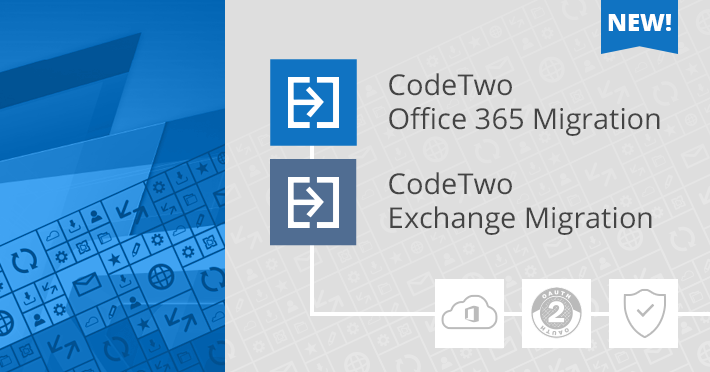 Support for modern authentication
As of October 13, 2020, Microsoft will deprecate legacy (basic) authentication protocol for Exchange Online. That is why, to ensure that we stay ahead of the curve, we have completely dropped basic authentication when connecting to Office 365 and adopted the OAuth 2.0 authorization framework in the latest versions (3.2.x) of both our migration products.
To authenticate with Office 365 and access your source and/or target Office 365 mailboxes, the CodeTwo migration application needs to be registered in Azure Active Directory of each tenant used in the migration process. The registration is performed automatically by the program (global admin credentials are required) or you can choose to register the application yourself by following these steps.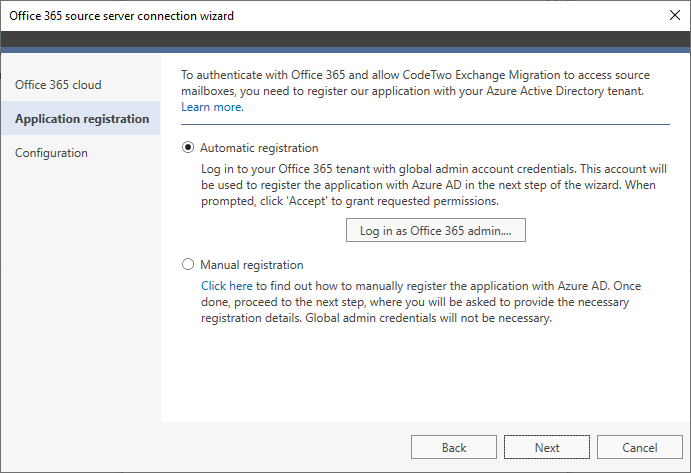 Speed and stability optimizations
With the implementation of latest APIs (such as Microsoft Graph) and libraries, we were able to achieve significant reliability and performance improvements in terms of Exchange Web Services (EWS) connectivity. This means that communication with both Office 365 as well as on-premises Exchange servers (via EWS) has been improved – some operations are done even five times faster than before. Our migration tools no longer use PowerShell to connect to Exchange Online. And with Microsoft Graph in place, you will experience less throttling for Office 365 connections.
How to update
The update to version 3.2.x is free of charge for all licensed users. However, because major architectural changes were introduced into both CodeTwo migration tools, it is not possible to install the new version on top of the current installation. What is more, the progress of your migration jobs, configured server connections and jobs, as well as other program settings will not be transferred to the new version of the program. That is why we recommend finishing all your migration jobs before installing this update. Keep in mind that the current program settings will remain on your local drive in case you want to roll back to the previous version of the program at any point.
To update the program:
Uninstall the current version of your CodeTwo migration tool.
Download the new version of the software:
Launch the downloaded installer and install the program.
If you have more instances of the program in your environment, perform the update on each machine where the program is installed.
To see all changes introduced with this update, check the programs' version history:
For more information about the program, go to the user's manual for your product: