New versions of CodeTwo Exchange Rules and CodeTwo Exchange Rules Pro are out. They introduce three major features to our world-leading email signature management software for Exchange Server:
a new signature template editor with a revamped template library,
conditional placeholders,
integration with CodeTwo Exchange Rules Converter.
The new capabilities will help you create email signatures faster and offer more advanced signature customization options. The CodeTwo Exchange Rules Converter integration lets you perform a seamless transition of signature rules and templates to our cloud-based email signature service, CodeTwo Email Signatures for Office 365.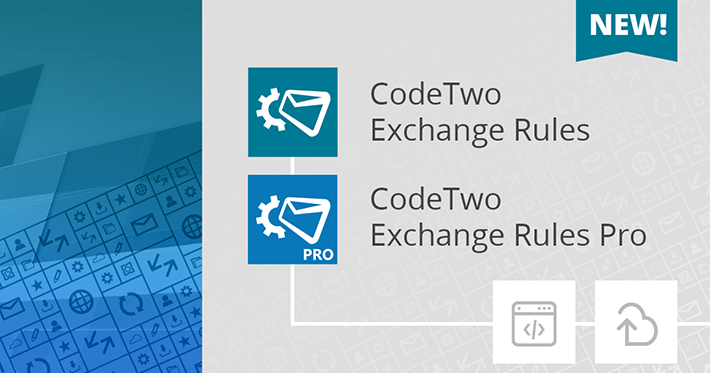 New intuitive HTML signature template editor
The signature template editor has been completely revamped – the new user interface is more intuitive, and the new editor runs faster.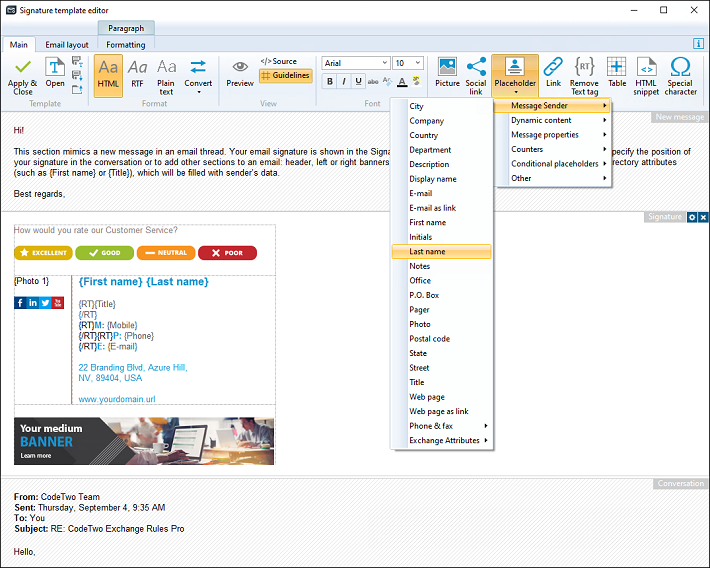 It also comes with a brand-new signature template library that contains dozens of predesigned templates. When loading a template, you can quickly customize it by adding or removing individual signature elements.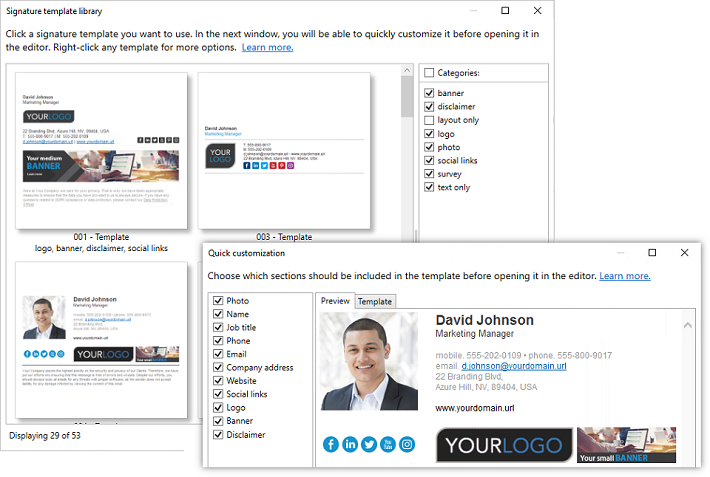 Of course, you can still create your signature from scratch (or edit the source code directly), so the new editor gives you full flexibility.
You can also quickly change the signature's position in an email thread (right below replies and forwarded messages or at the bottom of a conversation) or add additional sections to your email (header and side banners) by using the options on the Email layout tab.
To learn more about the new signature template editor and how to use it, refer to the user's manual.
Conditional placeholders
Conditional placeholders are custom multi-value placeholders that allow you to add personalized text, images, animation, and HTML code snippets to email signatures. A conditional placeholder can have several different values, and each value has its own set of conditions (built using senders' Active Directory data) that you can set up. The value whose conditions are met first will replace the conditional placeholder in your signature. Conditional placeholders are super useful for:
adding a generic company phone number to a signature if no phone number is defined in sender's AD (find out how to achieve that),
adding a marketing banner in a different language to emails sent by specific user(s),
adding additional elements to email signatures (such as badges, certificates, etc.) for selected senders only.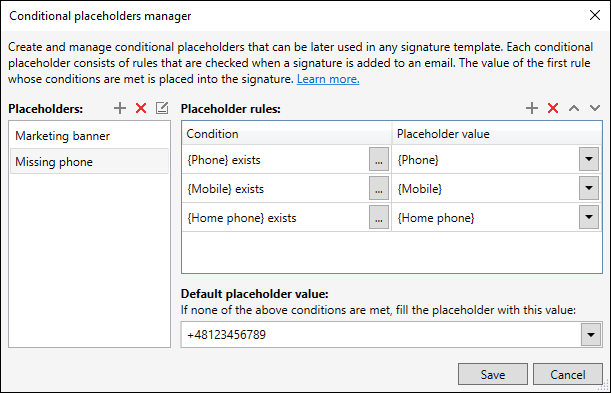 To create conditional placeholders, open the new signature template editor and select Placeholder > Conditional placeholders > Manage on the ribbon. Learn more about using conditional placeholders
CodeTwo Exchange Rules Converter
CodeTwo Exchange Rules Converter is a stand-alone application that lets you automatically transfer your email signatures, signature rules and (new!) conditional placeholders from CodeTwo Exchange Rules (Pro) to CodeTwo Email Signatures for Office 365. It will come in handy if you are planning migration to Microsoft 365 (Office 365) and you want to move your on-premises signatures with you.
To download the application, click Convert to cloud on the toolbar of CodeTwo Exchange Rules Administration Panel. Learn more about CodeTwo Exchange Rules Converter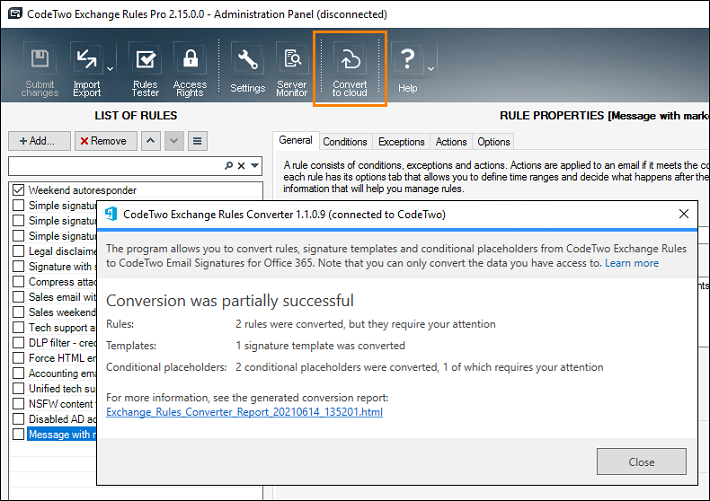 As a CodeTwo Exchange Rules user, you can also get CodeTwo Email Signatures for Office 365 at a lower price (contact us to check your discount). And if you are looking for a quick and easy way to migrate your Exchange data to the cloud, we can help you with that as well.
Other changes and fixes
The full list of changes and fixes introduced to the CodeTwo Exchange Rules family of software can be found on the version history pages:
How to update
Important: Before updating CodeTwo Exchange Rules 2007 or 2010, make sure to read this section first.
To perform the update, download the latest version of your CodeTwo Exchange Rules software:
and install it on top of your existing installation. Your settings and email rules will remain intact, and all signature templates (including your custom templates) from the old Template Library will be migrated to the new signature template library the moment you open the editor for the first time. If the program (the Exchange Rules Service or the Administration Panel) is installed on multiple machines in your environment, make sure to update it on all these machines.
The update is free of charge for all customers that own a license for the product of the same major version number (the first figure of your current version number, e.g. 2.13.0.0, must be the same as the first figure of the newly released version – 2.15.0.0).
If you have an older version of the program and want to perform an upgrade or migrate to a different CodeTwo product, or if you have other questions, feel free to contact us.
Important note for CodeTwo Exchange Rules 2007 or 2010 users
Because we introduced some major changes in the architecture of both CodeTwo Exchange Rules 2007 and 2010, the Administration Panel can no longer be installed on a server machine running Exchange 2007 or 2010. This means that once you update your CodeTwo Exchange Rules software on a server machine where Exchange 2007 or 2010 is deployed, the Administration Panel will be automatically uninstalled from that machine. You need to install the Administration Panel on a client machine that meets these system requirements to be able to manage email rules in your organization. Note that the Exchange Rules Service (responsible for processing email rules) still needs to be installed on a server machine – no change here.
After installing the Administration Panel on a different (client) machine, all your existing email rules will be automatically synchronized with the new panel (if you have been using the Access Rights functionality, make sure that at least one user will have access to the panel and email rules on the new machine). However, if you had any custom signature templates saved in the old Template Library, you need to move them manually to the new machine. See this article to learn how to do so.