We are glad to let you know that our solution for Office 365 email signature management – CodeTwo Email Signatures for Office 365 – has gained a bunch of useful and long-awaited features. The 3 most important ones will let you: log in to the User Panel with a Microsoft account, configure rules using custom attributes, and have different signatures for new emails and different for replies/forwards.
Log in with Microsoft account
Now you can choose the way you log in to the User Panel of CodeTwo Email Signatures for Office 365. The first option allows you to log in to the program's console with the User Panel account. This is possible after creating a dedicated account in the User Panel. The second option now is to log in with a Microsoft work, school or personal account.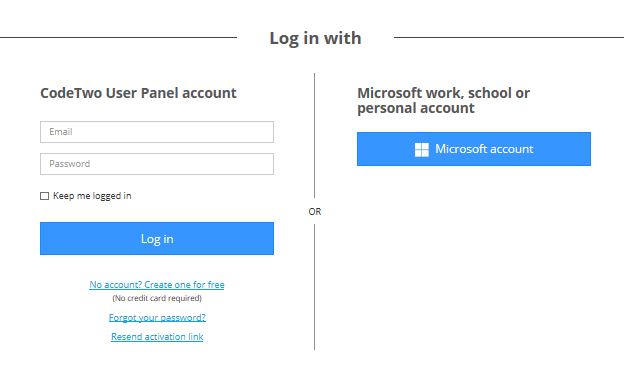 Use custom AD attributes in email rules and signatures
The application now supports custom AD attributes, which you can use when composing an email rule. This means that now you can build conditions and email signature templates based on Active Directory fields such as e.g. Initials, Notes, HomePhone or CustomAttribute1-15. These attributes are not available in Azure Active Directory by default, so you need to sync them. However, this can be easily managed via the User Panel.
Add full email signatures to new emails and simplified to replies/forwards
CodeTwo Email Signature for Office 365 lets you compose different email signatures for new messages and different for replies and forwards. When sending a new email message, it is necessary to insert a full-detailed email signature with images, full contact information and social media icons. But when responding to or forwarding the message, it is enough to insert a simple signature with only basic data. This way, you can significantly slim down the email threads making them more clear and easy to follow.
You can configure this option under the Design tab in the program's rule editor.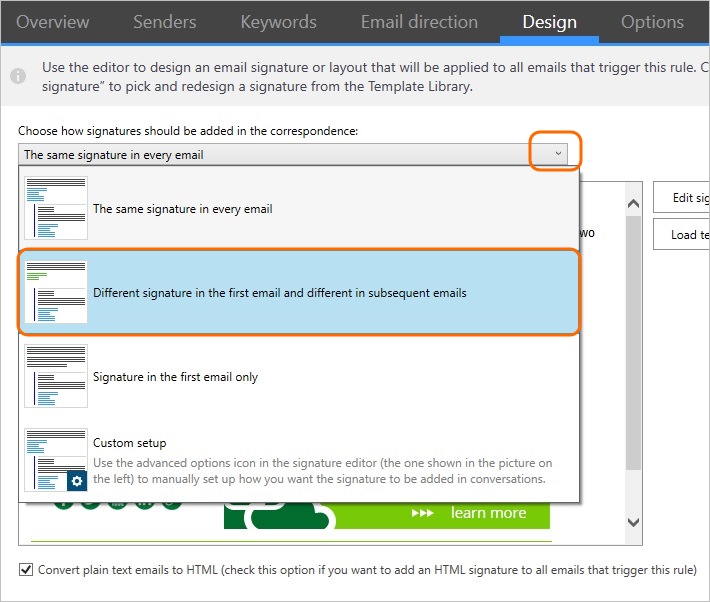 Other useful features
There are also other spicy features that you will like a lot. These include:
Additionally, the program is now available in a yearly subscription plan, so from now on you do not need to renew your subscription every month.
If you have not tested CodeTwo Email Signature for Office 365 yet, you can start 14-day trial now.
For a quick overview of a basic configuration of CodeTwo Email Signatures for Office 365, watch this video:
For more information about the program, visit official website of CodeTwo Email Signatures for Office 365.
If you have any questions about the program or want to share your opinion, we always welcome your feedback. Contact us! We are open 24/5.