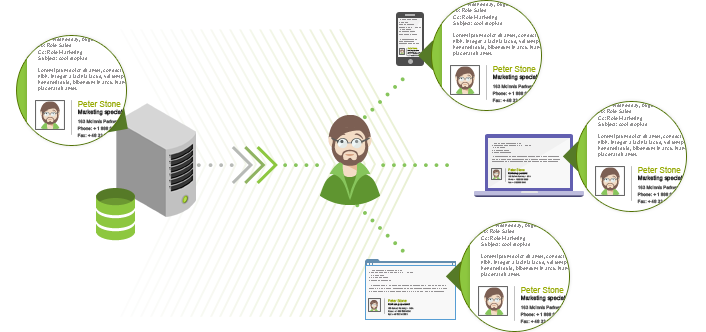 Sometime around January 2014 a group of Microsoft Exchange MVPs started an online discussion board called Microsoft Exchange Improvement Suggestions with the aim of… well, exactly what the name implies – suggesting improvements for Microsoft Exchange. After 8 months of voting, one of the most popular topics on the board is Outlook signatures saved in Mailbox. An interesting idea, that potentialy could save users and admins the time they now spend separately setting up signatures on Outlooks, mobile devices and other email clients.
As you may or may not know, existing Microsoft Exchange versions do not keep end-users' Outlook signatures anywhere on the server level. Every email signature configured in an instance of Outlook is only stored in a folder in Application Data on the local drive. Depending on your Windows version, the path to the signature folder is:
in Windows XP
C:\Documents and Settings\%username%\Application Data\Microsoft\Signatures
in Windows 8 / 7 / Vista
C:\Users\%username%\AppData\Roaming\Microsoft\Signatures
(or the equivalent in your language).
The main upside of this solution is that, if you have different email accounts set up in your Outlook, you don't have to configure email signatures for each one separately. This is because Outlook enables you to load the local signature already while you write a message (using the Insert, Signature menu option), independently of the email account selected.
The downside is that using the same email signature on email clients other than the source Outlook (i.e. OWA, mobile devices, other Outlooks) requires a fair amount of work, and in some cases may even be impossible (see Suggested reading for more).
Saving an email signature in the user's Exchange mailbox would prove useful here. After setting it up once, regardless if an iPhone, tablet, OWA or Outlook was used to connect to the Exchange mailbox, the email signature would always load as configured. In the era of BYOD, desk-sharing, increased employee mobility and overall cloudification it seems like a logical step. A worker moving from desk to desk or switching between devices would not have to worry every time about importing his or her signature, while for the system administrator the solution would mean less troubleshooting, easier migrations and backups (if email signatures were to be covered), and more control over end-users' email signatures (in case e.g. they needed to be disabled).
As for the drawbacks, not being able to use the Exchange mailbox signature in other email accounts seems to be an obvious one. It may however be a minor flaw, since different email accounts often require different email signatures anyway. The disk space needed to store a large number of email signatures would also probably be negligible, even if we take into account that nowadays they are likely to contain multiple images. A separate question is whether the solution would allow for embedding images or only linking to images already hosted on the web. The latter may be cumbersome for end-users and is less effective, since linked images are often blocked by receiving email clients.
Lastly, a crucial consideration: should a company leave the design of Exchange email signatures to end-users in the first place? After all, in contrast to Outlook signatures, the ones set up in Exchange would most likely be used exclusively for corporate purposes. This automatically makes them subject to various branding and legal requirements, which end-users may not be able to fulfill quickly and to the letter. It's a lot easier to deal with such requirements centrally, e.g. via Hub Transport rules or using 3rd party software. On the other hand, the advantage of a signature saved in the user's mailbox is that the user would probably be able to see it while writing an email (like they do right now with OWA signatures), which can be achieved only with specialized 3rd party central email signature management solutions.
All in all the Outlook signatures saved in Exchange mailbox idea seems to promise little added value over the already existing solutions: Outlook email signatures and Exchange Hub Transport rules. If you have any thoughts on the topic, make sure to share them with in the comments!
Suggested reading
Admin's blog: Bulk creation of mailboxes on Microsoft Exchange Server 2007/2010/2013
Admin's blog: Email signatures and disclaimers on Microsoft Exchange Server's side
Mail-signatures.com: Outlook email signature location and backup
Mail-signatures.com: How to create or modify an email signature in Outlook 2010 and 2013