CodeTwo Office 365 Migration
Easily migrate to Microsoft 365
and between Microsoft 365 tenants
Used by 20k+ organizations in 150 countries
Customer Case Study
Wenz Tecnologia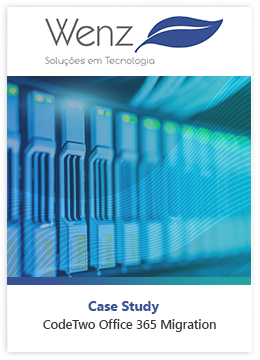 Company description
Wenz is an information technology company from Brazil that works in the ICT infrastructure sector. Established in 2014, the company employs globally recognized professionals (Microsoft MVPs) and stands out in its field as a Microsoft Partner. Wenz offers a wide range of services (data backup & migration, security assessment & pentesting, employee training, and more) and specializes in large infrastructure projects involving hybrid, cluster, and high availability (HA) environments.
Problem
One of the main areas of focus for Wenz are migrations to the cloud, particularly to Microsoft 365. However, their past experience has shown that the native tenant-to-tenant migration tools make the entire process very complex. The company needed a reliable and secure solution that would help them perform their work more efficiently and deliver projects of any size and complexity in time.
Solution
After a bit of internet browsing, the company discovered CodeTwo Office 365 Migration. During initial testing, Vinicius Mozart, Cloud Architect at Wenz and a multi-year Microsoft MVP (Cloud and Datacenter Management), was instantly pleased with the highly intuitive wizard-based interface and the vast array of features provided by the product.
The software helped Wenz with a number of large migration projects. "Migration between Microsoft 365 tenants is always an issue, but CodeTwo managed to solve our problems and made all the difficult work easier", said Vinicius Mozart. CodeTwo Office 365 Migration eliminated the need to use PowerShell scripts, create migration endpoints and configure organization relationship between the tenants, and also allowed the company to avoid the tedious task of setting up source and target mailboxes. With CodeTwo's tool, each migration process ultimately comes down to:
configuring secure (OAuth-based) source & target server connections (a simple next-next-finish experience),
creating target mailboxes and performing source-to-target mailbox matching (both task can be performed automatically by the program),
defining a schedule according to which migration runs (e.g. specific days and hours only),
selecting items to be included/excluded from migration (by using the built-in time and folder filters),
specifying email addresses to which real-time migration reports are sent.
Vinicius Mozart summed up his experience with the product: "CodeTwo has excellent software that turns complex tasks into something simple."
Summary
Company name

:

Wenz Tecnologia

Number of employees

:
15
Number of emails processed every day:
4,000
Problem:
The company needed an easier and more efficient way to perform tenant-to-tenant migration than using the native tools.
Solution/Product:
CodeTwo Office 365 Migration
Number of migrated mailboxes:
50-500+ per project
Total migration time:
Migration projects range from 2-5 days