CodeTwo Office 365 Migration
Easily migrate to Microsoft 365
and between Microsoft 365 tenants
Used by 20k+ organizations in 150 countries
Customer Case Study
HostedBizz Inc.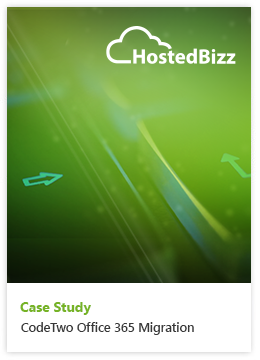 Company description
HostedBizz is a cloud Infrastructure-as-a-Service (IaaS) provider based in Ottawa, specializing, among other things, in managed data backup, disaster recovery, hosting, cloud services (including managed Microsoft 365 services), and virtualized desktop infrastructure. The company provides its services to 300+ partners acting as Managed Service Providers (MSPs) for their end-customers. From the business strategy standpoint, HostedBizz is committed to provide customer-friendly offering, excellent support, and 100% Canadian cloud.
Problem
The HostedBizz's partners have been facing an increased demand for migrations from on-premises Exchange environments to the Microsoft 365 cloud. End-customers often contact them because they find native migration mechanisms not reliable enough and lacking features to further customize the migration process. On the other hand, there is a number of third-party migration solutions over there which differ in terms of price, features or customer support. To assist the partners, HostedBizz researched the Web to find a product equipped with features allowing to migrate mailbox data in a shortest time possible.
Solution
After evaluating several migration tools, HostedBizz decided to choose CodeTwo Office 365 Migration as the product that best meets its criteria. The company especially liked CodeTwo Success Team's responsiveness and understanding of its migration needs. As Jim Stechyson, Co-Founder at HostedBizz, says, "To date we have been very impressed by the ease of use of the application and the quick response from support and sales groups." The company is also pleased with the Code Two's partner program, describing it as transparent and "geared towards simplicity of engagement and driving partner success."
In terms of the migration process itself, HostedBizz is particularly satisfied with CodeTwo Office 365 Migration performance. Thanks to intuitive wizards, the CodeTwo solution is easy to set up (no PowerShell scripting required), while automated mailbox matching, target mailbox creation, and Office 365 license assignment can save a lot of time. A user can also configure the scheduler feature to run migration jobs at chosen time periods in a completely automated way. "We have been very pleased with the performance of CodeTwo's migration tool. The application has helped to speed up migrations by automating process, allowing migrations to occur concurrently, and reduced the time burden on our professional services team," admits Mr. Stechyson.
To make the picture complete, the company also appreciates the fact that the CodeTwo's tool offers good value for money, with Mr. Stechyson saying "the product is competitively priced and well supported."
Summary
Company name

:

HostedBizz Inc.

Number of employees

:
48
Number of emails processed every day:
Over 1 million
Problem:
Needed a cost effective, time saving tool to help with the increased demand for assisting partners with Exchange to Microsoft 365 migrations
Solution/Product:
CodeTwo Office 365 Migration
Number of migrated mailboxes:
50-500+ per customer
Total migration time:
Migration projects range from 2-10 days