CodeTwo Office 365 Migration
Easily migrate to Microsoft 365
and between Microsoft 365 tenants
Used by 20k+ organizations in 150 countries
Customer Case Study
BDS Solutions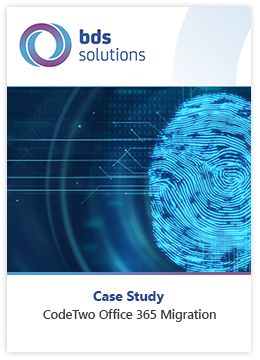 Company description
BDS Solutions is an IT solutions provider working closely with institutional customers in the UK, including the National Health Service and a number of other healthcare organizations. The company delivers high quality IT consultancy and support services, including directory and email solutions, to over 250,000 users across different institutions. One of its core activities is running large-scale migration projects across Exchange platforms for its customers.
Problem
Over the course of their operations, BDS Solutions faced migration projects in which they encountered various Exchange environments and configurations operated by their clients. Due to the constraints imposed by the target environments, one of the requirements that often arose was to use a cloud migration tool supporting Exchange Web Services (EWS). Another requirement characteristic of healthcare institutions is the need to ensure the maximum security for the migrated data. BDS Solutions had to react and expand their toolset accordingly.
Solution
BDS Solutions already had experience using CodeTwo Exchange Migration. With this in mind, the company decided to leverage the familiarity with our tools as well as the existing business relations with CodeTwo and selected CodeTwo Office 365 Migration. Our tool became the simple but effective answer to BDS Solutions' needs. It provided the company with a secure and easy way to migrate mailboxes to the cloud in accordance with their clients' needs.
By supporting EWS, our program enables BDS Solutions to overcome constraints they usually encounter across different migration scenarios and Exchange configurations. One benefit of using CodeTwo Office 365 Migration is that our tool connects to EWS over the secure OAuth 2.0 authentication protocol. Our migration tool also uses fully encrypted communications, making it impossible to access or intercept migrated data by any third parties – the data goes directly from the source to the target environment.
At the same time, the program remains very user-friendly. It has a graphic user interface, which eliminates the need to use complex PowerShell scripting at any point. This makes the entire process simple for people working hands-on with migrations. "The program itself is easy to use. I have personally migrated over 25,000 mailboxes and have benefitted hugely as a result of the simplicity", said Sam Riddle, Senior Technical Consultant at BDS Solutions. Mr. Riddle also praised our Customer Success team, calling the support services provided by our technicians "brilliant".
But most importantly, CodeTwo Office 365 Migration always gets the job done and also allows BDS Solutions to manage and monitor all migration tasks from one place. As Mr. Riddle summarized, "CodeTwo software enables us to migrate users across effectively and provides complete information surrounding these migrations."
Summary
Company name

:

BDS Solutions

Number of employees

:
40
Number of emails processed every day:
Over 1 million
Problem:
Needed a solution that is highly secure and supports migration using Exchange Web Services
Solution/Product:
CodeTwo Office 365 Migration
Total migration time:
3 months