As the world's favorite mail client, Microsoft Outlook is used in many scenarios, equally by students, small business sector and large companies all over the globe. It is perfect for organizing your mail, keeping track of calendar entries and works fine as a contact manager too. In larger organizations Outlook is often a part of a larger collaboration system. The Exchange Server – Outlook partnership enables co-workers to share Outlook folders between them and that makes them work faster and more efficiently. But what if I have to share Outlook only between two machines, e.g. a desktop and a laptop? Do I have to invest money in expensive server-based platforms in order to synchronize only two PCs? Obviously not.
Internet is full of various third party solutions designed for Outlook synchronization. If we take a closer look at them, most of these applications are outdated and do not support the latest editions of Outlook. The other ones are simply too complicated for a person who is not an IT specialist. Luckily a brand new solution has been developed by CodeTwo recently. It is called CodeTwo Outlook Sync, it's for free, works with all the latest versions of Outlook and even a child would know how to use it.  What is more, there's no doubt CodeTwo Outlook Sync is a high-quality software, since it was developed by a company that holds several Microsoft certificates and is well experienced in creating reliable Outlook add-ins.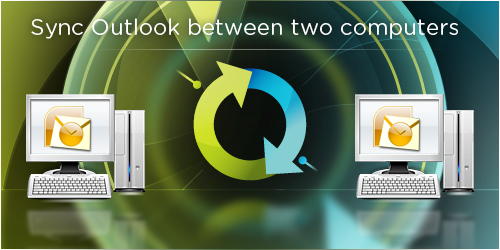 Let's get down to details now…
CodeTwo Outlook Sync is a free application which enables you to share default Outlook contacts and calendar folders between two computers in local network. If you need to sync more items from your Outlook folder tree (including non-standard subfolders), you can buy the license version of the program. It costs only $59.
See the video below, to find out how the program works:
With CodeTwo Outlook Sync you can:
Easily share Outlook between two machines in a local network, for instance your desktop PC and a laptop you use outside your office.
Share Outlook with your boss or secretary in real time to improve your work efficiency.
Share Outlook with your workmate or family member to avoid confusions while planning your free time and holidays.
Use the program to backup Outlook to another computer.
Share Outlook folders between two computers in real time in a one-to-one scenario, e.g. Inbox to Inbox, Contacts to Contacts etc.
…and many more.
CodeTwo Outlook Sync is a very straightforward and user-friendly application. You don't have to be an IT expert to implement it in your office. The installation and configuration takes only a few minutes and a wizard guides you through all the required steps after the first launch. After you configure the connection between two PC's, you can choose which folders you wish to synchronize and whether you want to do it automatically or on demand. Every option is easily accessible from the clear user interface which contains no redundant options – only the most needed ones.
CodeTwo Outlook Sync works in local network of two PCs. It means that when you take one of your machines with you to work in the field, your Outlook folders won't be synchronized with the other PC in real time.  However, when you come back to the office and the connection between the synchronized computers will be retrieved, all data will be updated on the second machine, accordingly to the program settings you have previously chosen. This solution is much safer than sharing your data over the Internet and gives you the guarantee that none of your business information will be hacked or revealed to third parties.
If you want to share your Outlook folders with another PC and want to do it as easily and as quickly as possible, CodeTwo Outlook Sync will be your best choice. Download it now, it's free!
Need to sync Outlook between more than 2 computers? Check out CodeTwo Public Folders.