How to avoid duplication of messages in inboxes synchronized using CodeTwo Outlook Sync
Problem:
How to avoid duplication of messages in inboxes synchronized using CodeTwo Outlook Sync.
Solution:
If your inboxes are synchronized using CodeTwo Outlook Sync and you get duplicate instances of email messages, you need to check the settings of your email accounts in MS Outlook.
Frequently, when you start using a new application you might need to change your mode of work so far. The same will apply to CodeTwo Outlook Sync if you have set your email account in both Outlook clients to download mail and leave the copy on the server selected in Account Settings so that Outlook #1 and Outlook #2 could access the same messages. When you start synchronizing your Outlook using Outlook Sync this settings will no longer be necessary for you.
The email account in Outlook #1 downloads the message, and Outlook #2 downloads the same message. Then, Outlook Sync comes in and syncs the inboxes. To Outlook Sync the identical email from Outlook #1 is not the same email from Outlook #2 (they have different internal IDs and the program cannot make a match). Therefore, when you sync the inboxes you get another copy of the message in each inbox copied from the remote inbox.
You need to unselect the option Leave the messages on the server in Account Settings of the email account. As a result, Outlook #1 will download a message and delete it from the server. The message will appear in Outlook #2's inbox when it is synced with Outlook Sync. If Outlook #2 is first to download a message, a reverse will apply.
To get to the above option go to Backstage View, Account Settings, click Change on the email account that downloads mail, click More settings, go to the Advanced tab. For Outlook version prior to 2010 the Account Settings is available in the Tools menu in the top of Outlook. You need to make that change in account settings in both Outlooks.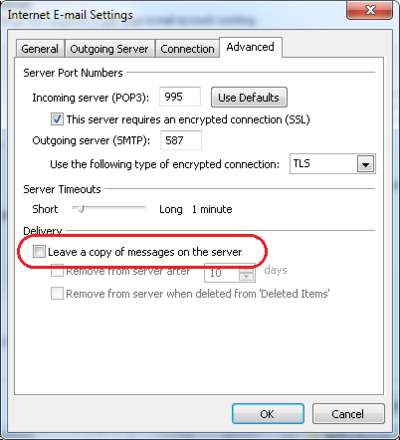 Fig. 1. If you start syncing your inbox using Outlook Sync, make sure your email accounts do not leave messages on the server after downloading them.
---
| | |
| --- | --- |
| Related products: | CodeTwo Outlook Sync |
| Categories: | How-To |
| Last modified: | January 16, 2015 |
| Created: | October 5, 2011 |
| ID: | 203 |