We are happy to announce a brand new addition to our line of acclaimed email signature management products – CodeTwo Email Signatures for Office 365.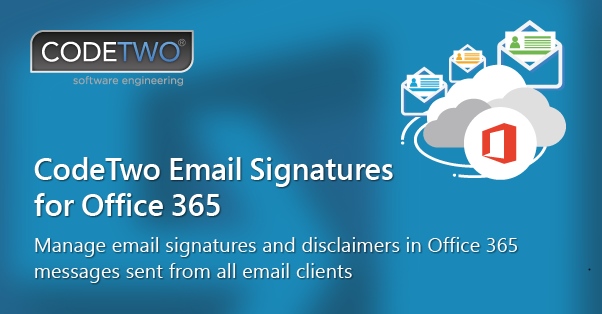 The application combines our 8-years of experience developing email signature management solutions for Microsoft Exchange and other platforms with Microsoft Azure's top-level security and data processing features. In effect, it is as scalable and secure as Exchange Online, but at the same time offers more capabilities and is easier to use.
Central and automatic
CodeTwo Email Signatures for Office 365 is all you need to manage email signatures in your Office 365 organization. No access to the Microsoft 365 admin center or local installs required!
Configuration is based on rules, consisting of scopes of senders and recipients, and email signature template designs. The latter are composed using the built-in WYSIWYG editor. They can include all types of HTML content, as well as Azure AD placeholders, which will be replaced with users' contact information on the fly, when emails travel through the Cloud.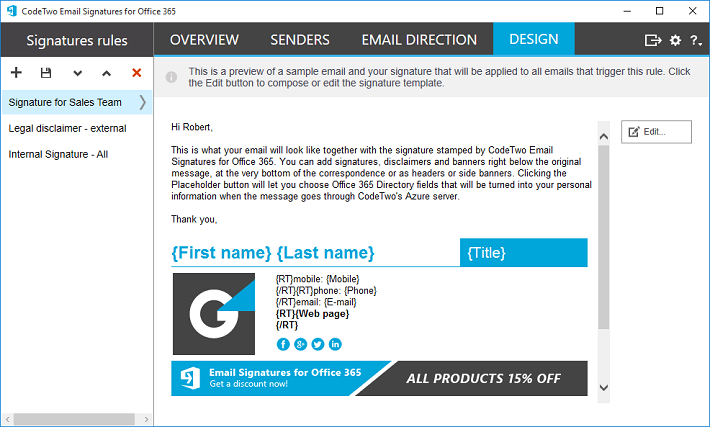 Signatures and branding under every email
The application can add signatures, banners, photos and logotypes to messages sent from any email client, smartphone, tablet or web app available on the market.
What's more, it can also insert the content in user-defined positions in email conversations:
under latest replies and forwards
as side-banners and/or headers
and more!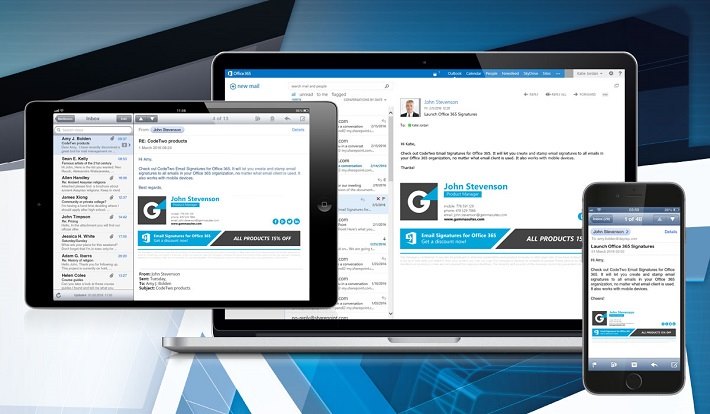 100% Cloud
CodeTwo Email Signatures for Office 365 runs entirely on Microsoft Azure, which means that it processes your emails within Microsoft's datacenters.
The connection to your Office 365 organization is automatic and covers the creation of secure email relay channels. During deployment admin-level credentials are required, but thanks to Azure OAuth 2 authentication your data is not stored in our services and the process is completely hacker and snooper-proof.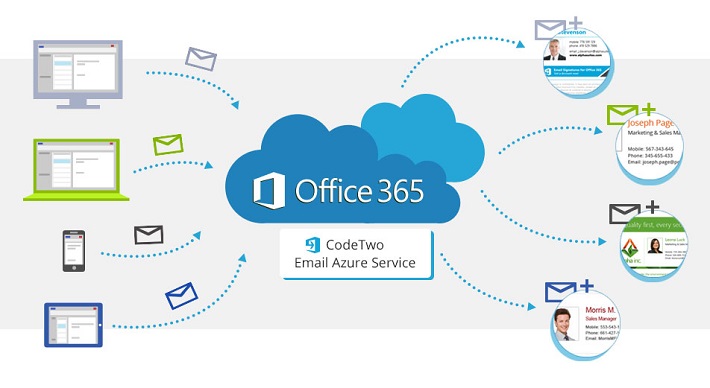 Start your free trial!
To start your free 14-day trial go to the CodeTwo Email Signatures for Office 365 start page, create a user account and register your Office 365 tenant. Next, click Manage signatures and you are on your way!
Learn more about CodeTwo Email Signatures for Office 365
Find out how CodeTwo solutions compare with Microsoft's native email signature tools