It's now easier than ever to manage contact information (Azure Active Directory attributes) that appears in email signatures and auto replies generated by CodeTwo Email Signatures for Office 365. Your IT admins no longer have to handle everything via organization's Azure AD – we've got you covered with a sleek new attribute management page. You can even create custom attributes and let end users manage their signature information on their own!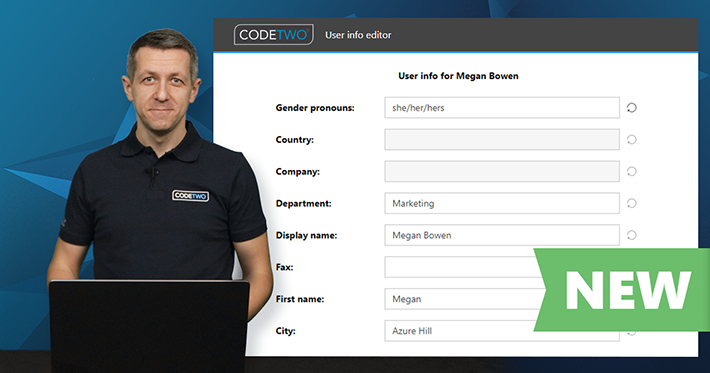 Who needs this?
Companies who want to let employees edit their AAD attributes or those who want to easily add new, editable attributes (not available in AAD) and use them in signatures company-wide. For example, you can create signatures that include user-editable elements like gender pronouns, upcoming employee absences, or academic credentials. Possibilities are endless!
See how this all works in a short video recorded by our CEO:
And, obviously, this new feature is free for all licensed users!
How to start
Your IT admins can centrally manage attributes at attributes.codetwo.com.
Your end users can edit their contact information themselves at user.codetwo.com (note the page will not work unless your admins set up attributes.codetwo.com first).
Important:
The changes you or your end users make do not impact your original Azure AD data – attributes are updated in CodeTwo cache only. By default, the attributes you update in our cache are no longer overwritten by any changes in your Azure AD or local AD. But you can easily restore AD attribute values whenever you need (watch both videos or see the manual if you need more info).
Bulk edit user AD attributes in email signatures
We've made sure it's easy for admins to bulk manage user attributes. See a quick video that explains it:
Let us know how you like this new feature. If you need more info, check out the user's manual or contact us.
We'll soon publish more articles on how to use the new feature for the most common scenarios, for example to unify user info, allow end user to manage the visibility of their contact information in signatures, add out-of-office notifications, and many more.